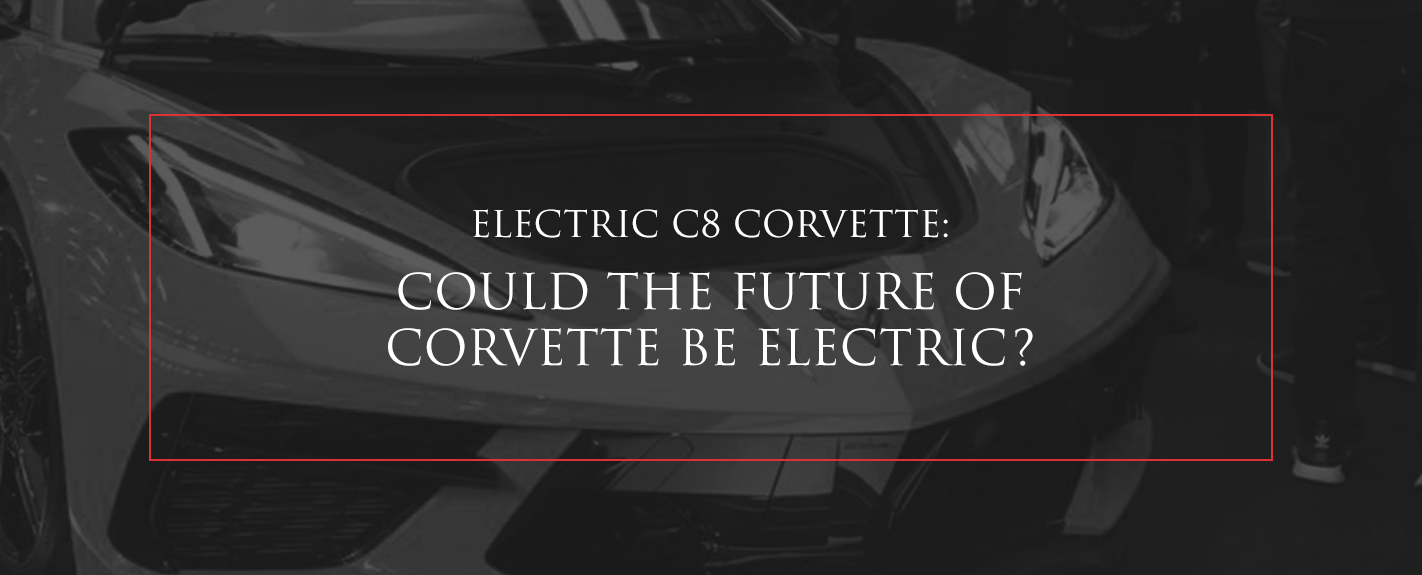 All vehicles seem to be going electric these days, with the appeal of lower emissions and greater demand for environmentally friendly cars causing manufacturers to invest in electric motors. Chevrolet is well aware of this new demand and may even be designing an electric version of their premier sports car, the Corvette. Adding an electric engine to the vehicle will likely result in some major changes that'll impact the car's performance and look.
Though it's quite likely that the C8 will see an electric Corvette, there's less known about the electric Corvette's exact specifications. It's also uncertain whether Corvette has a fully electric Corvette in the works or if they're only planning on producing hybrids.
If you're interested in the direction that an electric Corvette might take the classic sports car, you should know all about the likelihood of an electric C8, what an electric Corvette will be like and how an electric engine might affect the car.
What Are the Chances of an Electric C8?
All indicators are pointing to an electric C8 Corvette coming to consumers sometime in the near future. Since the release of the C8, rumors have been swirling around about a possible Chevy electric Corvette, and as time has progressed with the car on the market, even more evidence has arisen that points to a Corvette electric car coming to consumers in the near future — though likely not this year.
In an interview streamed by the Autoline Network in December of 2019, Tadge Juechter, the Executive Chief Engineer for Corvette, was asked if people could expect an all-electric Corvette. While he initially answered that he couldn't discuss anything about the future offerings of Corvette, he went on to state that Corvette is a part of General Motors and cited that part of their mission is producing zero emissions. Because of this mission, he said that they would get there eventually.
Though his response to the question didn't give a definitive answer to the existence of an electric C8, it did make it clear that consumers would eventually see an electric Corvette. If reducing emissions is the goal of the company, gas power is going to have to go to the wayside, replaced by some other form of power, with electricity being the most likely form of energy.
Most people in the automotive industry seem to agree that there will be a battery-powered Corvette, but there are still some doubters that the C8 will be the model to do it. One writer for CarBuzz speculated that the C8 Corvette's long hood isn't the best for an electric layout and that the car's style is more suited for a compact drivetrain. Though this doesn't mean that the C8 won't see an electric engine, it does indicate that the engineers at Chevy have their work cut out for them.
Besides the comments made by senior staff that hint at future models, more concrete proof of a new electric corvette came about after spy photos of a mysterious Corvette model were revealed. These photos showed a vehicle that had electric cabling running down into the car's frunk. This led car experts to speculate that the rigging connects to a dual-electric motor front axle system or a hybrid battery. With all of the evidence available, it seems highly likely the C8 will see an electric version.
Is an All-Electric or Hybrid Model More Likely?
Considering Juechter's interview, it seems most likely that we will see a hybrid Corvette C8 before we see a fully electric Corvette. The increased likelihood of a Corvette hybrid goes with the idea that Juechter brought up about getting to zero emissions eventually, indicating that the process of getting to that total lack of emissions will be gradual.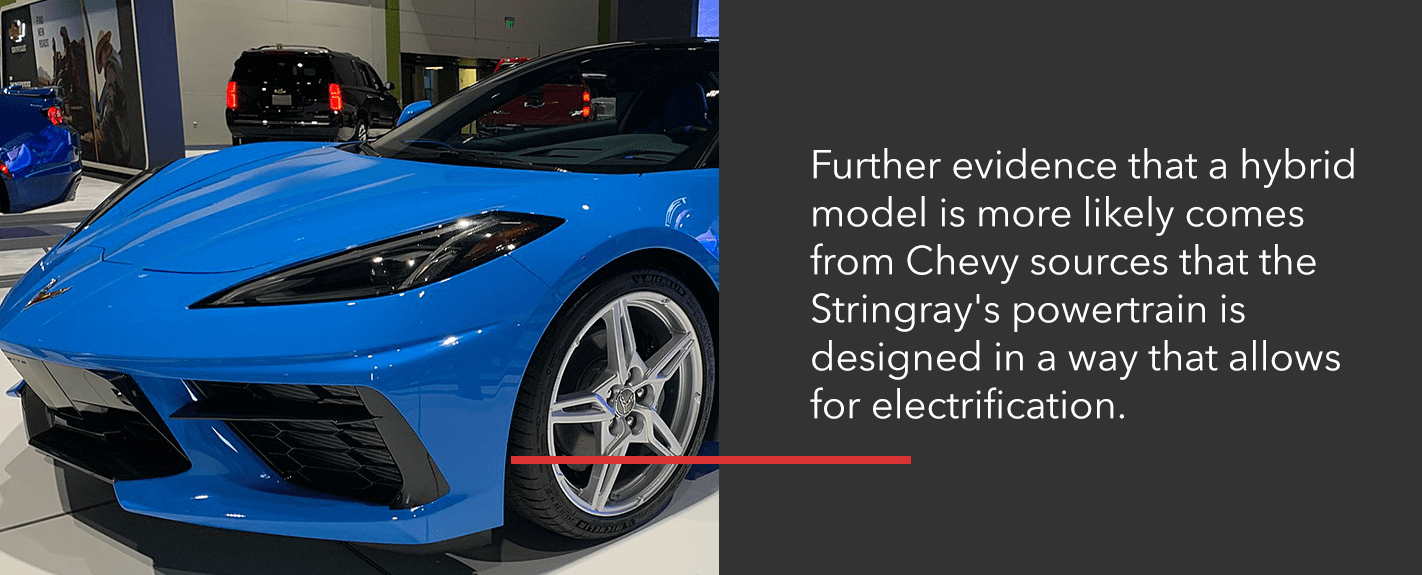 Further evidence that a hybrid model is more likely comes from Chevy sources that the Stringray's powertrain is designed in a way that allows for electrification. When Autocar asked Corvette representatives if an electric version of the Corvette would get four-wheel drive from a small electric engine or if it would get a milder starter motor that was based in a hybrid battery, one representative replied, "You would not look stupid if you said that."
Autocar also got in contact with the president of General Motors, Chevy's parent company, about the possibility of an electric Corvette, and he repeated the same sentiments as Juechter. He basically repeated that the company has a goal of reaching zero emissions. He went on to say that the C8 Corvette uses tech that's designed to support all of those strategies, giving further credibility to the idea of a hybrid model coming eventually.
What Would an Electric C8 Corvette Be Like?
Details are still fairly sparse on the future of electric C8 Corvettes. There's certainly not going to be an electric Corvette in 2020, and there's almost no information on what a purely electric Corvette would be like or the specs it would feature. However, there is some information out there that points to hybrid Corvette C8 models coming in the next few years.
The C8 Corvette ZR1 currently has the most information available for it, but there is also increased speculation about base Corvette Stingray hybrid models coming, as well. To help you get a clearer picture of what a hybrid Corvette may be like, check out some of the most relevant information about the Corvettes of the future below:
The C8 Corvette ZR1
As C8 Corvette electric models go, the ZR1 has the most information available for it, gathered from anonymous interviews and diligent reporting. There have been rumors floating around about the C8 Corvette ZR1 coming to consumers with a hybrid engine. These rumors have gained a great deal of credibility with a senior official at GM confirming to Motor Trend plans for the C8 Corvette ZR1 to come with a hybrid system that's designed for optimal performance rather than fuel economy.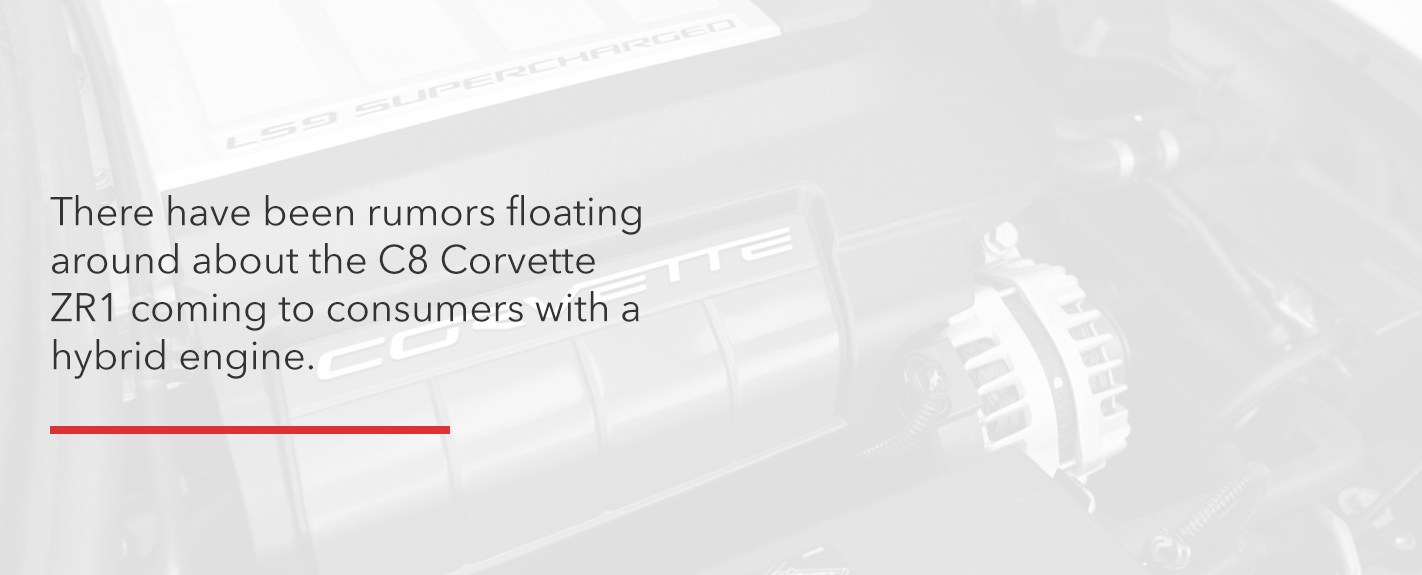 The ZR1's hybrid system will reportedly boost the power of the Corvette, with the ZR1 reaching 900 hp while running on a twin-turbo DOHC V-8 engine. This performance boost will be made possible by the way the hybrid system fills in torque gas. The power offered by this supercar will likely appeal to consumers who want to get the most out of their vehicle and impress other drivers.
Another interesting note about the car that might excite or disappoint Corvette fans is the strong evidence that the ZR1 will be the first all-wheel-drive ever released under the Corvette name. Due to the power increase, it's almost certain that the ZR1 will cost more than the Stingray models, though there aren't any details about pricing currently. As for the release date of the vehicle, it's likely that the vehicle won't be available until 2023 or possibly 2024 due to production stoppages caused by the coronavirus.
Other Hybrid Corvette Speculation
The ZR1 has generated the most buzz, but there is a likelihood that another model of a Corvette electric car will come out as well. Based on court documents obtained by Jalopnik, the publication reports that they discovered evidence for a hybrid Corvette electric motor that could be used for a hybrid ZR1 and a hybrid base model.
This information indicates that consumers could see a less powerful — in comparison to the ZR1 — and likely more affordable hybrid Corvette C8. For now, the most evidence there is for a hybrid Corvette that's closer to the Stingray in terms of performance is a leaked document obtained by Hagerty that revealed Chevy's production schedule and engine specs of the planned cars. This document indicated that, in 2023, the automaker would be releasing the Grand Sport Corvette model that incorporated a hybrid engine into it.
The Corvette Grand Sport reportedly has 500 lb.-ft. of torque and 600 hp, running on the base C8's LT2 6.2-liter V8 engine that's paired with a hybrid system. As of now, it's not clear where the electric motor will go yet. If the vehicle has all-wheel-drive, the electric motor will likely be placed up in the front, but if it ends up being rear-wheel-drive, it's more likely it will be placed between the transmission and engine.
If the ZR1 doesn't come with a hybrid system, Corvette buyers won't have long to wait. The leaked document showed that the Corvette Zora is slated for the 2025 model year. The document described an engine that's a modified version of the ZR1's twin-turbo 5.5. liter flat crank V8 engine that comes with a hybrid system. This engine will pack serious power, providing an output of 975 lb.-ft. of torque and a 1,000 hp, with previous reporting suggesting that the car will have all-wheel-drive.
How Would Battery Power Affect the Sports Car?
There are more and more electric vehicles on the market each year. Tesla might have the biggest name recognition in the electric car space, but almost every manufacturer is exploring electric engines. As a result, if Chevrolet decides to enter the electric car arena, they'll have plenty of competition.
The Tesla Model 3 has a range of 322 miles, plenty of high-tech gadgets and can go 0-60 in 3.2 seconds. Additionally, Ford's release of their Mustang Mach-E SUV, which has a range of 300 miles and goes 0-60 in under four seconds, has put the pressure on all-electric vehicle makers. Corvette will likely be looking hard at the pros and cons of electric Corvettes to decide if they should invest in an electric model.
Potential Pros of Electric Corvettes
There are many benefits that Corvette could get out of producing electric Corvettes, ranging from environmental responsibility to capturing part of the market demand for electric vehicles. To give you an understanding of what might drive Corvette to switch to a battery-powered Corvette, consider some of the benefits:
1. Relevancy
Cars like the all-electric Porsche Taycan represent a more direct threat to the Corvette than the Tesla or SUV Mustang. Unlike the SUV or Tesla, Porsche's Taycan is a luxury sports car that puts it in the same class of any Corvette offerings. For buyers who want to drive a sports car and reduce their emissions, they'll likely be more attracted to sports cars that have switched to electric.
Due to the growing customer demand for electric sports cars, it would likely benefit Corvette to have hybrid and all-electric models available for consumers concerned with emissions. Otherwise, the company will be leaving part of the market open for other sports car brands to swoop in and capture loyal customers.

2. Electric Corvette Cost
There are some great incentives to buying electric vehicles right now. With a federal tax credit ranging between $2,500 and $7,500 for buyers of a new electric car, the initial costs of buying a GM electric Corvette may be quite affordable.
Besides the lower initial costs due to tax credits, there are also long-term savings that come from purchasing an electric vehicle. An all-electric Corvette will save buyers gas money and remove the need for oil changes. Due to the removal of gas-power, you won't have to spend money on the typical costly engine work associated with the older engines. Though you'll have to pay for electricity, you should save significantly more money over the long term with an electric Corvette.
3. Possibly Environmentally Responsible
One of the main attractions of electric cars is their reduction of emissions. An all-electric vehicle will have zero emissions, which is much better for the environment, helping to reduce smog and other ecological damage. However, some experts believe that this does not account for the environmental impact of the production of the car, or even the source of the electricity that powers it. Regardless, an electric Corvette will attract buyers who want to do their part to make their communities cleaner and who want to feel like they're making the world a better place.
Potential Negatives of Electric Corvettes
While there are many potential advantages to electric Corvettes, there are also some potential drawbacks that come with the relative novelty of electric vehicles. Below you can find some of the potential challenges to producing Electric Corvettes:
1. No Roaring Engine Tones
Some Corvette drivers are likely to be attached to their gas-powered sports cars and will be hesitant to change. The feeling of revving a powerful gas-based engine is an adrenaline-raising experience. The Corvette is one of the most well-known American sports cars, with its engine's roar signifying its gritty performance and top-tier horsepower.
For some, the rumble of the engine provides a connection to the car, especially when they punch the gas. With an electric engine, this feeling may be lost, with the quiet nature of an electric engine not providing the same connection between the driver and the car. Due to these concerns and other design considerations, we may have both options instead of just one for some time.
2. Car Range
One of the main concerns for any electric vehicle revolves around how far the vehicle can go before it needs to recharge. While some super-charged vehicles can get 200 to 300 miles off of a single charge, many batteries still only offer a range in the double digits. If the electric Corvette can't offer range in the hundreds of miles area, it's likely that consumers will go with an option that does.
3. Charging Stations
There are many charging stations available around the country, but until electric cars make their way further into the mainstream, some drivers are going to be hesitant to purchase an electric car and have to take the extra steps to find where charging stations are offered. This worry about finding stations and resistance to making the effort to figure out where charging stations are will likely turn some potential customers away.
Additionally, if customers want to have a driving station at home, they'll have to decide that the investment in a home charging station is worth the value that driving an electric Corvette brings. A buyer's electricity costs will also go up due to having to keep their car charged, which some customers may be resistant to as well.
Browse Top Flight Automotive for All Your Corvette Needs
No matter the generation of your Corvette, you can find what you're looking for at Top Flight Automotive. As the largest manufacturer of Corvette parts anywhere in the world, we have plenty of parts, accessories and equipment needed to keep your Corvette running in top shape and looking great. We're a one-stop shop for all things Corvette, and you can expect that we'll provide you with the highest quality products at an affordable price.
Find the Corvette parts you need today by shopping online today.