Browse by Generation
Mustang Accessories at Top Flight Automotive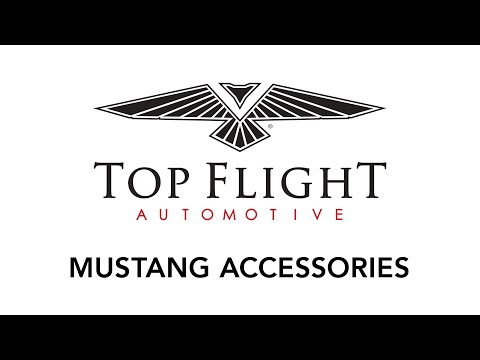 As the late Carroll Shelby once said "Anything worth doing is worth doing in excess". Top Flight Automotive brings that same level of dedication to what we do. Serving the Mustang community for over 40 years, we are passionate and understand that each generation offers something special.  When we took flight, our team knew our quality Parts, Interiors, Wheels and Accessories from all of your favorite brands were a cut above the rest. Nevertheless, we continue to build and improve every day, as Shelby did, to stay true to the iconic Mustang. When it's time to restore your Mustang, choose Top Flight Automotive!
Ever since the debut of the first-generation Mustang in 1964, Ford continues to make advancements to this iconic line of performance vehicles boosting horsepower, torque and top speeds. Those involved in the sports car community understand that driving a muscle car with the signature "pony" emblem is a gateway to customization projects involving interior and exterior upgrades, and Top Flight Automotive wants to be your one-stop shop for these aftermarket accessories. Now that the Mustang name is over 50 years old, it is the perfect time to reimagine your favorite ride by implementing new technology and styles.
At Top Flight Automotive, our experts are knowledgeable about classic and new Ford models, and we are passionate about keeping these innovative pony cars on the road or race track for years to come. As one of the largest suppliers of Mustang parts anywhere, you will find specific accessories for all six Ford generations for your vehicle's interior and exterior appearance. No matter if you enjoy the behind-the-wheel experience of a Mustang II or use a GT350 as a daily driver, our products enhance, renovate and protect your vehicle to match your personality and driving applications.
Shop Mustang Accessories by Generation:
Shop Popular Submodels:
Why Use Mustang Accessories from Top Flight Automotive?
The Ford Mustang is one of the most recognizable performance cars in American history. They are known for cutting-edge designs, lightweight aerodynamic builds and compact coupe and convertible styles that make a perfect addition to showrooms and garages. The demand for Mustangs shows no sign of slowing down, so aftermarket accessories are a great way to separate your model from the rest.
For your shopping convenience, Top Flight Automotive stocks compatible accessories for famous Mustangs such as Shelby, Mustang II, GT, Cobra models and more. Some of our most popular products fall into the following categories:
Backup cameras
Protective car covers
Cup holders
Curb sensors
Car Audio 
Dashboard items
Decals and Emblems
Fenders
Floor mat and Carpet
Engine compartment
Exhaust enhancements
Hood scoops
License plates, frames and covers
Rocker panels
Side skirts and fins
Stereos and speakers
Seat Covers
Interior and Exterior Lighting
Tail light panels
Trunk liners
And more
Mustang Interior Accessories
From carpet and seat covers to full replacement dashboards, Top Flight Automotive has the interior accessories you need. We help auto enthusiasts and professionals to not only add personalized accents and detail, but enable them to completely overhaul and restore mustang interiors with USA made parts and accessories that meet or exceed standards in the industry. Regardless of your generation of Mustang, add quality and refined style to the interior of your Mustang and shop our full interior catalog today. 
Drivers often underestimate the importance of a clean interior cabin. After hours of fixing up your classic ride, you'll be spending a great deal of time behind the wheel on life's next adventure. Mustang interior accessories at Top Flight Automotive can be as "stock" or unique as you like, with exact reproduction items as well as replacement additions in exciting colors, textures and finishes.
Our professionals connect you to a vast product portfolio with everything necessary to redesign your Mustang's cabin area. We've got the following interior accessories for all six vehicle generations to bring your restoration visions to life:
Mustang Car Backup Camera Accessories
Some of the most useful Mustang accessories assist you with navigation from the driver's seat. For your safety, Top Flight Automotive carries blind spot rear cameras for parallel parking and driving in reverse. These installations are ideal for early and mid-generation years that did not have this technology during release.
We offer complete backup camera systems with included dash-mounting digital display monitors to eliminate blind spots entirely. Select products from industry-leading manufacturers such as Brandmotion or find OEM replacement cameras for select vehicles only, with the Ford emblem badge enclosure. Backup camera accessories at Top Flight Automotive install in just hours to prevent back-end damage and collisions.
Mustang Curb Sensor Accessories
Aftermarket sensors save even the most experienced drivers from minor collisions, dents, scratches and front-end wheel damage. Since Mustangs are a financial investment, it is wise to protect your muscle car's exterior with curb and object systems that warn you when driving too close to structures low to the ground. Easily equip your Mustang with technology engineered to vibrate, trigger warning sounds or flash LED lights for awareness around your vehicle.
Curb sensor kits arrive with everything you need for a smooth installation process and attach along front and rear bumper areas. Wires and equipment connect to a main power supply and interface that mounts cleanly inside the cabin, and accessories are concealed along the outside of your Mustang.
Interior Vent Trim Mustang Accessories
Are you looking for interior accessories for your aggressive sixth-generation Mustang? Top Flight Automotive has 2015-2016 Anniversary Edition air vent trim sets for original Ford dash components. Dress up your 50th Anniversary collector car with officially licensed peel and stick designs showcasing Mustang fonts, pony emblems, engine specifications and Coyote scripts.
Friends, family and Mustang fans will be eager to find out where you found these 100% stainless steel A/C vent attachments. Products are crafted in the U.S. and are anti-corrosive for long-lasting style results. Order interior vent trim pieces with your choice of the following color inlays:
Brushed black
Green
Bright red
Ford blue
Orange fury
Purple
Yellow
White 
Classic Mustang Stereo and Speaker Accessories
After spending hours on restoration projects and routine maintenance, you want to have an inviting cabin area inside your first-generation Mustang. Throughout the 1960s and 1970s, stock setups included a factory radio for tuning AM and FM channels, but advancements in technology keep us connected to smartphones, tablets and media players for entertainment. Fortunately, Top Flight Automotive makes it possible to achieve vintage looks with audio features of the 21st century with aftermarket stereo receivers for 1964-1973 Ford Mustangs.
Classic style radios on our online store install perfectly into stock dashboards, include OEM-inspired push-buttons and are built with updated inputs and outputs for RCA jacks, 3.5mm phone and iPod ports, Bluetooth pairing and more. Browse each stereo receiver listing for details regarding wattage, pre-set functions, EQ capabilities and playback options.
If you want the latest technology in your classic ride, Top Flight Automotive also stocks receivers from Kenwood and Pioneer.
Mustang Exterior Accessories
Top Flight Automotive offers a large selection of exterior accessories and parts for every generation of Mustang. Our ground effects, fender flares, spoilers, and body kits can not only improve the look of your Mustang, but will surely take your aerodynamics to the next level. We also offer bumpers, quarter panels, hoods, weatherstripping and more exterior replacement parts and accessories. Shop our full mustang exterior catalog. 
Ford Mustang Car Cover Accessories
Top Flight Automotive offers customers protective car covers for classic and modern Mustangs. Whether your collector car stays in the garage or on the street, indoor and outdoor covers are your first line of defense against unwanted debris and paint scratches. Suitable for coupe and convertible, Shelby, GT, LX and Fastback Mustangs, car covers on our online store fasten with elastic materials and block out moisture and pollutants that would harm your Mustang's finish.
Click on our Onyx, MaxTech or EconoTech car covers to decide which level of protection is acceptable for your storage uses. All covers are generation-specific and allow air to pass through for ventilation. Speak to one of our sales representatives during normal business hours for more information about cover storage bags and warranties.
Mustang Performance Accessories
Some drivers look at their Ford Mustang like a blank canvas. If you're passionate about designing a pony car from the ground up, Top Flight Automotive is your premier source for Mustang performance accessories that install without major interior or exterior modifications. The days of settling for factory settings are in the past with numerous aero body kits, engine compartment upgrades and beyond.
We separate ourselves from the competition with performance products that help you grab the attention of fellow Ford fanatics. Change up your vehicle's body shape, engine output and overall sound thanks to our selections in the areas below:
Canards
Rear wings
Wind splitters
Unleash the true potential of your Ford Mustang with listings from brands like BBK Performance, Baer Brake Systems, Borla and Holley. We understand that shopping for Mustang performance accessories can be intimidating, so Top Flight Automotive experts are glad to assist. We appreciate vintage and recent models just as much as you, so we'll offer advice to ensure you get desirable results from your upgrade.
Create downforce, extra horsepower and high-speed stability with Mustang performance accessories you can trust.
Mustang Performance Hood Scoops
If you're new to the world of muscle cars, it's important to note that a healthy flow of air is the key to prolonging engine life and boosting performance. If you're in the market for an exterior upgrade, adding a hood scoop to your classic or modern Mustang is an excellent way to achieve racing-inspired looks and cooler running. Hood scoops help your Mustang cut through the air and reduce temperatures under the hood.
Top Flight Automotive makes it easy to find exterior accessories with hood components organized by make, model and year. We give you the opportunity to transform the outside of your Mustang with fiberglass products for fan-favorite generations. We know the value of vintage Mustangs, so our hood scoops are brought to you by top quality makers like Auto Accessories of America and California Pony Cars.
Discover aftermarket hoods and scoop inserts for 1965-1966 and 1971-1973 first-generation vehicles. Sand, prime and paint these products to match your current paint job, and you'll turn heads everywhere you go.
Mustang Side Scoop Accessories
Looking to add something extra to the quarter panels on your rare Mustang? Side scoops are one of the best ways to channel old-school styles of the late 1960s. These accessories mount near your vehicle's wheel wells to create contrast along front and back-end surfaces.
Professionals at Top Flight Automotive will introduce you to budget-friendly accents to draw attention to doors, rims and more. Our inventory is always expanding with new stylish upgrades, so be sure to click through selections for the production years mentioned below:
Accessories for Mustang Fenders
Ford enthusiasts love to get a good look at Mustangs as they go zipping down the highway or race track. You have the ability to separate yourself from others on the road with accessories that bring the eyes to the fender area. Showcase your pride for Ford vehicles by browsing our assortment of gas cap add-ons and exterior pony emblems.
The American Car Craft Ford gas cap makes refueling a pleasant experience with oval and rivet designs. Pieces are manufactured right here in the United States, and you'll be happy to know the accessories suit all 2011-2012 models.
If you have a Mustang with a different model year, consider placing an order for fender emblems. We have peel-and-stick products to place as you see fit. Create a pop of color with chrome Mustang lettering, Tri-Bar pony logos and Cobra model themes.
Modern Mustang Side Skirts
Our inventory is full of side skirt extensions for fifth- and sixth-generation Mustangs. One of our best-selling style upgrades is the 2015-2016 Side Skirt Overlay that weighs in at just 5 pounds. For 2005-2009 models, we stock high-performance carbon fiber side rocker extensions for a lightweight addition to your racing build.
Mustang side skirts or "side rockers" attach just below driver and passenger side doors. These products give your vehicle an updated look while increasing its aerodynamic capabilities and performance on the freeway or race track. Drivers choose to install these pieces to minimize the buildup of pressure moving underneath vehicles, as this pressure would normally result in unwanted lift and a loss of handling control.
Adding side skirts to your late model Mustang is an excellent idea if you plan on incorporating other exterior upgrades. Create a custom style of your own by pairing a front air dam or set of rear wings to your order. Our experts want to help you take your Ford Mustang to the next level, so our products from American Car Craft and APR Performance give you options for signature scripts and chrome finishes in a lightweight package.
We're always adding new performance features to our online shop, so be sure to check back for side skirt attachments that guide air over your vehicle. Our inventory contains side rocker variants specifically for S550, GT500 and S197 models. With so many ways to dress up your Mustang, the sky is the limit when you turn to Top Flight Automotive for aftermarket parts and accessories!
Mustang Wheels & Tires
One of the top exterior accessories also checks the performance and style boxes. Take your Mustang's design and handling to the next level with our catalog of mustang wheels and tires. We sell wheels and rims from all the top brands such as Scott Drake, Wheel Vintiques, California Pony, Auto Accessories of America, and so much more. Shop multiple trims for all generations of Mustangs (1964 through 2020).
Shop Top Flight Automotive for Ford Mustang Car Accessories
Top Flight Automotive is part of the Extra Mile Brands family of companies proudly serving the Mustang community for over 40 years. We are your one-stop shop for Ford interior, exterior and performance parts and accessories, and our inventory is constantly growing with new products for all six generations of Mustang vehicles. If you need assistance with product compatibility or the ordering process, Top Flight Automotive sales representatives are available during normal business hours to steer you in the right direction.
From interior dashboard accessories to exterior attachments, our professionals keep your classic or modern Mustang in pristine shape for award shows, judging competitions, the race track and daily cruising. For more information about Mustang accessories or to place an order, shop Top Flight Automotive today.
Can't find what you're looking for? Let us know and we can help! Contact Us