C3 Corvette Parts - 1968 to 1982
C3 Corvette Parts and Accessories at Top Flight Automotive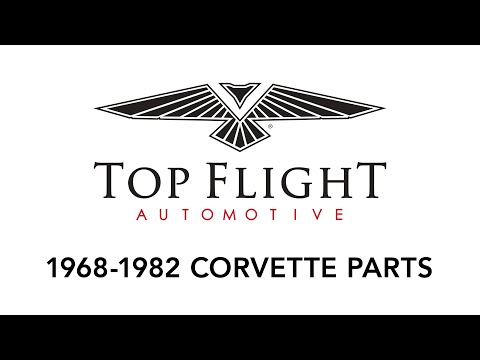 Top Flight Automotive is home to the largest selection of Corvette restoration, style and performance parts on the market today. Serving the Corvette community for over 40 years with a staff that speaks fluent Corvette. We are passionate about Corvettes, and understand that each generation offers something special. We'll guide you through restoration or upgrade projects from start to finish. When it's time to mod or restore your Corvette…choose Top Flight Automotive!
C3 Corvette Parts for Sale
Driving and maintaining a classic Corvette is more than just a hobby. It's a lifestyle, passed down for generations, and restoration projects help your ride look and handle better than ever. Here at Top Flight Automotive, we have a passion for all Corvette generations, but there is nothing quite like the C3.
Owning a C3 Corvette is a luxury and a privilege. This model offers stunning performance and sleek style that is sure to turn heads. However, nothing lasts forever. Shop for Corvette upgrades, performance add-ons, maintenance products and more.
Top Flight Automotive is part of the Extra Mile Brands Family of companies, which has served the Corvette community for over 40 years. Trust us to keep your C3 Corvette in top shape for years to come.
We sell parts and accessories for the following C3 model years: 1968, 1969, 1970, 1971, 1972, 1973, 1974, 1975, 1976, 1977, 1978, 1979, 1980, 1981, 1982
History of the C3 Corvette Model
The C3 Corvette was introduced by Chevrolet in 1968 and continued in production through 1982. This third generation features an all-new redesigned body and interior style. Consumers loved this vehicle — and still do today — for its similarities to previous Corvette generations.
Much of the first C3 Corvette models carried over components from the C2. This included parts such as manual transmissions, suspensions, disc brakes and small-block/big-block V8 engines. The C3 Corvette stands as the longest running generation with a total of 15 years in production.
The 1970s and 1980s were an interesting time for the American car market, but the C3 Corvette progressed as a high-end performance vehicle. Constant changes in emission regulations forced Chevrolet into producing a variety of engine packages for the C3. From this model\'s first introduction to its final release in 1982, over a half million vehicles that were purchased contained more than a dozen different engine setups.
Owning a C3 Corvette is like preserving a crucial piece of American history. With a number of variants released during production years, you need an experienced team to guide you during restoration projects and ensure parts and accessories are compatible. Fortunately, Top Flight Automotive is here for your C3 Corvette maintenance and performance needs.
C3 Corvette Parts, Accessories and Interiors
Whether you drive your C3 Corvette daily or take your favorite ride out for special occasions, turn to Top Flight Automotive — your one-stop shop for Corvette parts and accessories. We have the largest in-stock inventory for repairs, upgrades, care products and beyond. Shop by the following Corvette categories:
Our Corvette parts are engineered for your exact C3 model to keep you on the road for years to come. No parts are too large, small or niche for our online store. Some of our most popular replacement parts include:
Belts
Clutches
And Much More
Top Flight Automotive enables you to shop C3 Corvette parts by year for a perfect match. Our dozens of replacement parts are mapped out by category for your convenience. Plus at Top Flight Automotive, we speak fluent Corvette! Our experts can always recommend upgrades and maintenance replacement parts to help you achieve the restoration results you\'re looking for.
One of the best parts about owning a C3 Corvette is the classic interior. We manufacture a vast selection of Corvette interior products, all made in the USA, including:
Corvette vehicles are known for their wide range of interior colors. Over the years, Chevrolet included signature finishes for seats, carpeting and panels, so we offer a color-code tool for identifying stock colors. Material samples are available upon request to ensure you\'re satisfied with your purchase.
C3 CORVETTE EXTERIOR PARTS
Chevrolet fans are always watching for C3 vehicles on the road. As one of the most iconic Corvette generations, these muscle cars turn heads at award shows, judging competitions, parades and more with chrome accents, rally-style wheels and racing-inspired paint jobs. Since most people will not get to step inside your beloved C3, you can impress others at the race track with a factory-fresh exterior.
Top Flight Automotive is your go-to source for restoration parts. For your shopping convenience, we list all of our C3 exterior products by make, model and year for a seamless installation process. Correct unwanted dents, corrosion and scratches with cost-friendly solutions that keep your favorite ride running for generations.
The days of searching for used replacement parts are over with our expanding inventory of products from industry-leading manufacturers. Discover everything from Corvette exterior trims to replacement hardware based on the following categories:
Windshield wipers and washers
C3 CORVETTE EXTERIOR ACCESSORIES
Part of the fun of owning a Corvette is getting to dress your vehicle up with accessories that suit your personality and driving applications. At Top Flight Automotive, we want your C3 to stand out from the rest, so we carry affordable exterior upgrades that mount in seconds. Showcase your inner Corvette pride with removable options for the front, sides and back of your third-generation muscle car.
Remember to check back frequently, as we're always updating our inventory with C3 parts and accessories such as:
Decals, stickers and body graphics
Emblems
Engine compartment covers
Crossflag license plates
License plate frames
Louver lighting kits
C3 Corvette Performance Upgrades
If you\'re searching for Corvette performance upgrades, look no further than Top Flight Automotive. We are proud to bring our customers components for under the hood as well as exterior modification kits for reducing unwanted lift. Increase high-speed stability for your C3 Corvette with our aftermarket performance parts:
Aero Kits
Air Deflectors
Front Air Dams
Spoilers
Wings
Splitters
Top Flight Automotive also offers high-performance air intake and cooling systems to boost engine efficiency, horsepower and torque. Improving engine airflow is the first step toward throttle enhancements and a better overall driving experience. Installing aftermarket systems is straightforward when you work with Top Flight Automotive.
The Preferred Supplier of Corvette Parts and Accessories
A vintage C3 Corvette requires a professional set of eyes for components, parts and upgrades. As the top manufacturer and supplier of Corvette parts, interiors and wheels, Top Flight Automotive is your guide for any C3 project. Finding the restoration parts for your C3 Corvette can be challenging — our online store is your one-stop solution.
Our team has over 175 years of combined experience, and is ready to answer any questions about Corvette makes and models. Shopping for upgrades, performance add-ons, maintenance and car care products is easy with the help of our experts. When our customers need guidance, we provide timely solutions.
Start Shopping C3 Corvette Parts Online
We understand the importance of keeping your Corvette restoration and maintenance projects on schedule. That\'s why most items in our online store are processed and shipped within the same day for fast service and delivery. Browse our extensive selection, and place your order today!
Can't find what you're looking for? Let us know and we can help! Contact Us