Mustang Gifts, Decor, and Apparel for Mustang Lovers
Mustang Gifts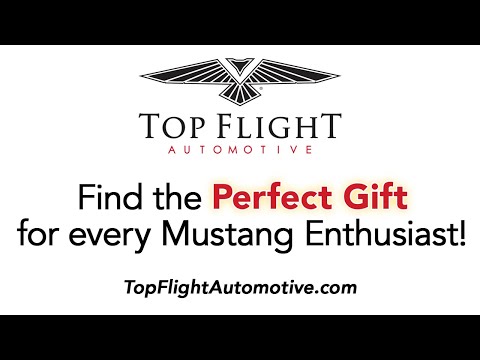 Trying to find the perfect gift for a friend or relative that loves the Ford Motor Company? Top Flight Automotive is your one-stop shop for home decor items, apparel and accessories. Whether you or someone you know lives for classic and modern sports cars, we have something for everyone to dress up the home or garage.
Purchasing a Mustang gift is an excellent idea for birthdays, the holiday season and just about any occasion. If you've ever sat behind the wheel of a Mustang, you understand that restoration projects and the upkeep of these classics is a major part of one's lifestyle. Click through our online store for gifts appropriate for all ages!
Mustang Neon Signs and Wall Clocks
Sports car owners have a sense of allegiance to their favorite automotive brands. The Ford Mustang stands as one of the most impressive performance vehicles of American history, so we allow you to celebrate designs of the past and present with signs and wall clocks. Whether you restore 1960s releases or use a sixth-generation vehicle as a daily driver, we carry neon fixtures displaying signature logos, scripts and imagery to evoke your passion.
Neon signs and wall clocks look incredible in bar areas, workshops and finished basements. The sky is the limit at Top Flight Automotive, as we carry home decor products with Shelby, Cobra and Tri-Bar Pony emblems that catch the eye in any room. Neon lighting products feature illuminations in striking colors such as white, blue, red, green and yellow to match any space.
Be sure to read through individual product descriptions for details regarding weights and dimensions.
Every Mustang enthusiast has an all-time favorite generation. After spending hours on restoration projects, it's fun to create a custom space to perform maintenance and upkeep. This is why Top Flight Automotive supplies decorative wall posters for garages of all sizes.
Wall print-outs on our online store are budget-friendly and appeal to all Mustang fans. A number of our listings show the evolution of the Mustang brand from 1964 to 2020, highlighting coupe and convertible body styles.
Top Flight Automotive helps you design home bar areas with a collection of Mustang seats. Incorporate the iconic pony logo into your home or business with comfortable stools for indoor use. We have bar furniture from Auto Accessories of America with 360-degree rotation, tubular steel construction and vinyl-coated upholstery for long-term styling.
Mustang Apparel Gifts
Owning a Ford Mustang is the ultimate gateway to a lifetime of restoration projects, routine maintenance, cruising and adventure. Whether you're a collector with a first-generation Shelby, adore the Fox Body or use an aggressive sixth-generation model as a daily driver, the Mustang brand offers something for everyone. If you want to showcase Mustang pride outside of your car, Top Flight Automotive offers Ford apparel products perfect for everyday use, auto body workshops and the race track.
As one of the largest suppliers of Mustang components anywhere, Top Flight Automotive carries a variety of clothing products in men's, women's and kids sizes celebrating one of the most recognizable sports car lines in American history. Our professionals understand that driving a Ford muscle car is a crucial part of your lifestyle, so we stock our online store with clothing products for year-round wear. Easily display your favorite Mustang generation years, emblems and scripts with designs and prints for all ages.
Why Purchase Mustang Apparel?
Mustang vehicles have dominated the consumer market since their debut in 1964. These iconic releases symbolize decades of racing success, and sports car enthusiasts look to these models for hair-raising performance outputs, racing-inspired exterior shapes and sleek interior features. Since drivers spend a great deal of time customizing vintage and modern Mustangs, Top Flight Automotive's Ford apparel is an exciting way to represent revolutionary muscle cars of the past and present.
Support your favorite Mustang builds at work, home or while attending Ford outings with apparel selections in the following categories:
Mustang Men's and Women's Polo Shirts and Apparel
Top Flight Automotive carries men's and women's clothing for a business casual look at the office. By clicking through our shirts, you will find polo styles with moisture-wicking technology and breathable polyester materials. You can order StayCool and Under Armour® products in colors such as black, gray and red, and display the Mustang pony emblem with text on the right- and left-side chest.
With officially licensed Ford polo shirts, you can style your entire team accordingly for public events, all while staying comfortable for hours at a time. Products containing spandex materials stretch with your movements and hold shape after repeated washes. Place an order for several colors for multiple wears throughout the workweek.
Ford Mustang Apparel: Men's and Women's T-Shirts
If you or someone you know spends time working on vintage Mustangs, consider placing an order for a men's or women's t-shirt on the Top Flight Automotive online store. Our t-shirt collection contains products with Pony emblems, signature scripts, blue Ford oval logos and Tri-Bar prints for any occasion. Mustang t-shirts consist of 100% cotton and cotton/polyester blends based on design.
Ford t-shirts from Top Flight Automotive make excellent gifts for the Mustang fanatic in your life with patterns representing 50th anniversary years, 1960s backdrops and first- and second-generation imagery. Men's and women's styles feature v-neck and standard collar designs for a fashionable appearance.
Men's Mustang Jackets
Are you planning a restoration or upgrade project during the colder months? Top Flight Automotive keeps you warm with men's zip-up jackets from our apparel store. For mild temperatures, our windbreakers and soft shell jackets have an embroidered Tri-Bar Mustang emblem on the left-side chest and act as an additional thermal layer for outdoor activities.
For Ford fans visiting the race track, our experts bring customers water-resistant options with men's boom and hooded Mustang jackets. Boom jackets ship with your choice of fleece or standard liners and prevent rain from seeping through your clothes with a cadet-style collar and zipper pockets. Mustang enthusiasts will be curious about where you found these fashion jackets with color options in black, black/gray and blue.
Men's hooded Mustang jackets are equipped with an adjustable hood, elastic cuffs and multiple zipper pockets.
Other Gifts and Accessories: Mugs and Pens
Shopping for an ideal gift on a tight budget? Top Flight Automotive caters to our customers with Mustang accessories for the home and office. Check out our Tri-Bar Pony mugs and writing pens for racing-inspired items to take on the go.
Order Ford Mustang Gifts at Top Flight Automotive
Top Flight Automotive prides itself on an expanding product catalog, quick deliveries and over 175 years of combined industry experience. Being among the Extra Mile Brands family of companies, we belong to a team that has been serving Mustang lovers for over four decades. If you have any questions about our gift accessories, give us a call at 833-486-7354 or complete our contact form online today!
Can't find what you're looking for? Let us know and we can help! Contact Us