Third Generation Ford Mustang Brakes
Foxbody Mustang Brakes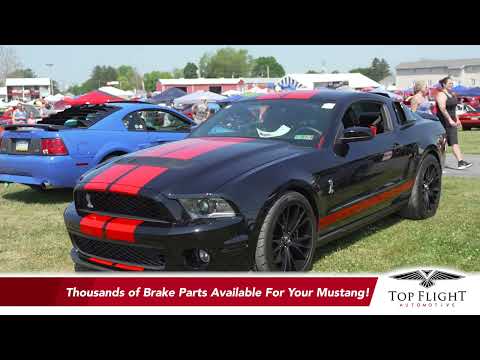 Foxbody (third-generation) Mustangs are popular among collectors, restoration fans and those searching for a deal. With production years from 1979 to 1993, the Foxbody series was unlike anything consumers had seen from the Mustang brand. Ford engineers made a compact performance vehicle that was fast enough for the track and satisfied American families' needs as gas prices continued to rise throughout the 1970s.
Ford fanatics recognize the Foxbody era as the moment the Mustang returned to its roots. The increase in horsepower with each new model excited drivers and officials at the Ford Motor Company fine-tuned exterior surfaces to make these releases lighter than the Mustang II generation's coupes.
Scooping a budget-friendly pony car with over 200 horsepower is possible when you opt for a Foxbody Mustang in the modern era. Top Flight Automotive wants to help you stay safe behind the wheel, so we stock replacement brake parts, kits and accessories for your 1979-1993 Mustang. Keep your ride ready for the road with all the aftermarket components you need under one roof.
Maintaining Your Foxbody Mustang's Brake System
You must have a powerful set of brakes to bring you to a complete stop. With some models within the Foxbody series being over 40 years old now, it's safe to assume your original equipment manufacturer (OEM) braking system has experienced damage. Driving through puddles, exposing your pony car to temperature changes and commuting causes wear and tear, so it's crucial you know where to look for OEM-style replacement parts and upgrades.
Top Flight Automotive connects drivers to one of the most expansive collections of Foxbody Mustang brakes online. Change out rusting pieces or introduce an entirely new braking system to your 1979-1993 Mustang for a noticeable increase in performance. Our experts grant you access to everything necessary to maintain OEM braking systems or rejuvenate assemblies beyond factory specifications. We separate ourselves from the competition with products from brands like:
ACP
Auto Accessories of America
Baer Brake Systems
Daniel Carpenter
Hawk Performance
SSBC-USA
Scott Drake
When Should I Install New Foxbody Mustang Brakes?
You know your pony car inside and out. Like many drivers, you should be able to tell when you need new Foxbody brakes from Top Flight Automotive by relying on your eyes and ears. Whether it's been years since your last brake replacement project or you want to take your 1979-1993 Mustang to new heights, the clues below are telltale signs to service your brakes immediately:
You can hear brake components grinding or squeaking.
The brake pedal feels wobbly when applying the brakes.
You must exert force on the pedal to get your brakes to work.
You spot a brake fluid leak below your car.
Brakes on one side of your vehicle work better than the others.
There is rust near calipers, rotors or hardware.
Understanding the Foxbody Mustang Braking System
The Ford Motor Company changed its Foxbody Mustangs as production continued. Select submodels featured rear drum brakes before the four-wheel disc brake layout became an industry standard for performance vehicles. Depending on whether you're the original owner, you may find yourself in need of drum and disc brake components to revitalize your ride.
Top Flight Automotive supplies Foxbody Mustang brakes for all 1979-1993 releases, including Cobra, GT and Anniversary editions. Boost your stopping power in no time by speaking to our sales representatives during normal business hours. We map out all listings by model year for a seamless installation:
1979-1993 Foxbody Mustang Brake Conversion Bundles
Do you wish your Foxbody Mustang could stop in an instant? Top Flight Automotive stocks impressive Foxbody brake conversion kits from SSBC-USA. Get everything you need to update your pony car from a drum to disc brake setup with select packages shipping out with chrome, black or red calipers.
Our 1979-1993 Foxbody brake conversion kits provide you with the level of response you'd expect from a performance car in the 21st century. Bundles bolt directly to your stock axle for a quick project turnaround. Review the product information we have available online to see what comes with each kit. Select Foxbody brake conversion kits ship with the following:
10.5-inch vented rotors
Cast iron calipers
Updated master cylinder
Brake pads
Brake caliper dust boots
Flex hoses
Stainless steel spacers
1979-1993 Foxbody Mustang Performance Brake Kits
If you plan to take your Foxbody Mustang to the track, your ride could use some high-performance brakes. Our experts fill our inventory with only the best products from Baer Brake Systems to keep front-end wheel wells cool. Shop our 1979-1993 Foxbody disc brake kits showcasing 11-inch, 12-inch, 13-inch and 14-inch zinc-plated rotors for long-term brake stability. Heat can escape these brake assemblies via drilled and slotted openings for consistency with each pedal press.
Baer Brake Systems Foxbody brake kits are some of the easiest ways to enhance your driving experience without investing in a new vehicle.
1979-1993 Foxbody Mustang Disc Brake Pads
Brake pads are some of the fastest-wearing components within a disc brake setup. These attachments stop your vehicle by creating friction against metal rotors. If your aftermarket brake system could use some work, Top Flight Automotive has several brake pad varieties from Hawk Performance for maximum resistance against brake fade.
Gain up to 40% more stopping power with pads that outperform generic installations. Hawk Performance products are quiet and help to keep your aftermarket rotors in pristine condition.
1979-1993 Foxbody Mustang Brake Pedal Replacements
Are you tired of looking at the worn brake pedal at your feet? Top Flight Automotive makes it easy to swap out your deteriorating pedal with merchandise from Scott Drake. We've got aftermarket brake pedals for automatic and manual setups displaying 5.0 scripts.
Buy Your Foxbody Mustang Brakes at Top Flight Automotive
If you're restoring a Foxbody Mustang, Top Flight Automotive has disc and drum brake parts by reputable brands. Our sales team goes above and beyond for customers, offering expert advice for your project. Revisit our online store periodically to take advantage of our ever-expanding industry.
We're part of the Extra Mile Brands family of companies, which has had a sound foundation in the Mustang world for 40 years. Order your Foxbody Mustang brakes and submit a contact form for further information about product details.
Can't find what you're looking for? Let us know and we can help! Contact Us