C4 Chevrolet Corvette Interior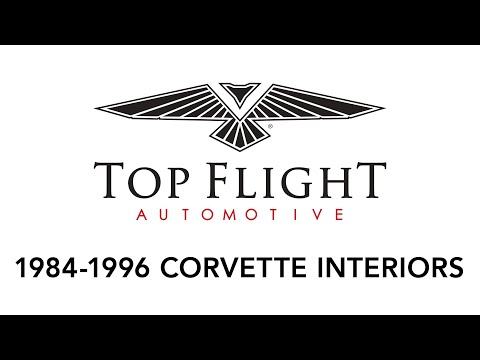 C4 Corvette Interior Upgrades
The C4 stands as an excellent way to enter the Corvette world in the modern era. Featuring Anniversary and Grand Sport releases, consumers gravitate to this generation for performance, impressive tops speeds and LS1 engine builds. Those on the fence about purchasing a C4 Corvette can feel safe knowing these vehicles offer the ultimate behind-the-wheel experience when you shop for interior replacement parts at Top Flight Automotive.
Experts at Top Flight Automotive connect customers to interior components engineered to meet or exceed original specifications of the Chevrolet factory. As the largest manufacturer and supplier of Corvette parts anywhere, Top Flight Automotive keeps the restoration process simple with C4 compatible interior upgrades organized by make, model and year. While the C4 is a great value in the 21st century, no one caters to these Corvettes quite like Top Flight Automotive.
C4 Corvette Interior Restoration
Sports car enthusiasts cherish the C4 Corvette for its sleek signature styling inside and out of the cockpit. Now that select releases are over 30 years old, drivers require aftermarket interior parts to eliminate signs of sun exposure, weathering and repeated use. Luckily, Top Flight Automotive is your one-stop shop for Corvette interior components, and we supply the following upgrades for the C4 generation:
Armrests
Carpets
Convertible tops
Dash caps
Dash pads
Door panels
Embroidered headliners
Floor mats
Header posts and moldings
Interior dyes
Seat belts
Shift boots
Steering wheels
Sun visors
Weatherstripping
And so much more!
C4 Corvette Interior Carpeting
Struggling to remove stains or dirt from stock carpeting? Each time you enter and exit your C4, your shoes carry road debris inside the cockpit — but Top Flight Automotive enables you to achieve a factory-fresh appearance with front and rear replacement carpets. Choose between Mass Back and Poly Back materials to suit your restoration vision.
Mass Back carpeting resembles your stock installations using identical hard-rubber backing for quieting road noise and reducing heat transfer from your exhaust system. We also bring customers budget-friendly Poly Back materials with jute-padding for fighting unwanted moisture during inclement weather. All of our C4 carpets are from Auto Custom Carpets, Inc. for both coupe and convertible models.
C4 Corvette Dash Pads and Interior Trims
Anyone climbing inside your C4 Corvette will notice the dash pad's condition. If interior surfaces are deteriorating, swapping them for new components may be one of your restoration priorities. Top Flight Automotive carries various replacement pieces from Classic Car Dashes. Get the parts you need to create a neat cabin appearance from us. Our 1984-1996 C4 Corvette dash pads showcase original equipment manufacturer (OEM) textures and pre-cut speaker holes for a stock look. You can drop pieces in place without performing modifications inside your muscle car.
C4 Corvette Interior Door Panel Parts
Corvette doors experience wear and tear from regular use. If your C4 interior door panels have dents, scratches or tears in carpet lining, consider one of our standard/deluxe packages for 1984-1989, 1990-1993 and 1994-1996 production years. This is the easiest way to get professionally installed carpet strips, inner window seals and lower air ventilation for your favorite ride.
We supply replacement door panels in all original colors of the C4 generation. For a pristine stock interior match, request a color/material sample from one of our sales representatives.
C4 Corvette Floor Mats
Protect your C4 Corvette carpets by adding floor mats to the driver and passenger sides of your sport model. Top Flight Automotive offers multiple 1984-1996 C4 floor mats for you to choose from. We stock carpet and rubber mats so you can pick your level of protection.
Many of the C4 Corvette floor mats we carry are supplied by Auto Custom Carpet, Corvette America and Lloyd Design Corporation. Shop mats in colors that complement the OEM interior shades of the fourth-generation series. Choose from C4 Corvette floor mats in black or gray to keep the cabin looking sharp.
Top Flight Automotive offers C4 mats with plain, embossed and sewn patterns. Add Corvette mats with Crossflags and related scripts for a custom look at your feet. We offer cabin floor mats that are thicker, heavier and more durable than OEM mats.
C4 Corvette Glove Box and Center Console Parts
Your C4 interior remodeling project may involve repairing storage compartments inside your Corvette. We carry the pieces necessary to restore or replace the glove box in your 1984-1996 Corvette. Change out the storage door assembly, front-facing lock, bumpers, screws and other parts to regain functionality.
Top Flight Automotive also introduces you to reproduction console doors that can protect your phone, wallet and other personal belongings. Most of our console door listings from Auto Accessories of America come with mounting lights to help you see during late-night drives.
C4 Corvette Instrument Panel Upgrades
An instrument panel communicates travel speeds, fuel levels, engine temperatures and other performance data. If your OEM lenses break or the gauges become unresponsive, we have what you need. Top Flight Automotive will help you find a compatible gauge cluster replacement for your C4 Corvette. Products by Intellitronix bring your Corvette into the modern era, as Intellitronix equips installations with colorful light-emitting diodes (LEDs) that you can see at all times of the day. Calibrate aftermarket instrument panels with the push of a button.
For those who want to replace their C4 Corvette instrument panel trim, Top Flight Automotive also stocks affordable dash bezels that fasten using original hardware. Erase the fading plastic trims you see each time you look at the speedometer.
C4 Corvette Interior Seats and Seat Covers
Are your C4 Corvette factory seats uncomfortable? Top Flight Automotive stocks several options to customize interior installations in your favorite ride.
Start by placing an order for all-new C4 Corvette seat foam. Cushions from Corvette America are available in the same sizes as OEM pieces for an authentic appearance. We give you the flexibility to purchase individual seat backs and bottoms or four-piece sport seating sets for both sides of the cabin. These replacements reduce back pain after long drives in your C4 release.
Our C4 Corvette seat covers are the finishing touch for your remodeling project. Shop genuine leather and vinyl upholsteries to complete your setup. We carry Corvette America seat cover products in all 1984-1996 color schemes.
C4 Corvette Seat Belt Replacements
You use the seat belt every time you get inside your Corvette, so there's a chance the OEM materials are starting to fray or show their age.
Top Flight Automotive enables you to customize your vehicle's interior space with seat belt replacements for your C4 Corvette. Whether you want to change the color of your seat belt setup or fix retracting components that have stopped working properly, we offer the parts you need. Shop our site for lap- and shoulder-style seat belt replacements from Auto Accessories of America and Corvette America.
C4 Corvette Steering Wheel Replacements
Our professionals make sure you have access to the C4 Corvette interior parts you need, which includes replacement steering wheels. When your steering wheel surfaces show dirt and grime, pick up one of our reproduction assemblies from Corvette America. You'll find replacement C4 steering wheels in 35th Anniversary and standard styles to make driving your vehicle a pleasant experience.
C4 Corvette Sun Visor Replacements
OEM Corvette sun visors shield your eyes from UV rays, but their material can become discolored or torn with repeated use. Some drivers use their sun visors to store documents and clip personal belongings to them, which can weaken them even quicker.
Shop Top Flight Automotive when it's time to replace the sun visors in your 1984-1996 Corvette. We offer interior Corvette parts for vehicles in high demand, including the 1987 and 1990 Corvettes.
Our C4 Corvette sun visor replacements from Corvette America are available with and without lighted mirrors on the inside surface. Choose a new sun visor featuring an embroidered fourth-gen Crossflag to represent your favorite era of the Corvette.
Shop Top Flight Automotive for C4 Corvette Interior Upgrades
Top Flight Automotive is proud to be a part of the Extra Mile Brands family of companies serving the Corvette community for over 40 years. Supporting generations of restoration, style and performance, all of our experts speak fluent Corvette and are happy to connect you with compatible C4 interior parts. For more information about C4 interior upgrades or to place an order, contact Top Flight Automotive today.
Can't find what you're looking for? Let us know and we can help! Contact Us