Chevrolet Corvette Exterior
Corvette Exterior Parts at Top Flight Automotive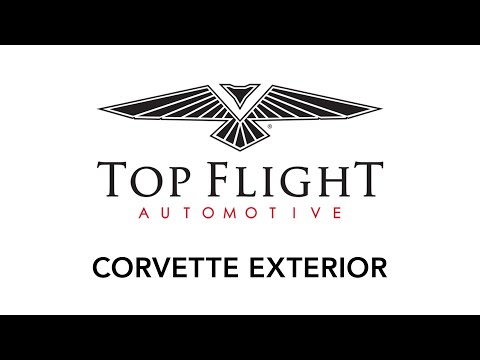 A Chevrolet Corvette is more than your average vehicle. Something with that much power deserves aerodynamic upgrades for performance and style. If you want to restore or upgrade your ride, come to Top Flight Automotive for exterior parts that rejuvenate surfaces. Purchase components that are compatible with C1, C2, C3, C4, C5, C6, C7 and C8 releases.
Top Flight Automotive only carries products from trusted brands. Taking care of sun damage and replacing missing pieces on your Corvette can help you maintain your investment. No local shop or dealership comes close to having the extensive collection of Corvette parts we supply.
The Value of Corvette Exterior Parts
Drivers take note of your Corvette's exterior appearance. In a few seconds, enthusiasts will spot dents, rust and the slightest signs of deterioration. You love your Corvette, so having access to replacement parts is essential. Top Flight Automotive makes it so that you can impress anyone looking in your direction. 
Our offerings can help you rebuild your Corvette from the ground up. Take inspiration from classic styles or alter the character of your sports car so that you feel like you're behind a new set of wheels. Our parts are necessary for repairs, restoration work and keeping your vehicle road-ready.
An Impressive Inventory of Exterior Components
Top Flight Automotive has thousands of Corvette exterior parts in stock. We let you browse our store with specific criteria in mind to narrow down results. Details such as your Corvette's production year, submodel and vehicle generation are all you need to get the ball rolling. Our sales team lists fitment information within product descriptions to help you choose the best products for your needs.
Drivers trust Top Flight Automotive for exterior attachments and accessories because we have the most expansive online portfolio of Corvette parts online. Rely on our professionals for everything fundamental to your project, including:
Body kits
Exterior graphics
Bumpers
Car covers
Convertible tops
Doors
Door handles
Emblems
Grilles
Hoods
Quarter panels
Taillights
Corvette Exterior Body Kits
Are you trying to change the overall look of your Corvette? An exterior body kit from Top Flight Automotive will do the trick. Make your signature release appear wider at the back, or add racing-inspired attachments near the doors and the rear window. Top Flight Automotive is home to many Corvette body kits engineered with carbon fiber and fiberglass materials.
Whether you want a front-end valance panel for a C1 model or an updated spoiler for a C8, we sell bundles that boost performance and aerodynamic capabilities. Find the right body kit for your showroom or racetrack applications at Top Flight Automotive.
Front and Rear Corvette Bumpers
Bumpers defend your vehicle's engine compartment and exhaust connections. Find direct-fit bumper replacements for classic and modern releases in the Corvette lineup. Top Flight Automotive carries bumper parts that follow generation shapes. When you shop through us, you can get front and rear bumpers as well as the chrome accent pieces seen on C1, C2 and C3 Corvettes.
Listings brought to you by American Custom Industries fit without modifying your sports car. Plus, fiberglass Corvette bumpers are lighter than original equipment manufacturer (OEM) installations and offer better resistance to dents and chips.
Corvette Convertible Tops
A convertible top suffers from exposure to wind, rain and UV rays. Whether you have a soft-top or hardtop convertible, knowing where to find a replacement for your attachment can be helpful. 
Top Flight Automotive carries Corvette exterior hardware and repair kits to help you stay dry. You can use these products to close off gaps between your convertible top and the cabin. We give you access to complete convertible top assemblies and miscellaneous exterior parts like side rails and weatherstripping to restore your setup. Our team works to deliver durable convertible top components from reputable names in the industry like Coffman Corvette, Kee Auto Top, Sully's Tops and Trim Parts.
Corvette Exterior Door Parts
Your Corvette's doors help you feel secure. Drivers require these installations to be in functional condition for safety and convenience.
If you're experiencing issues with your stock doors, look no further than Top Flight Automotive for a wide range of replacement parts. Swap door locking mechanisms that no longer work or new ones, or fasten custom Corvette exterior handles for a refreshing upgrade. Our door parts are excellent solutions for installations that get stuck or deteriorate because of inclement weather.
Replacement Grilles for Corvette Vehicles
Exterior grilles feed cool air to the radiator. Often, these pieces can crack or become clogged with bug splatter, mud and debris. With Top Flight Automotive, you can give your Corvette a brand new set of teeth. Count on our staff for original-style and aftermarket Corvette grilles for your restoration efforts. Fix up your ride with stainless steel and billet aluminum attachments that draw attention to the front of your sports car. 
We know all Corvette owners have unique personalities, so you can shop Corvette grilles with various patterns. Make your Corvette look like a shark, or go with blackout laser mesh patterns for an aggressive presentation.
Hood Replacements
Pressure interferes with your Corvette when you drive at high speeds. To slice through the air, you need a durable hood engineered for the track. Give your vehicle a completely new look with our custom Corvette exterior hoods. Top Flight Automotive supplies you with products from Anderson Composites, American Custom Industries, Corvette America and other companies for outstanding results. 
The majority of our replacement hoods are made with carbon fiber materials for a lightweight upgrade. Some options are equipped with front-end vents that keep the engine compartment cool. If your original hood is in decent shape, we also sell replacement hardware to restore functionality. Get the following parts and more from Top Flight Automotive:
Hood lock assemblies
Hood latch levers
Hood pop-up springs
Hood open assist rods
Hood support brackets
Choose Top Flight Automotive for Corvette Exterior Parts
Top Flight Automotive is your central spot for all things Corvette. We're proud to bring you the largest selection of Corvette parts you'll find online at prices that keep drivers coming back for more. We carry components compatible with everything from classic models to the phenomenal C8 series, so we have the parts and accessories you need to complete your project.
Shop our Corvette exterior parts now. Contact our sales team for more information about our selections.
Can't find what you're looking for? Let us know and we can help! Contact Us