C3 Corvette Wheels and Rims
Save With Our C3 Wheel & Tire Packages at Top Flight Automotive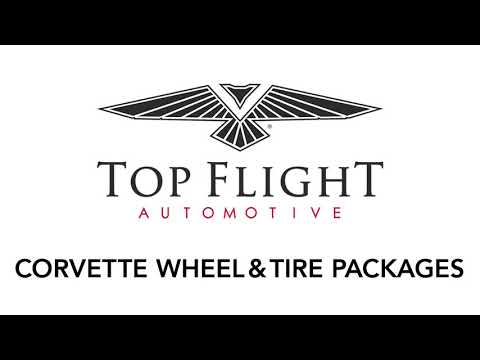 C3 Corvette Wheels and Rims
Restoring a third-generation (C3) Corvette allows you to cherish a piece of American history. With production ranging from 1968 through 1982, the C3 Corvette stands as the longest-running line of these sport car vehicles by Chevrolet. Consumers were drawn to the return of the \"Stingray,\" ZR1 racing packages, and Small Block V8 engines capable of achieving 370 horsepower into the 1980s.
The Corvette community adores the C3 generation as these vehicles still provide a thrilling behind-the-wheel experience 50 years after their debut. As one of the most popular sport car models from Chevrolet, owning a C3 is a great way to enter the classic Corvette market. If you recently purchased a vintage C3 model or need to replace the wheels/rims on your favorite ride, look no further than Top Flight Automotive.
C3 Corvette Wheels and Rim Sets
Nothing is more satisfying than restoring a classic C3 Corvette to factory condition. Our experts can recommend wheel and rim sets for specific model years of the C3 generation. Our sales representatives speak fluent Corvette and will connect you to reproduction parts engineered to meet or exceed original specifications throughout Chevrolet production.
Customers can shop our inventory of 1968-1982 Corvette Rallye wheels for a seamless match to vintage setups. Depending on your restoration need, you can purchase Rallye wheels in groups of four or individually at your convenience. Top Flight Automotive customers can expect the following when ordering a Rallye set:
Four OEM Rallye wheels
Four OEM-style trim rings
Four OEM Rallye hubcaps
20 lugnuts
Top Flight Automotive enables you to restore and replace C3 rims with our stainless steel configurations. Similar to wheel sets, you can order 7-inch and 8-inch rims separately or a four-piece bundle to enhance the look and performance of your classic Corvette. Rims at Top Flight Automotive help reduce tire friction while your vehicle is traveling at high speeds.
C3 Corvette Wheel Accessories
Corvette restoration projects let you customize your C3 model to suit your lifestyle and driving applications. Here at Top Flight Automotive, our online store contains wheel accessories to complement the exterior features of your C3 Corvette. Some of our most popular C3 generation accessories include:
Rallye wheel hubcaps: Upgrade your wheels with exact reproduction, steel or plastic hubcap replacements.
C3 aluminum wheels: Top Flight Automotive stocks lightweight aluminum wheel builds for C3 Corvettes. All aluminum wheel replacements come in 15×8 inches with a 4-inch offset. Choose from reproduction styles such as 1976-1979, 78 Pace and 1980-1982.
Spinner caps: Turn some heads on the freeway with chrome 3-bar spinner caps. These additions are designed to attach to wheel components for a visual upgrade to C3 wheels.
Contact Top Flight Automotive for C3 Corvette Rims
Top Flight Automotive professionals keep your restoration projects right on schedule. As part of the Extra Mile Brands Family of companies, our experts are members of a team that has been serving the Corvette community for over 40 years. For more information about C3 Corvette rims and wheels, contact Top Flight Automotive today.
Can't find what you're looking for? Let us know and we can help! Contact Us