Corvette Gifts Collection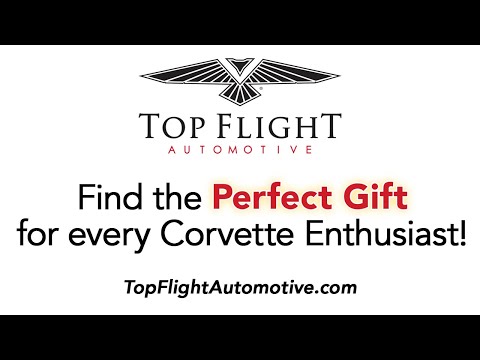 There is no greater experience than getting behind the wheel of a vintage or modern Corvette. These vehicles have the power to hook drivers in for life as they feature exceptional horsepower ranges, thrilling top speeds and body styles to reflect your personality and driving applications. Corvette owners of all ages know these revolutionary sports cars pave the way for a lifestyle of customization projects, collecting and adventure. That's why Top Flight Automotive supplies Corvette-themed merchandise for your home, garage, bar area and beyond.
Top Flight Automotive is your one-stop shop for Corvette parts and accessories, but we also make it easy to find the perfect gift for Corvette enthusiasts in your life. Whether a friend or family member owns a classic C1 or uses a C7 as a daily driver, our online store consists of clothing, wall decor, coffee mugs and more for your gift-giving needs. For your shopping convenience, Top Flight Automotive gift products are organized by category for a seamless ordering process. There is truly something for everyone with Top Flight Automotive gifts!
Gifts for Corvette Owners
Fans of Corvettes love to represent the Chevrolet brand as these sports cars offer the ultimate driving experience. Vehicle owners spend a great amount of time ensuring interior and exterior parts are in pristine condition, so you can help channel inner Corvette pride with products for use in and outside of the cabin. Are you on the search for a great Corvette gift idea? Look no further:
Corvette Luggage Sets
If you know someone using a modern Corvette as an everyday driver, consider luggage sets, backpacks and duffel bags on the Top Flight Automotive online store. A reliable Corvette is excellent for traveling long distances with comfortable seats and a well-rated fuel economy, but travel equipment keeps the journey open-ended. Allow recipients to pack clothing and other belongings with C7 and C8 styling in mind.
2014-2019 five-piece Corvette luggage sets include the items listed below for safe and efficient travel:
Two roller suitcases
One backpack
One duffle bag
One messenger bag
Top Flight Automotive luggage sets match the Jet Black factory interior seating of the C7 generation. Purchase any of our travel pieces separately for a gift that will get plenty of use!
Corvette Calendar Gifts
Do you have a friend or relative always working in the garage? Top Flight Automotive brings customers 12 x 12-inch calendars for scheduling restoration projects taking days to complete. Our calendars make thoughtful gifts for any Corvette fan wanting to stick to project timelines with classic and modern vehicle images for each month.
Corvette Wall Clocks
Top Flight Automotive aims to keep the gift selection process simple with a variety of home decor items showcasing Corvette logos and scripts. By clicking through our gift products, you will find wall clocks channeling vintage designs with the technology of the modern era. Ideal for living spaces, garages and businesses, our LED and lighted Corvette clocks establish a 1950s feel with C1-C7 faces.
Wall clocks from Top Flight Automotive feature a scratch-resistant lexan lens, durable ABS plastic materials and an on and off switch for illumination. These products are quintessential for Corvette collectors and can be read from across the room. With just a single AA battery, recipients can add classic styling to the room of their choice.
Corvette Cooler Bag Gifts
When driving a Corvette, it is crucial to keep interior seating, carpets and floor mats free from moisture, spills and stains. For those always on the go, check out our 2014-2019 C7 Corvette cooler bags. These gift ideas are available in gray and black with gray handles for transporting temperature-sensitive food and drink.
Corvette cooler bags feature durable polyester materials and contain removable waterproof liners to defend against leaks and condensation. For maximum storage, cooler bags are 13 inches L x 9 inches H x 9 inches W to fit cans, containers and anything else you need for lunch, picnics or a get-together. Not to mention, these products display a sleek C7 embroidered logo across the top compartment.
Next Generation Corvette Mugs
Now that Corvette fans have a taste of the C8 generation, everyone is eager to sit in the driver's seat of this cutting-edge series. For our customers looking for an affordable C8-themed gift, purchase one of our C8 next generation Corvette coffee mugs. With ceramic materials, C8 Corvette mugs keep liquids hot for any morning routine and come in 15 oz and 16 oz sizes.
Is a travel-friendly mug more suitable for your friend, coworker or relative? Top Flight Automotive supplies insulated C8 water bottles and C6 thermal travel mugs for keeping liquids hot or cold for hours at a time. Thermal tumblers include stainless steel materials and foam insulation for easy cleaning.
Corvette Hats and Apparel Gifts
One of the best ways to show your Corvette pride is through stylish apparel on our online store. Make a Corvette fan's day with items such as hats, emblem t-shirts and sweatshirts designed for superior comfort and stretch. Top Flight Automotive's apparel products cater to specific vehicle generations with embroidered patterns, colorful options and racing-inspired stitching details.
Corvette hats and caps are available with 100% cotton, soft brushed cotton and microfiber options for ventilation and durability. Choose between styles with hook and loop back straps or Velcro pieces to adjust to a specific size. Some of our popular caps include the following:
Next generation C8 cap with red stitching
C8 next generation Staydri caps
C7 black and red Stingray cap
Corvette "Jake" racing cap
Contact Top Flight Automotive for Corvette Gifts
Top Flight Automotive is the largest manufacturer and supplier of Corvette parts anywhere. With a passion for C1-C8 vehicle generations, all of our experts speak fluent Corvette and want to connect you to compatible parts for your muscle car. Top Flight Automotive supports generations of restoration, style and performance with a focus on Corvette interiors, exteriors, performance upgrades, wheels and anything you need to achieve a pristine factory or custom appearance.
Top Flight Automotive is proud to be a part of the Extra Mile Brands family of companies serving the Corvette community for over 40 years. All of our reproduction parts meet or exceed the original specifications of the Chevrolet factory. Our sales representatives are available during our normal business hours to help with order selections, and our team can direct you toward listings eligible for same-day shipping after processing.
For more information about Corvette gifts or to place an order, contact Top Flight Automotive today.
Can't find what you're looking for? Let us know and we can help! Contact Us