Corvette America - Corvette Accessories for Performance & Restoration
Corvette Accessories at Top Flight Automotive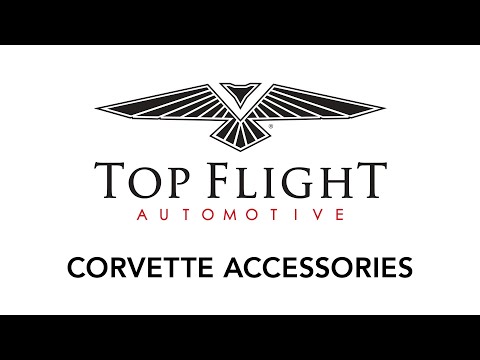 Top Flight Automotive is home to the largest selection of Corvette restoration, style and performance parts on the market today. Serving the Corvette community for over 40 years with a staff that speaks fluent Corvette. We are passionate about Corvettes, and understand that each generation offers something special. We'll guide you through restoration or upgrade projects from start to finish. When it's time to mod or restore your Corvette…choose Top Flight Automotive!
Corvette Accessories For Every Generation
Owning a Corvette is like holding onto a piece of American history. With several makes and models hitting the market after their debut in 1953, consumers try to acquire these vehicles for speed, performance and sleek finishes. Whether you are doing a restoration project on your Corvette or simply want to reimagine your favorite ride, no one keeps your classic vehicle up and running like Top Flight Automotive.
Experts at Top Flight Automotive speak fluent Corvette. We are knowledgeable on vintage and new Corvette releases ranging from the C1 to C8 generations. As the largest manufacturer of Corvette parts anywhere, we find the perfect solution to Corvette projects large and small.
Top Flight Automotive is your one-stop-shop for Corvette accessories. Allow our team to assist you with restoration efforts, style and overall performance.
Shop Accessories by Generation:
Shop By Trim such as ZR1, Z06, Grand Sport, and more!
Corvette Accessories at Top Flight Automotive
Top Flight Automotive carries all you need for keeping your Corvette in top shape. Regardless if you are seeking a new look for your vehicle or require enhancements under the hood, our team can guide you in the right direction. Shopping for Corvette parts and accessories is easy with Top Flight Automotive as we are passionate about connecting our customers to compatible pieces for classic and new models.
With over 175 years of combined experience, professionals at Top Flight Automotive are happy to share more about our product inventory, including some of the following parts and accessories:
Custom interior items
Luggage racks
Sill plates
Splash guard sets
Stereos and speakers
And much more!
Corvette Interior Accessories
Everyone knows one of the best parts of owning a Corvette is getting to make the vehicle your own. No two generations are exactly the same, leaving plenty of room for customization, upgrades and replacement parts. The condition of your Corvette speaks volumes about how you treat your investment, so why not enhance the appearance of your ride from the inside out?
Chevrolet fans spend hours inside a Corvette's cabin area replacing floor mats and liners or even redoing the dash and seat covers, so Top Flight Automotive lets you channel classic and aggressive styles of the past and present through some of our best-selling interior accessories:
Maybe you're tired of the stock color scheme within your vintage ride or want to bring out your unique personality behind the wheel. Our professionals make sure you have access to the latest interior products for your Corvette.
Corvette Exterior Accessories
Looking to turn some heads on the freeway or at the racetrack? Reimagine your C1, C2, C3, C4, C5, C6, C7 or C8 Corvette with a wide assortment of exterior components on our online store. We have enough exterior accessories to completely redesign your Corvette from the vehicle's front-end all the way back to the taillights and license plate.
Most of our products install in just a few minutes and mount without exterior modification. If you want to dress up your Corvette for Chevrolet outings, long cruises or judging competitions, we've got you covered. Click through our product categories to find electrifying add-ons for your sports car, such as:
Corvette Wheels at Top Flight Automotive
Nothing shows that you take care of your Corvette like well-kept wheels. Top Flight Automotive stocks a wide variety of reproduction, sport, chrome and replica-style wheels for models C4–C7. You can select the ideal look for your Corvette make and model with speed, performance and handling in mind.
Functional wheels are crucial for the safety of you and your passengers. To keep your collector car on the road for years to come, we provide you with wheel replacement kits as well as brake lines and calipers for smooth operation. It used to be difficult to find aftermarket brake lines for vehicles no longer in production, but we offer brackets, clips and more for models dating all the way back to the 1950s.
Additionally, we know how much the Corvette community loves racing-inspired paint jobs and scripts, so we enable you to change out stock caliper covers on your 1997-2019 models. Give your Corvette that Z06 flair with brake calipers that peek through rims in bold colors like yellow, red, black and brushed silver.
Corvette Exhaust System Accessories
Ever think about filling that empty space by your vehicle's exhaust tips? Top Flight Automotive is home to exhaust filler panels that scream speed and incredible horsepower. Suitable for fan-favorite models such as the C5, C6 and C7, our exhaust filler panels give your Corvette a look like it's never had before.
Exhaust system accessories come in perforated and solid designs. You can select between various filler panels displaying the iconic Crossflag logo for an unmistakable accent across your Corvette's back-end.
Custom Corvette Car Cover Accessories
Top Flight Automotive carries solutions for protecting your Corvette. No matter if you store your Corvette in the street, driveway or garage, we create custom-fit car covers and seat protectors for a variety of models. We eliminate the "universal fit" mentality by providing our customers with indoor and outdoor protection against sun, snow, rain or sleet.
Depending on your preference, car cover accessories at Top Flight Automotive include the following features for storage needs:
Multiple layer protection
Front and rear elastic
Custom mirror pockets
Tie-down capabilities
Non-scratch materials
Enhance the behind-the-wheel experience of your vintage Corvette vehicle by implementing a stereo and speaker system from the modern era. Top Flight Automotive stocks classic-friendly audio systems that allow you to enjoy your favorite songs on the road. Systems cater to C1-C4 models for upgrades, including AM/FM radios, CD players and Bluetooth technology for pairing with smartphones and other devices.
The Top Flight Automotive team can also provide more information about speaker replacements, upgrades and conversion kits for a seamless transition to a new entertainment system.
Corvette Apparel and Accessories
When some folks think of Corvette accessories, they think of the swag and attire to support the make they love. Showing off your passion with Corvette apparel like hats, sweatshirts, jackets and t-shirts is a great way to find others in the Corvette community with similar interests! Shopping for someone else? We also offer Corvette giftable accessories for the enthusiast in your life including neon signs, decor, mugs and more. Shop our Corvette apparel and gifts category for more! 
Shop at Top Flight Automotive for Corvette Accessories and Parts
Top Flight Automotive is your one-stop-shop for Corvette parts and accessories engineered to meet or exceed original specifications. As part of the Extra Mile Brands Family of companies, we have been serving the Corvette community for over 40 years. Our sales representatives are available during our normal business hours to answer any questions you might have about our online inventory, and most orders qualify for same-day shipping after processing.
For more information about Corvette parts and accessories, contact Top Flight Automotive today or order all the Corvette accessories you need online.
Can't find what you're looking for? Let us know and we can help! Contact Us