Corvette America - Corvette Accessories for Performance & Restoration
Accessories for Corvette
The knowledgeable professionals at Top Flight Automotive help you find exclusive accessories for the Corvettes in your garage. Driving sports cars in style is essential to your experience, so our store is packed with compatible listings for all eight Corvette generations. Find accessories for Corvettes — old and new — by browsing our ever-expanding catalog.
Top Flight Automotive offers you selections from cutting-edge brands, and our store is well-organized to make shopping for Corvette accessories something you can do in seconds.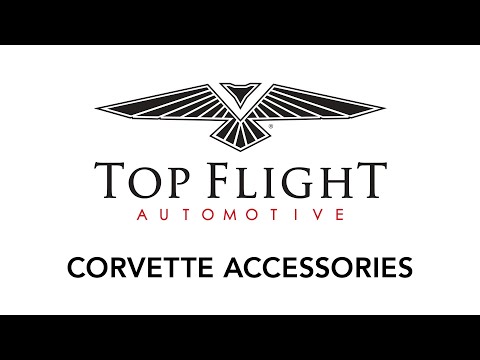 Corvette Accessories for Every Generation
Each iteration of the Corvette is different in size and shape, so it's vital you get model-specific accessories for a correct fitment out of the box. Use our guide to select Corvette accessories for vehicles made famous over the last 60 years:
All Types of Corvette Accessories at Top Flight Automotive
Your options for vehicle customizations are endless, thanks to Top Flight Automotive. Our store currently features over 4,300 Corvette accessories to make your vision a reality. See parts for Corvette sports cars in these categories and others:
Corvette Interior Accessories Online
Top Flight Automotive carries everything you'll need to make your Corvette your own. Our interior accessories for Corvettes are useful for dressing up the surfaces you'll look at the most. Consider any of our best-selling interior accessory listings to leave a long-lasting impression on your passengers:
Edit the color scheme of your Vette's cabin or integrate Chevy emblems and logos across seats and flooring surfaces.
Corvette Exterior Accessories for Sale
Changing the appearance of your Chevy Corvette from the nose to the taillights is achievable with Top Flight Automotive's exterior Corvette accessories. Fasten a wide range of exterior accessories to your sports car to step outside the norm. We're known for supplying drivers with these engaging add-ons:
Corvette Accessories From Imaginative Companies
Top Flight Automotive sells Corvette accessories for all personalities. From subtle accessories that sit near your vehicle's wheels to bold add-ons you can use to draw attention to your exhaust system, we've got you covered. Feel confident buying from our store, knowing that any Corvette accessory you add to the cart will be from an industry-leading brand. Trust us to ship accessories made by these companies and others:
AMT Custom Designs
American Custom Industries
Anderson Composites
Auto Accessories of America
Corvette America
Dakota Digital
Fender Gripper
Hurst
MGP Caliper Covers
Morimoto
Scott Drake
Trim Parts
Purchase Accessories for Corvettes From Top Flight Automotive Today
Our professionals are the most experienced in the field! Together, our representatives use a combined 175 years of experience in the sports car world to select accessories for our collection. Often, we can ship your accessories out the same day you buy from us.
Get ideas for your next project by reviewing our offerings. Make a purchase with Top Flight Automotive today!
Can't find what you're looking for? Let us know and we can help! Contact Us