C2 Corvette Parts - 1963 to 1967
C2 Corvette Parts and Accessories at Top Flight Automotive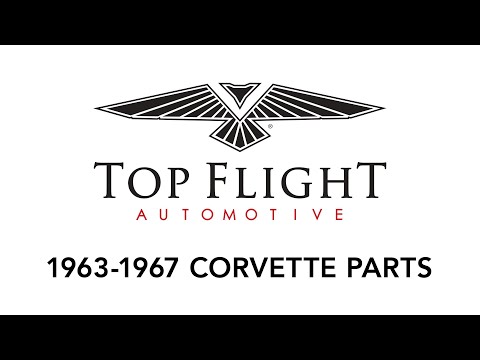 Top Flight Automotive is home to the largest selection of Corvette restoration, style and performance parts on the market today. Serving the Corvette community for over 40 years with a staff that speaks fluent Corvette. We are passionate about Corvettes, and understand that each generation offers something special. We'll guide you through restoration or upgrade projects from start to finish. When it's time to mod or restore your Corvette…choose Top Flight Automotive!
We sell parts and accessories for the following C2 model years: 1963, 1964, 1965, 1966, 1967
C2 Corvette Parts
C2 Corvette models are extremely rare across the sports car industry today due to their mark on American history. These 1963 to 1967 vehicles experienced a short production run and introduced the Corvette \"Sting Ray\" build that collectors cherish. Featuring signature fenders, a long nose and shortened tail, 1963 to 1967 Corvette parts can be hard to find.
Fortunately, Top Flight Automotive is your largest manufacturer of Corvette parts anywhere. Our experts speak fluent Corvette as we are enthusiasts of classic C2 models. No matter the size of your restoration project, Corvette parts at Top Flight Automotive cater to the lightweight nature of the Sting Ray build.
Allow professionals at Top Flight Automotive to guide you through repairs and performance upgrades around your C2 Corvette for the ultimate driving experience.
C2 Corvette Restoration
Top Flight Automotive stocks restoration parts for two-door C2 coupes as well as convertibles. Depending on use, vintage sports cars wear and tear over decades at a time, but our online store enables you to restore and replace components for handling and power. All of our C2 Corvette parts aim to meet or exceed original specifications of factory settings for maintaining the Sting Ray character.
Some of our most popular parts for C2 Corvettes include:
C2 CORVETTE REPRODUCTION PARTS
Restoration specialists and collectors go to great lengths to keep classic cars in factory condition. With original parts coming from the 1960s, you might find that your C2 could use some attention in and outside of the cabin area. That's why Top Flight Automotive stocks exact reproduction parts to ensure your vehicle remains historically accurate.
What is a reproduction car part? These are products engineered to look the same as those that rolled out of the Chevrolet factory while exceeding stock capabilities in terms of performance and durability. Rather than hunting for a used replacement piece, you get an all-new component manufactured using modern technology. Turn to us to discover the following C2 Corvette reproduction parts for your vehicle:
C2 Replacement Belts
Belts from Top Flight Automotive are ideal for replacing components under the hood that might be keeping you from taking your C2 on the road. Our online store includes Cut Style and Wrapped Style belts that serve as economical alternatives to Reproduction Belts. Available belts for 1963 to 1967 Corvette models include:
A VARIETY OF C2 EXTERIOR PARTS
Tired of seeing scratches, imperfections or missing components on the outside of your Corvette? Our staff introduces customers to a collection of C2 exterior parts that install without requiring any permanent modifications. Take first prize at the award show, boost ownership satisfaction and turn heads on the highway with listings that leave your C2 in mint condition.
We have C2 Corvette exterior parts for any size budget. Browse our inventory for the following:
Top Flight Automotive C2 Corvette parts allow you to create a unique appearance of your own. Eliminate signs of rust and get your vehicle back up and running in no time.
C2 Corvette Batteries for Sale
One of the most important C2 Corvette parts you'll need to restore a 1963-1967 'Vette is a battery. Top Flight Automotive sells multiple second-gen battery components to ensure you're road-ready.
Change out your C2 Corvette Sting Ray's battery tray, hold-down wingnuts and bolts. We also stock accessories like battery access covers that will deter others from accessing your sports car's source of power. Having trouble with your 1963-1967 Corvette battery? Our store is home to battery connection cables from Lectric Limited, Inc. to help you stay up and running.
Second-Generation Corvette Bumper Parts Online
Keep your 1963-1967 C2 Corvette in presentable shape with bumper parts from Top Flight Automotive. Our site is a central hub for the hardware you need to keep bumpers attached as well as small trim pieces seen on second-gen 'Vettes.
Choose Corvette bumper parts for your C2 that revitalize surfaces where exterior lights and your license plate go.
C2 Corvette Cooling System Parts
Keep your sports car's big-block V8 healthy when you integrate cooling system parts on your ride. Top Flight Automotive knows the importance of the C2 radiator, so we stock drop-in replacement assemblies made by DeWitts for your sport model year.
Any time your second-gen Corvette engine runs hot, turn to the Top Flight Automotive site for practical solutions. The replacement radiators we sell look like original equipment manufacturer (OEM) technology but function more efficiently. From radiator hoses to water pump assemblies, you can count on Top Flight Automotive to keep your Sting Ray running at optimal temperatures.
C2 Corvette Door Restoration Parts
Through years of opening and shutting vintage doors, components start to break down. If you are experiencing door-component failure in your classic Corvette, look no further than Top Flight Automotive.
Our experts strive to keep your C2 Corvette in pristine condition with recommendations for repairs. We help you to service the doors on your Sting Ray model through:
C2 Corvette Gauge Components Online
You rely on the gauges across your C2's dash to stay in the know regarding mileage, speed, engine temperatures and similar data. With parts from Top Flight Automotive, you can restore gauge connections accurately.
Pick up any of our 1963-1967 Corvette gauge parts available online. Whether the speedometer or tachometer stops working in your vehicle, we carry the high-quality restoration parts you need. We offer a growing collection of C2 Corvette gauge cables, grommets and adapters to help you start your project.
C2 Corvette Hood Restoration Parts
Classic Sting Ray Corvettes are known for their sleek body design. To keep your C2 on the road, you require a proper functioning hood to protect engine components vital to overall performance. Since your vehicle\'s hood sees high-speed action, restoration efforts may involve maintaining parts of your hood against the elements.
Top Flight Automotive supplies our customers with options for hood grilles, latches, ventilation and hinges for opening, closing and properly securing classic hood styles. Our team will gladly assist you during the ordering process to help you find hood restoration parts for your Corvette make, model and year.
C2 Corvette Weatherstrip Parts
Replace the weatherstrips and moldings across your 1963-1967 Corvette. It's best to complete a weatherstrip replacement project long before you notice water stains and mold inside your Sting Ray's cabin.
Shop the Top Flight Automotive site for replacement weatherstrip materials in OEM thicknesses along with the retainer clips you'll need to keep everything in place and airtight.
Contact Top Flight Automotive for C2 Corvette Parts
Top Flight Automotive is part of the Extra Mile Brands Family of companies which has been serving the Corvette community for over 40 years. With most products shipping out within the same day of order, we keep your C2 restoration projects right on schedule. Top Flight Automotive is the largest manufacturer of Corvette parts, and our sales representatives can help you find solutions for your vehicle during our hours of operation.
For more information about C2 Corvette restoration parts, contact Top Flight Automotive today or order the parts you need on our site.
Can't find what you're looking for? Let us know and we can help! Contact Us