C6 Chevrolet Corvette Accessories
C6 Corvette Accessories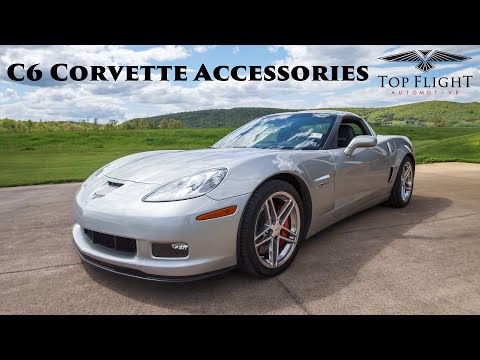 Corvette enthusiasts who want plenty of options for customization and upgrades look to the C6 generation, which saw production runs between 2005 and 2013. Fans of Chevrolet rush to get behind the wheel of these models as early releases pack a punch with V8 engine builds and over 400 horsepower in stock setups. With Z06, ZR1, Grand Sport and Anniversary configurations, this generation offers an incredible way to break into the world of performance vehicles with speed, comfort and handling capabilities in mind.
If you're the lucky owner of a C6 Corvette, you've come to the right place for interior and exterior accessories. Top Flight Automotive is the largest manufacturer of Corvette parts anywhere, and we'll help you channel aggressive looks and performance with aftermarket products. Give your favorite ride a new life with the largest product portfolio of Corvette parts online!
A Wide Variety of C6 Corvette Accessories
With the debut of the C8, sports car fanatics are looking for exciting ways to bring the C6 generation into the modern era. Whether the original parts from the Chevrolet factory have seen better days or you want to cater the interior and exterior styles to your personality, our online store is constantly expanding with the latest technology. Browse our inventory for C6 Corvette accessories including:
Digital display monitors
Hood panels
Front grilles
Back up cameras
LED exterior lighting
Exhaust filler panels
Radiator covers
Seat back hoops
Protective car covers
Doorsills
Taillight grilles
Brake caliper covers
Floor mats
And more
C6 Corvette Interior Accessories: Doorsills and Floor Mats
At Top Flight Automotive, we enable our customers to impress friends and family with stylish upgrades inside the cabin. Some of our best-selling accessories for the C6 generation include sleek doorsill plates with Crossflag logos and iconic scripts. Our selections consist of stainless steel and carbon fiber materials that stand strong against rust and corrosion for long-term results.
Additionally, our professionals can steer you in the right direction toward floor mats for protection and styling. Choose from diamond plate finishes in colors such as red, blue and yellow to turn heads at the next judging competition. Keep interior carpets clear from dirt, inclement weather, spills and beyond with mats that install in seconds.
C6 Corvette Manual Shifter Replacements
The C6 generation rolled out of the Chevrolet factory in both manual and automatic transmissions. While there is no right or wrong configuration, we know that some sports car fans love to feel gears changing at their fingertips. If your Corvette has a 6-speed manual shifter and you want to give it some attention, Top Flight Automotive carries replacements from industry-leading manufacturers such as B&M and Hurst.
Why change out the factory shifter? Our products are designed for shorter throws, meaning you can change gears faster than ever before. Your car will reach top speeds effortlessly, as both B&M and Hurst listings help eliminate "sticky" gear shifts with all the parts you need for a bolt-in installation. Most of the products you'll find on our online store work with factory shift knobs for an authentic look and feel.
Increase shifting accuracy inside the cabin can help you take first place at the race track. Our aftermarket manual shifters fit Z06 and standard models, so be sure to review product details for compatibility.
C6 Corvette Exterior Accessories: Car Covers and Brake Calipers
If you own a C6 Corvette, you're going to need an exterior car cover to shield the paint job, trims and wheels. Top Flight Automotive offers customers several designs for combating snow, rain, dirt and debris. The days of worrying about surrounding cars denting your investment are in the past, as a number of our protective car covers come with tie-downs, carrying bags and mirror pockets for placement.
Want to draw attention to your C6 rims? We have aluminum brake caliper covers across our one-stop shop to reduce unwanted dust. These installations mount with standard tools and are available in racing-inspired shades such as red, black and yellow. Find brake caliper covers with Corvette texts and Z06 logos to enhance your 2005-2013 release.
C6 Corvette Fuel Rail Covers
Have you ever wondered how your C6 engine gets its source of power? Under the hood, there are pipelines that deliver fuel to individual injectors. These components are frequently known as "fuel rails," and your stock setup comes with a protective plate that guards their connections from debris and inclement weather.
Over time, there's always a possibility your factory fuel rail cover will crack or deteriorate, leaving the channels exposed. Fortunately, our experts offer customers aftermarket fuel rail covers from American Car Craft to shield the engine compartment. Available for all production years in the C6 lineup, our fuel rail covers suit popular engine builds such as the Z06 LS7, ZR1 LS9 and standard LS2.
Dress up your Corvette with perforated designs and options with bright LED accents. Installations take just minutes to complete, and you can choose between the following colors for custom lighting:
Blue
Green
Red
White
Yellow
C6 Corvette Exhaust Filler Panels
Driving a Corvette becomes a major part of your lifestyle. It's easy to spend hours at a time inside the garage with upgrade projects, so Top Flight Automotive is home to an extensive collection of exhaust filler panels. Our American Car Craft accessories allow you to dress up that empty space around your vehicle's exhaust tips with chrome accents and imagery.
Exhaust filler panels are an exciting way to alter the back end of your Corvette. We have attachments that resist corrosion and reflect your personality for award shows and Chevrolet outings. Whether you have a C6 stock exhaust or Quad Pro Series tips, you'll discover the following designs below for 2005-2013 Corvettes:
Laser Mesh Black
Solid Black
Perforated
Crossflag Logo
Polished
Exhaust filler panels at Top Flight Automotive are precision-cut to fit around exhaust components. The pieces mount with minimal hardware and tools, so there is no need to drop your exhaust system during installation.
Discover C6 Corvette Accessories at Top Flight Automotive
Top Flight Automotive is proud to be part of the Extra Mile Brands family of companies, and we want to see your restoration and upgrade projects come to life. All of our sales representatives speak fluent Corvette, so we can answer any questions you may have about our products and services during our hours of operation. Place an order for C6 accessories today and contact Top Flight Automotive for more information.
Can't find what you're looking for? Let us know and we can help! Contact Us