C7 Chevrolet Corvette Interior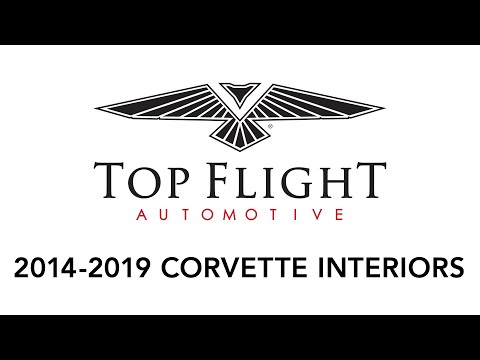 Corvette C7 Interior Accessories
Getting behind the wheel of a C7 Corvette ensures the experience of a lifetime. Seeing production runs from 2014-2019, this generation of vehicles are some of the fastest configurations on the market today. While a C7 Corvette showcases sleek styling inside and out, Top Flight Automotive brings you the interior parts and accessories you require to keep these models in pristine condition.
Supporting generations of restoration, style and performance, our online store enables drivers to customize the interior of Corvette releases based on lifestyle and driving applications. No matter if you just purchased a C7 or are looking to replace components in an early release, Top Flight Automotive is the one to choose in catering to your vehicle's needs. Browse our online store for popular C7 generation parts, including:
Carpeting
Embroidered floor mats
Rear cargo shades
Seat belt shoulder pads
Seat belts
And more!
2014-2016 Corvette Interior Floor Mats
Tired of tracking dirt and road debris into your C7 Corvette? For your shopping convenience, Top Flight Automotive stocks a variety of embroidered logo floor mats for 2014-2018 vehicles. Selections include products from Lloyd Mats for a perfect custom fit.
Depending on your selection, choose from C7 floor mats featuring original locking anchors for factory-compatible placement. Mats at Top Flight Automotive are designed to give your carpeting an extra level of protection with multi-layer backing to defend against moisture and spills. Order C7 floor mats from our online store for a unique look, as products include the following embroidered patterns:
Crossflag logo
Grand Sport text
Stingray logo
C7 interior floor mats are also available without embroidered logos to match your restoration or upgrade vision.
C7 Corvette Seat Belt Interior Accessories
If you are looking to make stock seat belt materials more comfortable, consider adding 2014-2019 embroidered seat belt shoulder pads to your order. These products prevent your C7 seat belts from rubbing against your neck with tan, charcoal, red, yellow and black color options. Create a custom look inside your Corvette's cabin with Stingray, Z06, Racing and standard Corvette logos that take seconds to install using velcro.
Contact Top Flight Automotive for Corvette C7 Interior Accessories
Top Flight Automotive is part of the Extra Mile Brands family of companies serving the Corvette community for over 40 years. As your one-stop shop for Corvette parts and accessories, many of our products are eligible for same-day shipping after processing. For more information about C7 Corvette interior accessories or to place an order, contact our team today.
Shop More C7 Categories:
Can't find what you're looking for? Let us know and we can help! Contact Us