First Generation Ford Mustang Interior
First-Generation Ford Mustang Interiors
When you look at a Classic Mustang, you wish you could own them all. These cars left a long-lasting impression on the sports car world back in 1964, and this reputation explains why these vehicles are still so sought after today. Bright interior carpets, luxurious seats for the time and shining trims throughout Classic Mustang cabins make these pony cars special.
At Top Flight Automotive, we know the 1964-1973 Mustang model years are worth restoring. When interior surfaces accumulate dirt or fade, visit our interior parts catalog for replacement solutions. Our store is full of Classic Mustang products for Boss 302, GT, GT350, Mach 1 vehicles and others.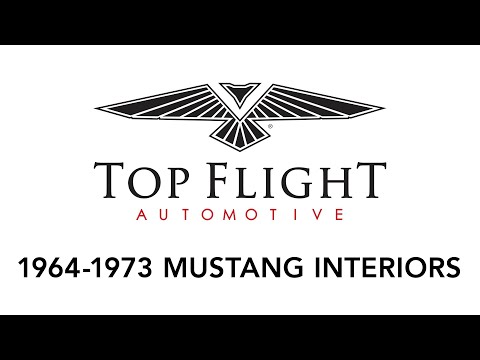 Types of Classic Mustang Interior Products We Carry
Your first-generation Mustang looks different from the next. Top Flight Automotive understands your specific needs for restoration projects, so we supply you with an extensive collection of 1964-1973 Mustang interior products. Whether you seek 1964 and 1965 Mustang back seats or center console replacements, our experienced staff members stock popular and hard-to-find components for famous 'Stangs.
Look through our interior parts catalog to see direct-fit solutions for your ride like:
1964-1973 Classic Mustang Instrument Panels
Are you dealing with a faulty dash gauge? The easiest way to correct the problem is to purchase one of our Classic Mustang instrument panel replacements. Update the electronics in your 1964-1973 Mustang with instrument systems from brands like Dakota Digital. You can make your Classic Mustang GT speedometer illuminate with different colors for a futuristic look.
Aftermarket instrument panels drop into place without modifying your car's dash. Select instrument panel offerings are designed to look like your factory original. Replace all your Mustang gauges together with affordable listings for 1964, 1965, 1966, 1967 pony cars and the rest of the first-generation series.
1964-1973 Classic Mustang Seat Upholsteries for Sale
Top Flight Automotive carries over 500 Mustang seat upholstery products for early releases like 1965 fastbacks and convertibles. Pick from durable vinyl seat covers in any Classic era shade. Our selections from Auto Accessories of America, Distinctive Industries and TMI Products should always be paired with new seat foam.
Eliminate sweat stains, dirt, punctures and other imperfections across your stock seats with budget-friendly solutions that keep you comfortable when driving for hours.
1964-1973 First-Generation Mustang Steering Wheel Upgrades
Replace your entire steering wheel assembly or just the small horn button accents with Top Flight Automotive. We have original equipment manufacturer (OEM) style steering wheel upgrades in case your factory steering wheel has seen better days. Auto Accessories of America replacements follow the three-spoke design layout.
You can choose from Classic Mustang steering wheels with woodgrain or solid color finishes. Attach using original-style hardware.
Order Our Classic Mustang Interior Parts Online Now
Do you drive a Mustang that could use new interior components? You've come to the right place. Top Flight Automotive is always adding new listings for Mustang models from the past. Navigate our store by choosing your first-generation Mustang production year from our drop-down menu. Our prices are some of the lowest you'll see anywhere, but we also price match competitors to guarantee you get the best deals on Mustang interiors.
Shop our first-generation Mustang parts, place an order, and you'll get your items fast. Do you have questions? Fill out our contact form online, and we'll get back to you shortly.
Can't find what you're looking for? Let us know and we can help! Contact Us