Ford Mustang Tools & Garage
Mustang Tools & Garage at Top Flight Automotive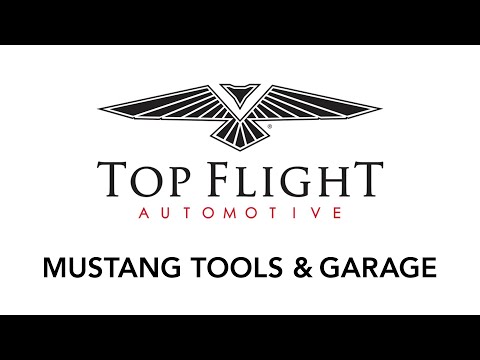 Ford Mustang Tools and Garage Items
Building out your workspace with Mustang-inspired gear is possible with Top Flight Automotive. We stock an expansive list of Ford Mustang tools, gadgets and electronics ideal for working on muscle cars and spending time in the garage.
Prepare for impromptu repairs or personalization tasks with hard-to-find technology under one wing. Click through our catalog to get ideas on how you can take repairs and maintenance into your own hands.
Get Mustang Tools and Technology in Widespread Categories
Top Flight Automotive sells tools and garage items that allow you to finish projects inside the cabin and across your car's exterior. Our inventory includes:
Adhesives
Air compressors
Alignment and shims
Batteries and charging
Body components
Cleaning tools and supplies
Engine parts
Exterior decals, body graphics and stripes
Fuel treatments
Gauges
Interior paints and dyes
Jacking pucks
Keys and locks
Oils and fluids
Screw kits
Storage cabinets
Tools and hardware
Trunk lid and compartment parts
Tuners, chips and programmers
Upholstery kits
Ford Mustang Adhesives
Find the adhesives you need to attach weatherstrip to your ride. We stock tapes, liquids and adhesive sprays for effective seals near window glass, doors and your vehicle's trunk. Lower the chances of leaks during inclement weather so your Mustang stays dry year-round.
Mustang Air Compressors
Top Flight Automotive helps you stay ready for an emergency with compact air compressors from Slime. Use your Mustang's cigarette lighter to generate enough power to activate the compressor. Pressure dials on the assembly help you see how much air to add.
Cleaning Tools and Supplies for Mustangs
Pick up all the heavy-duty cleaners you need for incredible shine. Our catalog is full of cleaners, polishes, waxes and sprays to help you achieve a professional appearance on the road and the track. Clean everything from window glass and trims to wheels and tires with world-class solutions.
Ford Mustang Maintenance Tools for Sale
Tackle challenging projects on your own. Our team makes it easy to find niche repair and maintenance tools for removing trims, tightening hardware, fastening multipurpose grommets and working on electrical systems.
Top Flight Automotive stocks all sorts of hand tools for DIY jobs from the front bumpers of your Mustang to the rear license plate bracket. Explore your options for tools and devices that help you keep your muscle car operating at its best.
Ford Mustang Trunk Compartment Solutions
Fix a troublesome Mustang trunk lid and secure your storage compartment. Our catalog features a range of trunk components including trunk lid striker plates, trunk locks and lock housing spacers. Add one of our Mustang trunk tool kits to the cart so you're ready to make adjustments on the fly.
Trust Our Team for Mustang Tools and Garage Items
Top Flight Automotive takes the hassle out of finding tools, kits and garage equipment you can use with a Ford Mustang. Feel confident on the road and race track knowing your daily driver is equipped with functional seals, adequate power, clean fuel and responsive electronics when you purchase items from our site!
Can't find what you're looking for? Let us know and we can help! Contact Us