First Generation Ford Mustang Wheels & Tires
1964-1973 Classic Mustang Wheels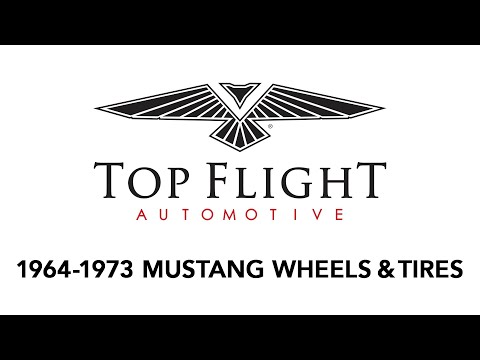 Throughout the 1960s and early 1970s, high-performance Mustangs were equipped with steel wheels at the Ford factory. Steel wheels were considered an industry standard for their structural integrity and cost-friendly price point for mass production. Now that select first-generation Shelby models are over 50 years old, stock wheels on your favorite collector car may have seen better days, so Top Flight Automotive is here with steel replica and aluminum alloy replacements for your First-Gen Mustang.
Early Mustangs featured smaller style wheels for a lowered appearance, so our online store is stocked with various 14- and 15-inch rims for a historically accurate look. Steel chrome wheels at Top Flight Automotive install on your vintage Mustang model without exterior modification and serve as the perfect restoration solution for projects on a budget. Achieve 1960s styling with improvements behind performance and handling with individual steel wheels crafted in the United States.
We are proud to introduce customers to aftermarket Mustang wheels for all first-generation builds with the following production years:
1964-1973 Classic Mustang Wheels From Leading Brands
With a broad inventory of Mustang wheels and related components, Top Flight Automotive is here to help you get your 1964-1973 Classic Mustang driving and looking the way you want. Whether you're replacing complete wheel assemblies on your ride or customizing the appearance of a vintage 'Stang, we offer the Mustang wheels and parts you need.
Choose first-generation Mustang wheels, tires and accessories from these names under one wing:
ACP
American Racing
Auto Accessories of America
BF Goodrich Tires
California Pony Cars
Coker Tire
Daniel Carpenter
Dynacorn
Goodyear Tires
Legendary Wheels
Mr. Mustang
Scott Drake
Wheel Vintiques
Yukon Gear
Mustang Steel Wheels
1965 first-generation Mustangs are famous for large exterior builds and plenty of room for four passengers inside the cabin. Steel wheels were implemented into production runs to withstand pressure, hold shape and support the weight of the vehicle. Later models of the 1980s transitioned to aluminum alloy materials, but 1965 Mustang wheels made of steel recreate the 1960s aesthetic.
Classic steel wheel designs on our online store are available in sizes as small as 14×5 inches and go up to 15×8 inches for your restoration vision. Instead of hunting for used OEM wheels, our replicas enhance the look of your Mustang with 10-spoke designs at affordable prices. Create a custom or factory-fresh appearance with painted window finishes such as charcoal and mocha silver.
1964 to 1973 Aluminum Mustang Wheels
Top Flight Automotive caters to rare collector vehicles of the past and present. Our selection includes products for the 1967 Ford Mustang, which experienced a redesign from previous model years to compete with the Chevy Camaro. Restoration specialists adore the 1967 Mustang for its longer body build, big-block V8 upgrade and impressive rating of 300 horsepower.
Equip your 1967 Mustang with the reliable set of wheels it deserves from Top Flight Automotive. We carry diverse options from industry-leading manufacturers, including Legendary Wheels and Wheel Vintiques®. Our experts take the time to fill our inventory with numerous wheel sizes featuring aluminum alloy materials for those requiring consistent handling results.
Shop our 5- and 10-spoke designs in a variety of sizes:
14″ x 6″
14″ x 7″
14″ x 8″
15″ x 6″
15″ x 7″
15″ x 10″
17″ x 7″
17″ x 8″
1970 Mustang Wheel Options
1970 Ford Mustang variants such as the Mach 1, Boss 302 and 429 are some of the most sought-after muscle cars of the classic era. The Ford Motor Company gave consumers a plethora of engine setups to choose from, but fluctuating sales at the time resulted in limited production runs. If you have a 1970 Ford Mustang in your showroom, check out some of our best-selling wheels for a pristine appearance, including Magnum 500 styles with CNC-machined details.
First-Generation Mustang Wheel Components
Do you love your set of steel chrome wheels and want to keep them in pristine condition? Top Flight Automotive carries 1964-1973 aftermarket wheel components for your recent purchase. Easily purchase backup valve stems, replacement lug nuts, trim rings and more for long-lasting results around your tires.
Speak to one of our sales representatives during normal business hours about mustang wheels and compatible options for your vintage Mustang!
1964-1973 Classic Mustang Wheel Hardware
The Top Flight Automotive site features 1964-1973 Classic Mustang wheel hardware for keeping assemblies attached to your ride. Pick up lug nut and valve stem kits produced by Scott Drake.
Our inventory includes year-specific Mustang hardware kits for the vehicles drivers and collectors love most. Fix up 1966 or 1967 Mustang wheels without hunting around for hardware components. Use the wheels you want and know you'll be able to keep assemblies in place on the base, Shelby GT500, Shelby GT350 and Boss 302 models.
Classic Mustang Spare Tires for Sale
The last thing you want is to be stranded without a spare tire. Top Flight Automotive helps you stay prepared for anything on the road with spare tires and related components for your 1964-1973 vehicle.
The next time you get a flat, use a spare tire mounting kit manufactured by Auto Accessories of America. Shop our site to find spare tire equipment like hold-down plates, wing nuts and mounting bolts packaged together for convenience.
Classic Mustang Wheel Center Caps
If you're already upgrading your Mustang wheels, now is a great time to add accessories to your rims. Leave colorful accents across your wheel assemblies using wheel center caps from Top Flight Automotive. We are a one-stop shop for Classic Mustang wheel center caps that show iconic logos from Ford's history.
Choose wheel center caps with Cobra snakes, tri-bar pony graphics, GT scripts or the Mustang running horse from brands including Legendary Wheels and California Pony Cars. Top Flight Automotive offers first-gen Mustang wheel center caps in blue, black, yellow, red, orange and chrome colors.
1964-1973 Classic Mustang Wheel Locks
It's important to protect your new Mustang wheels. Top Flight Automotive makes it harder for thieves to tamper with your vehicle by offering multiple Mustang wheel locks for sale.
Buy Mustang wheel locks compatible with 1964-1973 'Stangs. We carry wheel locks that go over your vehicle's lugs. Pick styles manufactured by Scott Drake and American Racing for quality you can trust. The wheel locks that we sell come in chrome to match the rest of your OEM wheel hardware.
Shop Top Flight Automotive for 1964-1973 Mustang Wheels
Top Flight Automotive is proud to be part of the Extra Mile Brands family of companies serving the Mustang community for over 45 years. With a dedication to restoration, style and performance, our online store is always expanding with the latest products for all six Mustang generations. For more information about our selection of 1964-1973 Mustang wheels or to place an order, contact Top Flight Automotive today.
Can't find what you're looking for? Let us know and we can help! Contact Us