Mustang Performance at Top Flight Automotive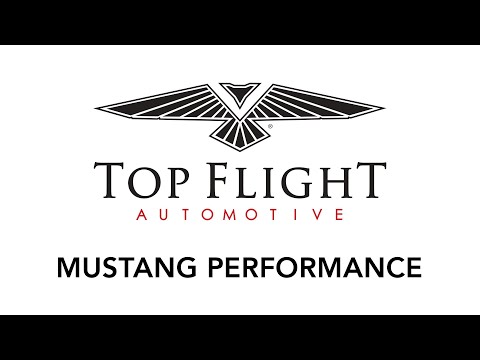 MUSTANG PERFORMANCE PARTS
Ever since the announcement of the Ford Mustang in 1964, sports car fans have been looking for ways to customize these vehicles to reflect their unique personalities and passion for speed. The Mustang brand is known for its six unique generations and racing-inspired appearances stretching into the 21st Century, so Top Flight Automotive is here with a variety of performance parts that take your beloved release to the next level. 
All Mustang vehicles are impressive in stock form, but we allow you to transform models from the past and present so they are ready for daily driving, racing, award shows and beyond. From aerodynamic attachments to pieces that install under the hood for increased airflow, no one looks after your classic or modern ride like our team.
WHY PURCHASE MUSTANG PERFORMANCE PARTS?
Mustang performance parts at Top Flight Automotive cater to drivers that want high-speed stability, fuel efficiency and minimal lift. There is no right or wrong way to approach the art of customization, but most of our selections work in tandem to provide you with the ultimate behind-the-wheel experience, and many install without requiring permanent modification. Browse our selection to see Mustang performance parts such as:
MUSTANG GROUND EFFECTS KITS
Top Flight Automotive connects Mustang enthusiasts to numerous ground effects kits by APR Performance. Enhance the overall look of your fifth-generation release with multi-piece bundles that give you everything necessary to limit drag and reduce the amount of airflow moving underneath your sports car. Mustang ground effects kits boost the aerodynamic capabilities of your 2005-2014 vehicle, creating downforce for traction, handling and acceleration.
Keep your favorite ride gripping the road with options that give you a lowered appearance. APR Performance kits consist of fiberglass and carbon-fiber components, ideal for GT500 and S197 variants. Depending on your selection, you can find popular performance pieces designed to complement one another, including:
Bumper upgrades.
Splitters.
Side skirts.
Front fenders.
Our Mustang ground effects products are paint-to-match. We recommend having a professional install your bundle for the most accurate results.
MUSTANG SPOILERS
Spoilers fasten along the back end of your Mustang to disrupt airflow when traveling at intense speeds. The goal of these installations is to reduce unwanted lift as forces dive under the cargo area of your vehicle. Whether you prefer to cruise highways or frequent the race track, Top Flight Automotive carries compatible rear spoilers for all vehicle generations in the Mustang lineup.
Browse our listings from brands such as California Pony Cars, Daniel Carpenter and Scott Drake that ship with all mounting hardware for quick project turnarounds.
MUSTANG ENGINE DRESS-UP KITS
A clean-looking engine compartment is a must for long-lasting restoration results and ownership satisfaction. Treat your 2005-2017 Mustang to an upgrade it deserves with pieces that mount under the hood for a touch of color, shine and illumination. Navigate our online store by Mustang model year to discover kits featuring innovative technology to separate your performance vehicle from others on the road:
Carbon-fiber engine covers
Engine shroud LEDs
Radiator cover vanity plates (with colorful inlays)
Coolant cap covers
ORDER MUSTANG PERFORMANCE PARTS ONLINE
Top Flight Automotive is thrilled to be part of the Extra Mile Brands family of companies helping drivers in the Ford community with upgrade projects, compatible attachments and restoration advice for over 40 years. Place your order for Mustang performance parts today, or complete a contact form if you have questions about our listings.
Can't find what you're looking for? Let us know and we can help! Contact Us