C5 Corvette Aftermarket Wheels & Tires
Save With Our C5 Wheel & Tire Packages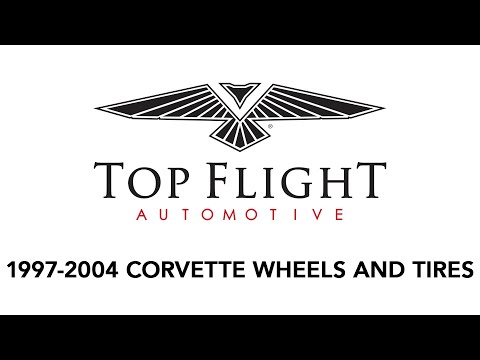 C5 Corvette Aftermarket and Reproduction Wheels
The fifth-generation (C5) Corvette saw production runs from Chevrolet between 1997 and 2004. These sport car vehicles stand as one of the most affordable routes for achieving handling and performance with an LS1 V8 engine, 345-405 horsepower and a signature Corvette body style. Regardless if you are new to the Corvette family or need to upgrade your wheels and tires, Top Flight Automotive is your one-stop-shop for Corvette parts and accessories.
Our experts speak fluent Corvette, and we are the largest manufacturer of Corvette components anywhere. While the C5 generation is known for its simplicity to maintain and modify, you will need to replace wheels after years of wear and tear. Fortunately, experts at Top Flight Automotive can connect you to wheel and tire configurations for any C5 model.
No matter if you own a 50th-anniversary release or a Z06, Top Flight Automotive will keep your C5 vehicle on the road for generations at a time.
C5 Corvette Wheels and Rims
Top Flight Automotive makes it easy to find wheel replacements and C5 Corvette rims. We supply reproduction wheels and rims to achieve the looks of Chevrolet production runs during the 1990s and early 2000s. Our \"stock replacements\" are engineered to give you a polished chrome shine identical to original setups.
Depending on your restoration project, you can purchase stock replacement wheels separately for maintenance surrounding your C5 Corvette.
C5 Corvette Style Wheel Sets
For our customers searching for a new way to alter the look for their C5 Corvette, Top Flight Automotive supplies style wheel sets at your convenience. Our online store contains staggered wheel and deep-dish wide upgrade options for the C5 generation. Additionally, style wheel sets are available in chrome, black machined face and gloss black machined lip finishes, so you can choose C5 Corvette black wheels that compliment your vehicle\'s paint job.
Style wheel sets from Top Flight Automotive are ideal for changing out all four rims during a restoration project. Each order includes matching lug nuts and locking lugs for installation.
1997-2004 Corvette Wheel and Tire Packages
If you are a first-time Corvette owner or want to change your wheels and tires simultaneously, consider a C5 wheel and tire package from Top Flight Automotive. Our bundles enable you to select from a variety of wheel styles and tires for a compatible match to your vehicle. Our experts professionally mount and balance your wheel and tire choices for a seamless installation process upon arrival.
Select from the following Michelin tires for your Top Flight Automotive package:
Michelin Pilot Sport A/S 3+: An all-season low profile tire for high-speed sports cars and coupes. Tires offer excellent dry road handling and wet road grip for several terrains.
Michelin Pilot Sport A/S 3+ ZP: A total performance all-season tire designed for temporary mobility after a puncture. Tires will allow you to travel short-term, even with a complete loss of air pressure. This Michelin line provides all the benefits of the standard Pilot Sport A/S 3+ with zero pressure, run-flat support.
C5 Corvette Staggered Wheels
The C5 Corvette provides the ultimate driving experience with LS1 V8 engines capable of achieving speeds of 175 mph. Even though the fifth-generation Corvette models are over 20 years old, no one can deny these vehicles offer exceptional performance, 345-405 horsepower and superior comfort. Now that the C5 serves as an affordable way to enter the Corvette world, consumers are after these sports cars for their sleek design and reliability.
Those who own a C5 Corvette know the fun of these vehicles is in the performance upgrades for acceleration and stability on the road. By working with Top Flight Automotive, we can assist you in replacing the wheels on your C5 Corvette for an all-new level of handling behind the wheel. Our selection of C5 staggered wheels will transform your Corvette in no time at all.
What Are C5 Staggered Wheels?
Staggered wheels at Top Flight Automotive feature rear-wheel dimensions that are slightly wider and larger than pairs in the front. Offering extra grip during acceleration, these products make your C5 look as if it is bowing downward. Receive the following benefits from Top Flight Automotive's staggered wheel configurations:
Better traction: Wider rear wheels allow for more grip when stopping and traveling at high speeds.
Enhance appearance: Staggered wheels make your C5 look as if it might pounce forward. With a slight downward bow, your Corvette is angled for top speeds.
Handling improvements: Staggered wheels can shorten your vehicle's turning radius due to a lower front-end profile.
Balancing: Larger and wider rear tires allow for better weight distribution. Staggered wheels lower your C5's center of gravity.
C5 Corvette Staggered Wheels for Sale
Top Flight Automotive provides staggered wheels in stock replacement kits as well as C5 style options. Our C5 staggered wheels differ by 1 inch in diameter and wheel width for desirable results that reduce aerodynamic drag.
If purchasing a stock replacement kit, C5 staggered wheels are designed with the following dimensions:
Front wheels: 17×8.5 inches and 58mm offset
Rear wheels: 18×9.5 inches and 65mm offset
Top Flight Automotive's Y2K wheel sets with a chrome deep dish wide upgrade feature:
Front wheels: 17x 9.5 inches and 54mm offset
Rear wheels: 18x 10.5 inches and 56mm offset
Contact Top Flight Automotive for C5 Corvette Wheels and Rims
The Top Flight Automotive team speaks fluent Corvette for assistance with restoration projects large and small. As part of the Extra Mile Brands Family of companies, our experts are a part of a team that has been serving the Corvette community for over 40 years. Most of our products ship out the same day of processing, and our sales representatives are happy to help you identify your Corvette\'s make, model and year for wheels, tires and more.
To receive more information about C5 Corvette wheels, contact Top Flight Automotive today.
Can't find what you're looking for? Let us know and we can help! Contact Us