Chevrolet Corvette Wheel & Tire Packages
Save With Our C2-C7 Wheel & Tire Packages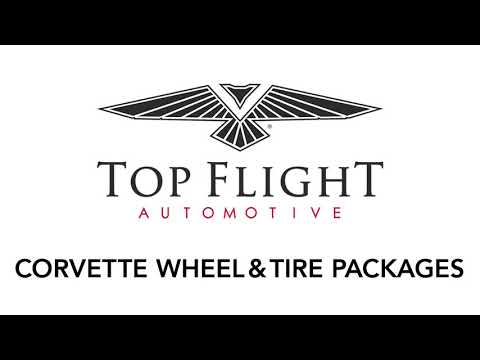 Corvette Wheel and Tires Packages
Owning a Corvette requires proper upkeep to ensure it lasts for generations at a time. After all, what is the point of owning an impressive sports car if you are unable to achieve top speeds, handling and performance? Top Flight Automotive is your one-stop-shop for Corvette parts, wheels, accessories and more, and we keep the restoration and repair process simple with Corvette wheel and tire package deals for our customers.
What are wheel and tire packages? Experts at Top Flight Automotive allow you to select wheel and tire bundles designed to install on your vehicle upon arrival. Catering to C2, C3, C4, C5, C6 and C7 generations, our team ensures your Corvette is road-ready for your next adventure.
Order Corvette Wheels and Tires
Top Flight Automotive is dedicated to making vehicle maintenance as easy as possible. If you are a first-time Corvette owner or simply want to swap out the Corvette wheels and tires on your favorite ride, our packages are an excellent way to save time and money. Wheel and tire packages from Top Flight Automotive let you craft the perfect setup for your applications through the following process:
Choose your wheels: Top Flight Automotive offers a variety of Corvette wheel designs, finishes and generation styles to match the look of your Corvette. Whether you are trying to match a factory setup or want a new aesthetic, our crews supply the wheels you need for a seamless replacement. Top Flight Automotive also proudly stocks Corvette tires from industry-leading manufacturers including Goodyear, BF. Goodrich, Michelin and Firestone for the ultimate driving experience.
Mounting and balancing: One of the advantages of ordering a wheel and tire package from Top Flight Automotive is that our crews mount components and balance each tire before shipping. When your order arrives, all you have to do is bolt the configuration to your vehicle for quick installations.
Direct shipping: Top Flight Automotive does the research and work for you. By selecting a wheel and tire package for your Corvette, our experts prepare your order with compatibility in mind. We ship directly to your address, garage or work station at your convenience.
Corvette C2 Wheel and Tire Packages
If you own a classic C2 Corvette, wheel and tire packages from Top Flight Automotive feature light and dark face replica designs for matching Chevrolet production years 1963-1967. Our online store showcases direct bolt-on wheels with options including:
Solid diecast Corvette spinners
Center caps
Knockoff spinner anti-theft pins
Goodyear and Goodrich tires
And more
Corvette C3 Wheel and Tire Packages
Top Flight Automotive C3 generation wheel and tire packages feature BF Goodrich Radial T/A tires. Our team goes the extra step to provide tires modeled after the original production years of 1968-1982. C3 wheel and tire packages are mounted and balanced on chrome aluminum wheels for original shine.
Corvette C4 and C5 Wheel and Tire Packages
Our C4 and C5 generation options include tire selections from Nitto, Michelin and others. Customers can choose wheels in finishes such as chrome, black machined face, black wheel with red stripe, gunmetal and black satin. Configurations fit high-performance models such as the Z06 and present the following tire choices for bundling:
Nitto NT555 G2: An ultra-high performance summer tire that provides increased traction, handling and wet-braking capabilities.
Michelin Pilot Sport A/S 3+: A W- and Y-Speed rated ultra-high-performance all-season tire. These tires are designed for high-end sports cars and coupes with dry road handling and wet road grip functionalities.
Michelin Pilot Sport A/S 3+ ZP: A low profile and high-speed tire allowing for temporary mobility after a puncture. Similar to the Pilot Sport A/S 3+ with function even after complete loss of air.
Corvette C6 and C7 Wheel and Tire Packages
C6 and C7 generation packages introduce the Firestone Firehawk Indy 500 tire developed for sports cars, coupes and performance sedans with racing-inspired technology. These summer tires are suitable for Z06, ZR1 and Z51 models engineered for performance in wet and dry conditions.
Contact Top Flight Automotive for Corvette Wheels and Tires
Top Flight Automotive is part of the Extra Mile Brands Family of companies which has been serving the Corvette community for over 40 years. Regardless if you are just now entering the Corvette world or want to enhance your C2-C7 vehicle, our sales representatives can explain your options behind our wheel and tire packages.
For more information about Corvette wheels and tires, contact Top Flight Automotive today.
Can't find what you're looking for? Let us know and we can help! Contact Us