C6 Chevrolet Corvette Interior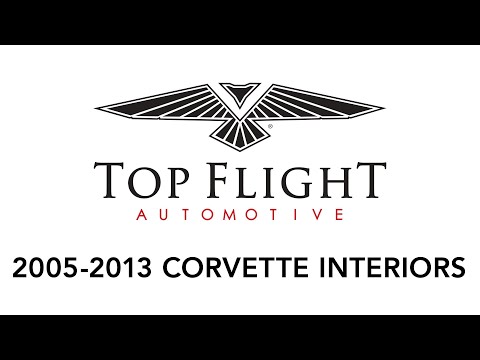 C6 Corvette Interior Upgrades
The C6 Corvette offers sports car enthusiasts ZR1, Z06, Grand Sport and standard packages for the ultimate driving experience. With select models able to achieve top speeds of 190 mph, the sixth-generation Corvette is a true speed demon. Now, owners can create a more comfortable cabin with aftermarket interior upgrades from Top Flight Automotive. As your one-stop shop for Corvette parts and accessories, our online store enables drivers to keep C6 interior features in pristine condition for owner satisfaction and resale value.
No matter if you use your C6 Corvette as an occasional cruiser or a daily driver, you'll want to maintain styling and comfort from behind the wheel. Now that early models are over 10 years old, it is good practice to proactively check the condition of interior components in need of replacement. For your shopping convenience, browse the Top Flight Automotive online store for C6 interior upgrades based on the following categories:
Carpeting
Convertible tops/frame assemblies
Door components and hardware
Floor mats
Interior dyes
Leather armrest pads
Rear quarter panels
Seat covers
Seat hardware
Sun visors
And so much more!
C6 Corvette Interior Armrest Upgrades
One of the easiest ways to upgrade your stock door panels is to install genuine leather armrests from Top Flight Automotive. Our selection of C6 leather armrest pads attach with included adhesive tape and are available in Steel Gray, Light Titanium Gray, Dark Titanium Gray, Ebony, Cashmere and Red to match factory seating. Enhance your driving comfort and protect inner door panels from dents and scratches with our installations that take minutes to complete.
Choose from options with embroidered C6 logos for an all-new custom appearance inside the cabin.
C6 Corvette Interior Dash Parts
You see your vehicle's dashboard and surrounding surfaces each time you enter your Corvette. If your plastic trim has seen better days, trust Top Flight Automotive for multi-piece dash kits compatible with 2005-2013 production runs. You can choose between polished or satin accessories that mount across your C6 Corvette's interior. We also have dash kits from American Car Craft that will impress anyone riding in the passenger seat.
C6 Corvette custom interior dash trim takes moments to install. Some of our bundles come with trim pieces that surround the following C6 Corvette interior parts:
Heating and air conditioning vents
Cabin temperature controls
Gear shifters
Cup holders
C6 Corvette Interior Door Accessories
Drawing attention to your vehicle is simple when you install the right C6 Corvette interior accessories. Top Flight Automotive is happy to share that our inventory contains custom C6 interior parts, including inner door sill covers for a one-of-a-kind appearance.
Inner door sill covers hide when vehicle doors are in the closed position, which gives you something to look forward to when you climb inside the cabin. American Car Craft makes options that display your favorite scripts and logos applicable to sixth-generation Corvettes. Whether you want to see C6 Crossflags, Grand Sport lettering or Z06 emblems, we have designs for every preference.
C6 Corvette Interior Floor Mat Upgrades
Want to keep your C6 carpet free from dirt, stains and road debris? Add one of our Cargo, Velourtex or Grand Sport floor mats to your order! Choose from original interior colors and embroidered C6 logo options to match your restoration vision.
Top Flight Automotive floor mat products for the C6 generation use the same anchoring system as factory releases for easy installation and placement. Shop by your Corvette's make, model and year for a perfect fit.
C6 Corvette Seat Upholsteries
Factory seat upholsteries take a beating if you use your Corvette daily. Luckily, our professionals ensure our inventory is full of C6 Corvette interior seat accessories for your restoration efforts. You can change the color and texture of your cabin's seating with seat cover upgrades from manufacturers like Corvette America.
Our seat cover selections pair with all-new seat foam products for maximum comfort. When you browse our selection, you can find seat covers made with the finest automotive leather or vinyl materials for restoration results that fit your budget. Plus, these products meet your expectations for durability. We're your source for custom C6 interior parts and accessories that make it possible to stand out year-round. Install two-tone seat cover designs or choose from styles with embroidered logos specifically for the C6 series.
C6 Corvette Mirror Replacements
Consider placing an order for one of our American Car Craft C6 custom mirrors to achieve optimal visibility. Rearview mirror replacements work with all 2005-2013 C6 Corvettes, and drivers can pick from mirrors that have either a Crossflag emblem or Corvette lettering script across the top. Most C6 Corvette mirrors in our inventory have auto-dimming capabilities that help you see in sunny conditions. This feature is also useful when someone has their headlights on behind you.
C6 Corvette Sun Visors
Sun visors are a necessity for long drives in your muscle car. If you're experiencing an issue with your original equipment manufacturer (OEM) installations, our experts will help you find an appropriate replacement for the driver or passenger side of your vehicle.
C6 Corvette sun visor replacements are useful if mirrors, lights or covers break because of changing temperatures or rough handling. Top Flight Automotive supplies OEM-style C6 sun visors with added garage door controls so that you can leave your remote at home.
Contact Top Flight Automotive for C6 Corvette Interior Upgrades
Top Flight Automotive is proud to be part of the Extra Mile Brands family of companies serving the Corvette community for over 40 years. Supporting generations of restoration, style and performance, our sales representatives can steer you in the right direction toward products eligible for same-day shipping after processing. For more information about C6 interior upgrades or to place an order, contact Top Flight Automotive today.
Can't find what you're looking for? Let us know and we can help! Contact Us