C1 Chevrolet Corvette Wheels & Tires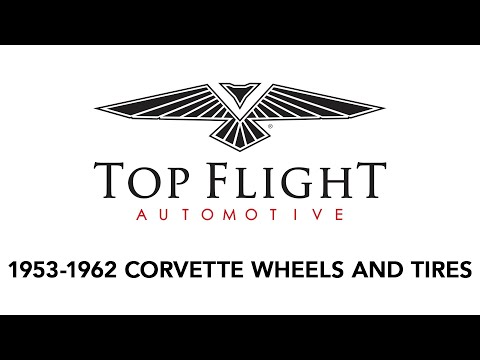 More About Our C1 Corvette Wheels
If you are lucky enough to own a C1 Corvette, you have a piece of American history. Since the C1\'s debut in 1953, sports car enthusiasts became obsessed over this new line of vehicles featuring signature body styles, headlights and colors. The C1 generation represents the idea of a \"dream car\" as consumers were introduced to rounded exteriors, removable hardtops and production runs dedicated to looks, speed and comfort.
At Top Flight Automotive, we have a passion for Corvette models — vintage and new. We understand the value of the C1 Corvette and want to help you keep your favorite ride on the road for generations to come. As the largest manufacturer and supplier of Corvette parts anywhere, our experts can match you to aftermarket wheels designed to meet or exceed original specifications.
The C1 Corvette generation is worth keeping in pristine condition for collector satisfaction and resale value. Luckily, our wheel sets, tires and accessories serve as the best way to restore your vehicle to the factory standards of the 1950s and 1960s.
C1 Corvette Aftermarket Wheel Sets
Top Flight Automotive aims to keep restoration projects as simple as possible. When shopping for C1 wheels, we encourage customers to browse our selection of complete wheel sets for vintage models. Sets include four reproduction steel wheels, four hubcaps with spinners and twenty wheel lug nuts for installation.
C1 Corvette wheel sets at Top Flight Automotive are an efficient way to get all the supplies you need for swapping out wheels. Our online store is organized by make, model and year, so it is easy to distinguish between sets for a compatible fit. If you are unsure about the specifications of your C1, our sales representatives are available to help identify your vehicle during normal business hours.
C1 Corvette Wheel Hardware and Accessories
Top Flight Automotive is your one-stop-shop for C1 Corvette wheel components and accessories. If your restoration project involves replacing chrome accents on your classic vehicle, look no further than our online store. We supply fan-favorite additions seen across production runs of the 1950s and 1960s including:
Chrome spinners and hardware
Chrome valve stem caps
Hubcaps
Hubcap spinners
Original C1 accessories are difficult to find in the modern era, but Top Flight Automotive reproduction parts are exact replicas of what rolled out of assembly lines over 50 years ago. A number of our C1 wheel accessories are U.S.-made, and all orders include necessary hardware for mounting and installation.
C1 Corvette Wheels and Tires
Those in the Corvette community can appreciate the aesthetic of C1 wheel and tire assemblies. If your C1 needs new tires, Top Flight Automotive sells black and white wall configurations from Goodrich, Goodyear, U.S. Royal and Firestone. Our collection of tires are precise reproductions for your restoration and driving applications.
The manufacturer warrants aftermarket tires at Top Flight Automotive against defective workmanship for the life of the tread.
Contact Top Flight Automotive for C1 Corvette Wheels
Top Flight Automotive is part of the Extra Mile Brands Family of companies which has been serving the Corvette community for over 40 years. All of our sales representatives speak fluent Corvette and can help you find wheels, parts and accessories for C1-C7 vehicles. Most orders are available for same-day shipping after processing to keep your restoration projects on schedule.
For more information about C1 Corvette aftermarket wheels, contact Top Flight Automotive today.
Can't find what you're looking for? Let us know and we can help! Contact Us