C5 Chevrolet Corvette Brakes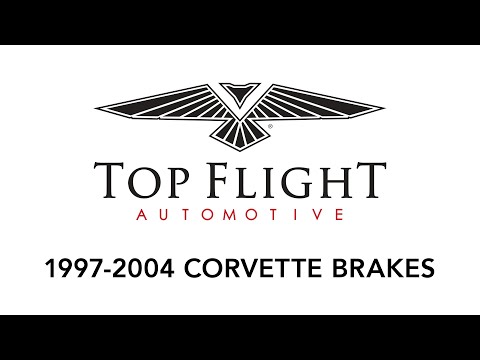 Shop More C5 Categories:
C5 CORVETTE BRAKES
A C5 Corvette makes the perfect addition to any sports car collection. Available from 1997-2004, fifth-generation Corvettes gave consumers something to look forward to with LS1 V8 engines, pop-up headlights and Z06 performance packages that could satisfy any racing enthusiast. If you're after sleek aesthetics, plenty of customization options and engines that offer over 400 horsepower, the C5 series is an affordable way to reach hair-raising speeds in style.
Whether you just landed a deal on a C5 Corvette or your favorite ride could use some attention, Top Flight Automotive is your one-stop shop for brakes and accessories that keep you up and running. We welcome you to browse our inventory for the following products:
Brake hydraulics
Brake calipers
Brake caliper covers
Disc brake systems
Hoses, pipes and brake lines
Brake fluid sensors
Master cylinder replacements
Rotors
Brake pads
C5 CORVETTE BRAKE UPGRADE KITS
Replacing C5 front and rear brakes is simple thanks to performance braking packages at Top Flight Automotive. We partner with industry-leading brands like Baer Brake Systems to bring you everything you need to rebuild 1997-2004 Corvette brake assemblies. Eliminate the guesswork in finding the right disc brakes for your vehicle by ordering bundles that install without the need for permanent modifications.
Baer Brake Systems designs front and rear brake packages with 14-inch zinc-plated rotors. Discover kits with six-piston calipers, brake pads, stainless steel hoses and more for quick braking response. Whether you're updating your C5 wheels or your original brake system parts are starting to warp, our listings keep you in control on the race track and during your daily commute.
Our slotted rotor designs are engineered to reduce heat transmission to nearby parts, and you can select kits with your choice of silver, black or red calipers.
C5 CORVETTE HAWK PERFORMANCE BRAKE PADS
Select C5 models are capable of reaching top speeds near 170 mph, so you need durable brake pads to bring your vehicle to a complete stop. Over time, Corvette brake pads will show signs of wear and tear thanks to exposure to high temperatures, friction and moisture. When that happens, turn to Top Flight Automotive for C5 brake pads suitable for iron and metal rotors.
Upgrade your current setup with selections from Hawk Performance. We carry C5 Corvette brake pads that can withstand temperatures of 1,200 degrees Fahrenheit and above for everything from racing to daily driving applications. Our Hawk Performance pads promote healthy rotor wear and are quick to activate and release with each pedal press.
C5 CORVETTE FRONT AND REAR BRAKE ROTORS
Brake rotors give off numerous warning signs when they need replacement. If you notice screeching sounds or vibrations when using your Corvette's brakes, consider changing out rotors with our Power Slot upgrades created by Corvette America. Top Flight Automotive connects customers to individual and four-piece listings with a unique Vac-U-Slot system for cooling C5 front and rear brakes.
Shed heat quickly with reinforced slotted rotor designs for your Z06 or base-model Corvette.
TOP FLIGHT AUTOMOTIVE FOR C5 CORVETTE BRAKES
Top Flight Automotive helps you get the most out of your 1997-2004 Corvette with complete braking systems, components and accessories under one roof. If you have questions regarding compatibility and fitment, our sales representatives are more than happy to help after learning more about your specific release during our normal business hours. Top Flight Automotive is a proud member of the Extra Mile Brands family of companies assisting the Corvette community for more than 40 years.
Order your C5 Corvette brakes today, or contact us online for more information about our products and services.          
Can't find what you're looking for? Let us know and we can help! Contact Us