Ford Mustang Wheel & Tire Packages
Browse by Generation
Mustang Wheel & Tire Packages at Top Flight Automotive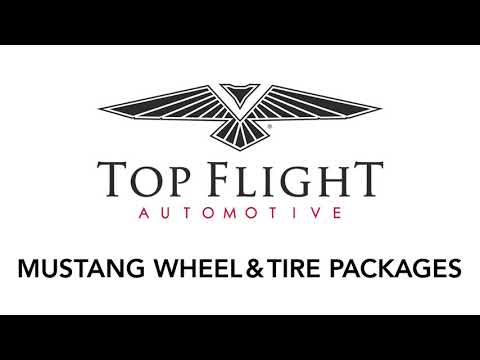 Ford Mustang Wheel Packages
Ford Mustangs have been some of the most stylish and powerful pony cars on the market since 1965. Even during the brand's infancy, Ford built the Mustang body with performance and aerodynamics in mind to create a vehicle that could handle it all. From racing competitions to long trips with family and friends, a Ford Mustang is a worthwhile investment that provides you with a smooth handling experience.
As a Mustang owner, you need a reliable set of wheels and tires to head out on your next adventure. The experts at Top Flight Automotive have you covered with numerous Mustang wheel packages featuring products from Auto Accessories of America, Cervini's Auto Designs® and Mr. Mustang. Browse our offerings by model year to take your Mustang's exterior to the next level without breaking the bank.
The Value of Mustang Wheel and Tire Kits
Mustang wheel and tire packages save you time and money when searching for upgraded assemblies. Rather than pairing compatible wheels and tires on your own, our team eliminates guesswork by presenting you with options that go together for a lightweight enhancement. Create a consistent look across your Ford Mustang with packages ideal for daily driving and racing.
Whether you want a standard or staggered setup, Top Flight Automotive brings your custom vision to life with all the details you need to make an informed purchase. We understand that all drivers have unique expectations for wheels and tires, so we include product dimensions, general weights, finish details and bolt pattern information for each listing.
Benefits of Mustang Wheel and Tire Packages
Upgraded wheels and tires together give your Ford Mustang a fresh look and feel. Fellow collectors and restoration fans will want to know where you found upgrades that draw attention to exterior trims and body contours. 
Top Flight Automotive gives you the flexibility to choose from multi-spoke wheel designs that fit your vehicle's front and back ends. Our suppliers manufacture most of our Mustang wheel package with aluminum materials for exceptional durability. Review additional advantages of our Mustang wheel and tire kits below:
Your tires come mounted to your wheels for quick fastening.
Your vehicle stands out from other Mustang variants on the track.
The kits change the aesthetic of your vehicle without modifying the body.
Select packages shave weight off your car.
Upgraded wheel packages boost the resale value of your Ford Mustang model.
Find the Right Mustang Wheels and Tires at Top Flight Automotive
The team at Top Flight Automotive draws from over 175 years of combined industry experience to help you select wheels and tires for your applications. Fix up your showroom car or lap the competition, as we cater to Foxbody, SN95, New Edge and S550 Mustangs with wheel and tire kits that provide a perfect fit. If you're unsure which bundle is right for you, call in during our business hours for recommendations.
Read more about some of our best selling Mustang wheel and tire packages below:
1979-1993 Foxbody Mustang Cobra R-Style Wheel Packages
Collectors are quick to purchase Foxbody Mustangs with low miles. These vehicles are famous for having over 225 horsepower with aggressive V8s under the hood. The unibody chassis and aerodynamic shapes of the Foxbody era leave room for aftermarket customizations, so Top Flight Automotive brings drivers replica-style wheels from Auto Accessories of America.
We carry Foxbody Mustang wheel and tire kits, such as the Cobra R-Style package, modeled after designs seen later in Ford production runs. Wish your 1979-1993 Mustang looked like an SN95 SVT Cobra R? Our online store is home to 17-inch by eight-inch wheels with the signature five-spoke layout from 1995 variants. Choose from chrome, machine lip and gloss black styles to complement your original equipment manufacturer (OEM) or custom paint job.
Cobra R-Style wheel packages ship out with all-season tires from Toyo Tires®.
1994-2004 SN95 and New Edge Mustang Wheel and Tire Kits
SN95 and New Edge Mustangs make excellent daily drivers, as models are an affordable way to enter the modern era's performance vehicle market. If you recently acquired a 1994-2004 Mustang, Top Flight Automotive can connect you to a wide range of rims for a staggered or standard layout.
If you're a fan of the 1968 film Bullitt, check out our 17-inch and 18-inch wheel and tire packages inspired by Steve McQueen's GT Fastback. Bullitt wheel and tire bundles from Auto Accessories of America are throwbacks to one of the most iconic chase scenes in cinematic history. We carry SN95 and New Edge Bullitt wheels in chrome finishes for a timeless upgrade for your vehicle. Order any of the following sizes to match your restoration vision:
17-inch by eight-inch
17-inch by nine-inch
18-inch by nine-inch
Bullitt-style package offerings come with all-season tires by Toyo Tires® or Ironman Tires based on dimensions.
S550 Mustang Wheel and Tire Packages
Ford equipped some S550 Mustang models with over 500 horsepower. To get the most out of your investment, you require a responsive set of rims and tires for cornering, accelerating and stopping on a dime.
Top Flight Automotive encourages you to review our 2015-2017 Mustang wheel and tire kits, brought to you by Cervini's Auto Designs. Discover track wheels and tires that enable you to reach maximum speeds with confidence. 10-spoke aluminum alloy products turn heads when you cross the finish line in first place.
Treat your S550 Mustang variant to 20-inch wheel upgrades for outstanding grip without the extra weight.
Purchase Mustang Wheel Packages From Top Flight Automotive
Top Flight Automotive processes and ships your orders faster than the competition. We take pride in helping our customers get parts and accessories for all six generations in the Ford Mustang lineup. With over 17r years of combined experience, our sales team is the most knowledgeable in the Mustang restoration industry, so we only stock high-quality products from your favorite brands, ensuring long-term results.
We ship within the United States and internationally. Top Flight Automotive belongs to the Extra Mile Brands family of companies, guiding Ford fanatics through restoration jobs for 40 years. Purchase Mustang wheel packages from us and reach out online for help with our products.
Can't find what you're looking for? Let us know and we can help! Contact Us