C1 Chevrolet Corvette Accessories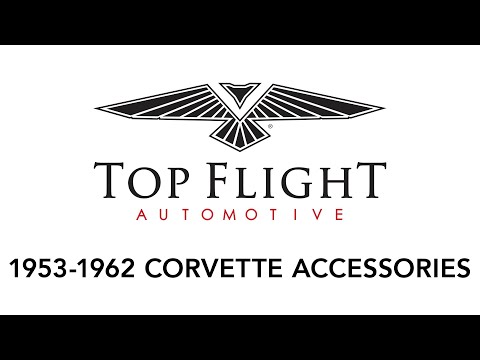 C1 Chevrolet Corvette Accessories
Few automobile enthusiasts are fortunate enough to be able to say getting behind the wheel of a C1 Corvette is a regular part of their routine. If you own a C1, remember Top Flight Automotive for a vast collection of C1 Corvette accessories. We provide you with first-generation add-ons that help you modernize your vintage Chevy.
Pick out interior and exterior accessories for vehicles that have been retired for over 60 years.
Sensational First-Gen Corvette Accessories
Every C1 Corvette accessory available must pass our employee checklist before it earns a spot in our inventory. Our team only selects technology we'd want to use on our own cars.
Get different add-ons for your 1953-1962 sports car by these featured brands:
Auto Accessories of America
Auto Custom Carpets
Avery Automats
Brand Motion
CA/Corvette America
Corvette Rubber
Custom Autosound Manufacturing, Inc.
Design Engineering, Inc.
Escort
Fender Gripper
OER
Painless Performance Products
Trim Parts
Tuff Stuff Performance
WeatherTech
C1 Bumper Accessories
Keep your 1950s or 1960s Corvette safe on the road. Our catalog features bumper accessories, including parking alert sensors and curb alert technology from Brand Motion. Learn when you're close to parked vehicles and other objects that otherwise leave scratches on your C1's exterior.
C1 Corvette Car Covers
Protect your first-generation 'Vette with exterior car covers by CA, Auto Accessories of America, and Covercraft. Choose accessories produced with high-performance fabrics. Some C1 covers are water- and UV-resistant to shield your vehicle's paint from brutal elements. These indoor and outdoor car covers come in colors like black, tan, blue and red.
Find first-gen exterior covers manufactured with up to five layers of material for protection against dings and dents. Mirror pockets and elastic hems allow C1 covers to stay in place.
First-Generation Corvette Emblems
Replace or add new emblems inside and outside your C1 Corvette. Top Flight Automotive helps you with restoration projects by carrying Crossflag logo emblems from Trim Parts. Purchase circular emblems with black, silver and white backgrounds that stand out anywhere you place them.
Many C1 emblems showcase first-gen lettering scripts. Add emblems that make your vintage Corvette look authentic from front to back.
Grilles for C1 Corvettes
Top Flight Automotive is here to help you reinvigorate your first-gen 'Vette with grille accessories. Place new Corvette grille shells, teeth and bars on your ride with offerings from CA. You can follow the aesthetic of original equipment manufacturer grilles with chrome trims or change things up using custom options.
C1 Corvette Pedal Pad Accessories
You use your C1 Corvette clutch pedal to shift gears manually. When your stock clutch pedal pad wears down from years on the road, upgrade the assembly with solutions designed by Metro Moulded Parts.
We sell EPDM rubber pads for the accelerator, brake and clutch pedal surfaces to help you stay in control behind the wheel. Remove your stock pedals from the cabin for accessories that feel responsive underfoot.
Remember Top Flight Automotive for C1 Corvette Accessories
Our team looks forward to helping you through your restoration and customization endeavors. Top Flight Automotive is constantly working to grow its inventory with items that impress drivers of all ages. Shop hundreds of C1 accessories now!
Can't find what you're looking for? Let us know and we can help! Contact Us