C2 Chevrolet Corvette Exterior
C2 Corvette Body Parts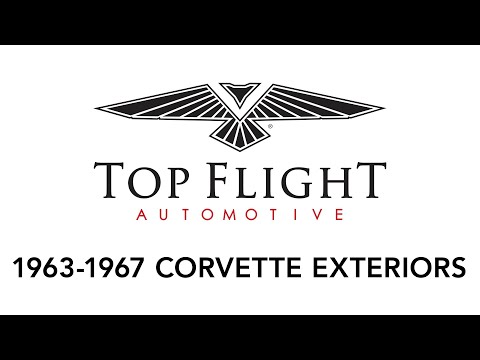 A vintage C2 Corvette is one of the most desirable releases from Chevrolet with production years 1963-1967. Sports car enthusiasts are constantly on the lookout for these vehicles on the road and in judging competitions due to a complete body redesign from the C1. If you are fortunate enough to own an iconic C2, Top Flight Automotive wants to help keep your vehicle's exterior features in pristine condition with aftermarket body parts on our online store.
C2 body parts at Top Flight Automotive work to bring your favorite ride back to a factory-fresh state. All of our reproduction components meet or exceed the original specifications of the Chevrolet factory for long-lasting restoration results. By browsing our online store, you can find popular exterior pieces for the C2 generation, including:
Antennas
Front bumper parts
Rear bumper parts
Deck lids
Exterior trims and moldings
Grilles
Hoods
Fenders
Splash shields
And more
The Value of C2 Exterior Parts
The first thing people notice about your C2 Corvette is its exterior condition. Competition judges, collectors and classic car enthusiasts will see the slightest signs of deterioration in seconds. What's more, blemishes like dents and rust also affect your C2's resale value. Even a tiny scratch can diminish its worth.
Your C2's exterior surfaces experience a significant amount of stress over their lifespan. Minor collisions, sunlight exposure, rain and inclement weather are just some of the factors that contribute to wear and tear on your car's exterior.
Every Corvette owner needs access to high-quality replacement parts to keep their prized vehicle in top condition. At Top Flight Automotive, we have products to help you rebuild your car from the ground up. Our C2 Corvette aftermarket parts are essential for repairs, restoration and keeping your exterior ready for the road or the showroom.
1965 Corvette Body Parts: Front Grilles
Corvettes are famous for chrome accents across exterior trims, doors and bumpers. Toward the front end of your C2, you will find grilles designed to help engine components breathe and guide airflow efficiently. At Top Flight Automotive, our experts offer compatible replacement grilles for the C2 generation so your vehicle can achieve incredible shine.
Over time, stock grilles wear out from weathering, age and changing temperatures, but Top Flight Automotive lets you enhance this focal point of your vintage C2. Replace grilles seamlessly with our selection of body parts, including brackets, vent sets, moldings, clips and hardware.
C2 Corvette Body Parts: Bumper Components
Front and rear bumpers are your first line of defense against minor bumps and collisions. If your C2's bumper components have seen better days, Top Flight Automotive stocks replacement bumper brackets, mounting hardware kits, four-piece full bumper replacement sets and more.
C2 bumper parts at Top Flight Automotive are manufactured to install without the need for exterior modification.
1963-1967 Corvette Body Parts: Hood Replacements
Your hood is vital to your car's look and performance. Dents and scratches can make your entire vehicle look like it's in poor condition. A damaged hood can also affect your car's performance, as you need an aerodynamic, durable hood to slice through air pressure when you drive at high speeds.
Give your C2 a new look, or get it ready for the track with an exterior hood from Top Flight Automotive. Most of our replacement hoods are made with carbon fiber materials for a lightweight addition to your C2. We have hood options for every C2 model year, including a "Stinger-" style hood for big-block engines.
If your hood is in good shape, we also sell replacement hardware to improve its functionality. Our selection of C2 hood hardware includes:
Screw sets.
Lock and tension springs.
Adjustment bolts.
Hood release handles.
Hinge shims.
C2 Corvette Body Parts: Door Components
Your Corvette's doors keep you and passengers safe in the cabin while you're on the road. Ensure you're well-protected with durable installations.
Years of use, exposure to the elements and minor accidents can cause your door components to get stuck or deteriorate over time. If your stock doors are damaged or not working correctly, trust Top Flight Automotive for an extensive selection of replacement parts. We carry everything from replacement panels to latch assemblies to window seals.
Consider adding a new, custom door handle for a refreshing upgrade, or swap out malfunctioning door mechanisms for new ones to restore your door's functionality. Whatever your needs may be, Top Flight Automotive is your source for C2 door replacement parts.
C2 Corvette Exterior Components: Convertible Tops
Convertible tops suffer damage from exposure to sunlight, rain, wind and other external elements. Whether you have a hardtop or soft-top C2 convertible, you can trust Top Flight Automotive for quality replacement components.
Our selection includes convertible top assemblies from Coffman Corvette. These kits include all the parts you need to mount your new frame in just a few hours.
We also carry hardware and repair kits to help you restore your convertible top's functionality. These products close gaps between the convertible top and cabin to keep you dry on the road. Our professionals can guide you to reliable convertible top components from reputable brands like Corvette America, Kee Auto Top and Al Knoch. 
Contact Top Flight Automotive for C2 Corvette Body Parts
Top Flight Automotive is proud to be a part of the Extra Mile Brands family of companies serving the Corvette community for over 40 years. As your one-stop-shop for Corvette components and accessories, several of our products are eligible for same-day shipping after processing to keep your restoration projects right on schedule. For more information about C2 Corvette body parts or to place an order, contact Top Flight Automotive today.
Can't find what you're looking for? Let us know and we can help! Contact Us