C6 Chevrolet Corvette Exterior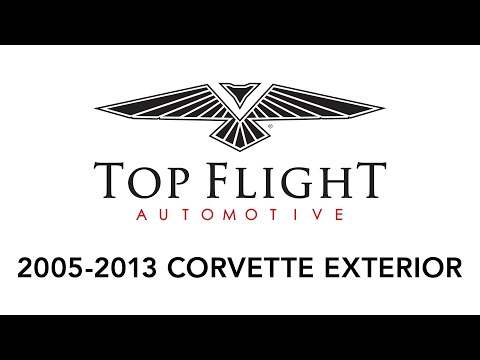 C6 Chevrolet Corvette Exterior
A Corvette's exterior leaves a first impression. Put the time into making your ride look presentable to help you feel confident around other enthusiasts. Whether your vehicle is in a small collision or you want to customize its appearance, know Top Flight Automotive is ready to assist you with C6 Corvette exterior parts.
There are hundreds of exterior components available for sixth-generation Corvettes on our site. Choose the technology you want to fix up your ride according to your budget. We're known for offering C6 Corvette exterior parts and accessories from notable brands. See how you can upgrade your vehicle.
Choose C6 Corvette Parts From Specific Brands
Choosing well-rated components for your projects helps you see long-lasting results, so we carry technology from companies you can trust. Filter your results to see C6 Corvette selections from:
AMT Custom Designs
APR Performance
American Car Craft
American Custom Industries
Anderson Composites
Auto Accessories of America
Brand Motion
Chevrolet Performance
Corvette America
Coverking
Diode Dynamics
Fender Gripper
General Motors
Kee Auto Top
Morimoto
NoviStretch
Onyx
ORACLE Lighting
Our Selection of C6 Corvette Exterior Parts
You'll find various C6 Corvette exterior parts and accessories through Top Flight Automotive. We strive to make your vehicle something you look forward to driving. We accomplish this by providing you with popular solutions for the 2005-2013 Corvettes. Check out these offerings through Top Flight Automotive:
2005-2013 C6 Corvette Bumpers for Sale
Change out your C6 Corvette's front or rear bumpers with Top Flight Automotive. We offer direct-fit bumper covers that you can paint and the hardware you'll require for the job. 
You can also make your vehicle more aerodynamic with bumper attachments for 2005-2013 models. Choose carbon fiber front air dam kits from General Motors to potentially increase handling stability when driving on the track.
2005-2013 C6 Corvette Exterior Emblems
Find the emblems you need to complete your 2005-2013 Corvette's exterior. Whether you're missing the Crossflag emblem on your vehicle's hood or Z06 fender emblems, we will help. We stock our site with C6 Corvette exterior emblems produced by GM and Corvette America. Place emblems in original equipment manufacturer locations or fasten attachments based on your vision.
Purchase C6 Corvette Exterior Parts and Accessories From Top Flight Automotive
Ready to complete an exterior project on your C6 Corvette? Top Flight Automotive's inventory contains thousands of solutions for 2005-2013 'Vettes — and our catalog is ever-expanding. Choose the parts and accessories you want and enjoy low prices, as we price-match identical items from other outlets.
Top Flight Automotive professionals are ready to answer questions about our offerings during business hours, and you can shop our site 24/7/365 for your convenience. Add the C6 parts and accessories you want to the cart!
Can't find what you're looking for? Let us know and we can help! Contact Us