C4 Chevrolet Corvette Accessories
C4 Corvette Accessories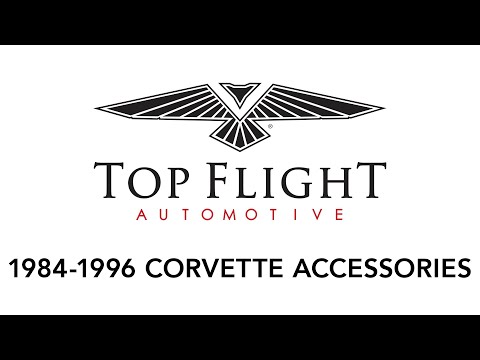 One of the best parts of owning a classic or current Corvette model is getting to customize interior and exterior features. The Corvette community adores the C4 generation as these vehicles are an affordable way to enter the market. Production runs by Chevrolet began in 1984 and extended through 1996 with a variety of engine configurations to suit any lifestyle with ZR-1 models achieving upwards of 375 horsepower into the 1990s.
Regardless if you are new to a C4 model or want to enhance your favorite sports car, Top Flight Automotive stocks Corvette accessories for storage, convenience, comfort and beyond. Our team speaks fluent Corvette and can assist you with the following accessories for your C4:
1984-1996 C4 Corvette Bumper Accessories
Fourth-generation Corvettes are fun to drive and customize. Enhance your driving experience when you rely on Top Flight Automotive for C4 Corvette bumper accessories. Many of the 1984-1996 C4 Corvette bumper accessories we offer emphasize safety.
Shop our site for components made by Brand Motion. With technology like parking sensors, curb alert sensors, and front and rear cameras, we can help you modernize virtually any sports car from the fourth-gen Corvette era.
C4 Corvette Custom Car Covers
Top Flight Automotive develops original car cover patterns with polyester-blend materials. Whether you park your C4 in the garage, driveway or street, our car covers are the perfect solution to defend against rain, snow, sleet, tree sap and debris year-round. Featuring front and rear hems, mirror pockets, tie-down ropes and multi-layer protection, our experts can steer you in the right direction for a cover that fits your application.
1984-1996 C4 Corvette Dashboard Cover Accessories for Sale
Does your dashboard need some work? Top Flight Automotive is your source for Covercraft dashboard accessories that let you protect and change the color of original equipment manufacturer (OEM) dash surfaces. Purchase dash cover accessories that fit over your existing dashboard. Our offerings shield OEM surfaces from sunlight, helping your vehicle's cabin maintain its appearance long-term.
Find a dash cover on our site that matches the rest of your vehicle. Covercraft designs C4 Corvette dash cover accessories in OEM color schemes. Every listing on the Top Flight Automotive site includes compatible sport model years to ensure the right fit. Choose an option that corresponds with the contours of your C4 dashboard.
1984-1996 C4 Corvette Engine Bay Dress up Accessories
Top Flight Automotive offers the C4 Corvette engine bay accessories you need for an original appearance under the hood. You can maintain a cleaner compartment with American Car Craft engine caps from our site.
We're your source for durable chrome engine cap covers produced in the same sizes as OEM technology. Some of the American Car Craft engine bay accessories we sell feature carbon fiber inlays with the C4 Crossflag. Prevent your fourth-generation 'Vette from leaking engine fluids for efficient performance.
C4 Corvette License Plates and Frame Accessories
Dress up your 1984-1996 Corvette with a stylish license plate or frame from the Top Flight Automotive site. Whether you'd like a mirrored front plate with generation logos and scripts or something to surround the rear license plate, you've come to the right place.
The C4 plates and frames we offer from Corvette America and Auto Accessories of America feature the sport model year you drive along with other details. Passersby will be able to identify your sports car instantly.
C4 Corvette Splash Guard Accessories
It\'s important to keep your C4 paint job clean over years of use. While it might seem like mud, dirt and debris are impossible to avoid, Top Flight Automotive brings our customers splash guard accessories for style and protection.
What are splash guards? Top Flight Automotive splash guards are made of ABS materials and attach to stock inner skirt bolts to keep unwanted wheel muck from kicking up. Splash guards add a new level of character for your C4 and help keep surfaces clean between maintenance and polishing.
Shop Top Flight Automotive for C4 Corvette Accessories
Top Flight Automotive carries the largest selection of Corvette parts and accessories anywhere. We are part of the Extra Mile Brands Family of companies serving the Corvette community for over 40 years. Most orders qualify for same-day shipping after processing, and our sales representatives are happy to help you find compatible accessories for your specific C4 model.
Contact Top Flight Automotive today for more information or order your C4 accessories to enhance your Corvette.
Can't find what you're looking for? Let us know and we can help! Contact Us