Fourth Generation Ford Mustang Performance
4th Gen Mustang Performance Parts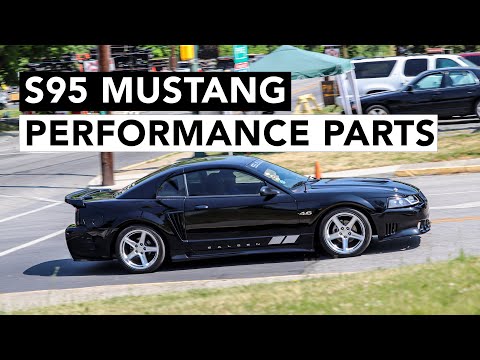 The Mustang has been a fixture on American roadways ever since Ford introduced the stylish, affordable pony car in 1964. Now in its sixth generation, the Mustang continues to be a top choice among car buyers everywhere. 
While sales of brand-new Mustangs remain strong, there is still plenty of interest in models from yesteryear, including those from the fourth generation. Known as the SN-95/New Edge era, this period featured the Mustang's first redesign since the introduction of the Fox Body in 1979. 
The initial wave of fourth-generation Mustangs, which Ford named SN-95, consisted of the 1994-1998 model years. The automaker maintained the Fox Body platform but made several style enhancements based on the Classic generation that spanned years 1964-1973. Ford also reintroduced the Mustang GT and unveiled the high-performance Cobra during this period. 
A redesigned SN-95 made its first appearance in 1999 and continued to reign through the 2004 model year. Aptly named New Edge by Ford, these Mustangs featured sharper contours that represented a substantial change from the SN-95's softer lines. Other notable upgrades included new wheels and hubcaps, larger wheel arches and edgier taillights. 
Ford also introduced several special-edition Mustangs during the New Edge period. Examples include the Spring Feature Edition, a trim package available with GT models. The 2001 Special-Edition Bullitt paid homage to the 1968 Mustang 390 fastback driven by Steve McQueen during the high-speed chase scenes in the film "Bullitt."
Where to Get 4th Gen Mustang Performance Mods
Finding a reliable aftermarket parts supplier can be challenging for owners of older Mustangs. If you're restoring or tweaking a fourth-generation model, Top Flight Automotive can meet all your parts needs. Our vast inventory includes a wide range of performance products that will have your vintage Mustang running like new. 
Whether your goal is to increase your vehicle's power, improve its fuel efficiency, correct a lingering mechanical issue or rebuild it from the ground up, we can serve as your single parts and accessories source. 
You'll Find All Types of 4th Gen Mustang Performance Parts
No matter your Mustang project's size or scope, we offer the right aftermarket performance parts at competitive prices. Some examples from our extensive inventory include:
Engines: You'll find a variety of kits, such as intake manifolds and distributors, that will dramatically improve your Mustang engine's performance.
Headers: Choose from an assortment of headers that make it easier for the engine to expel exhaust gases from the cylinders.
Brakes: Our selection of Mustang disc brakes can give you the stopping power you need to keep your high-performance vehicle under control.
Shocks and struts: Improve your fourth-generation Mustang's ride and make it safer by installing new shocks and struts. 
Manual transmission: Experience smoother shifting with upgraded clutch kits or individual parts like cables and gear shift knobs.
Sensors: Upgrading the sensors can ensure your vehicle's exhaust maintains the appropriate fuel mixture and oxygen levels. 
Starters: Are you having a tough time getting your Mustang's engine to fire up when turning the key? Replacing the starter could resolve the issue.
Alternators: Keep the battery and other electrical system components functioning correctly by installing a new alternator. 
High-Quality Products From Leading Manufacturers
At Top Flight Automotive, we believe that our customers deserve the best products on the market. All our 4th gen Mustang performance parts come from top manufacturers with stellar reputations for quality and reliability. You'll likely recognize many of these brands, such as BBK Performance, Daniel Carpenter, Holley, Hurst and Powermaster Performance. We also have an unwavering commitment to customer service, so you can buy from us with total confidence.
Get Help Making the Right Parts Choices
Selecting the right replacement parts can be a daunting task, especially with older Mustang models. When you make Top Flight Automotive your fourth-gen Mustang performance products supplier, you'll get access to expert guidance to help you make the right decisions. Our team consists of fellow Mustang enthusiasts who know all the generations inside and out. You'll know you're getting the best items for your vehicle. 
Installation Tips That Can Improve Project Results
If you're like many Mustang owners, working on your vehicle is a labor of love that provides a tremendous sense of satisfaction. If you hit a snag during your installation project, Top Flight Automotive is here to help. We're available to offer tips and advice that can make the job easier and lead to better results. We can also help you plan the work and ensure you have any accessories you'll need along the way. 
About Top Flight Automotive
Top Flight Automotive is part of the Extra Mile Brands family of companies that has spent the last 40 years helping Mustang owners get the most enjoyment from their vehicles while minimizing their ownership costs. Our Mustang professionals are the best in the business. We bring years of experience to the task of serving our large, loyal customer base. 
You'll Save Money When You Buy From Us
Our affordable prices can fit any Mustang owner's budget. When you browse our product categories, you'll discover that we offer many items for sale below MSRP. You can also take advantage of our email promotions for additional savings. And with our tiered loyalty program, every dollar you spend with us can help you earn deeper discounts. We'll even match the prices offered by our competitors, ensuring you'll always get the best value at Top Flight Automotive. 
We Also Provide Fast Shipping
Do you need a fast turnaround time on your 4th gen Mustang performance parts order? Most of our items are in stock and available for same-day shipping. Additionally, we offer overseas shipping for our international customers. And when you buy from us, you never have to meet any minimum order requirements.
View Our 4th Gen Mustang Performance Parts Inventory
Browse our parts selection and place your order easily and securely. Our online store is available 24 hours a day for your convenience. If you have questions or need additional assistance, give us a call at 833-486-7354 or contact our team online.
Can't find what you're looking for? Let us know and we can help! Contact Us