Aftermarket Corvette Wheels & Tires
Aftermarket Corvette Wheels & Tires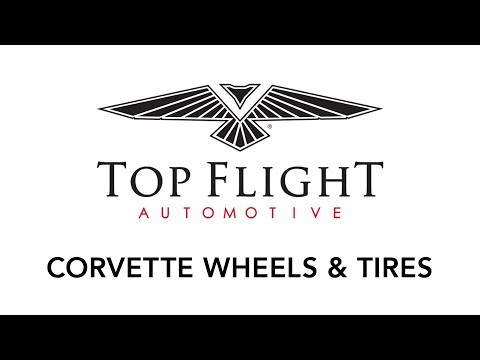 Getting the most out of your Corvette vehicle starts when you work from the ground up. Whether you just purchased your first Corvette model or want to enhance the control and handling of your favorite ride, nothing sets your sports car up for success like a new set of wheels from Top Flight Automotive. Our experts understand the importance of wheel restoration maintenance and can help you achieve desirable results on the road.
As the largest manufacturer of Corvette parts, wheels and accessories, Top Flight Automotive speaks fluent Corvette. We have a passion for helping our customers bring their classic or modern vehicle back to life. A restoration project might seem intimidating at first, but Top Flight Automotive professionals are knowledgeable on wheel components and tires for generations ranging from the C1 to the C7.
Regardless if you own a Sting Ray from the 1960s or a ZR1 from the current era, Top Flight Automotive is on your side for large and small restorations.
Importance of Corvette Wheels
Corvette sports cars provide the optimum driving experience. When in proper condition, C1-C7 models offer drivers a wide range of capabilities based on design-build, engine components and performance upgrades. However, the importance of wheel and tire maintenance is often overlooked.
Without a set of \"healthy\" wheels, owners miss out on speed, smoothness, handling and traction while driving. New, compatible wheels and tires from Top Flight Automotive help Corvette enthusiasts get the most out of sports car vehicles, including better safety and overall performance. With a supply of reproduction wheels, rims, tires and more, our team allows you to achieve the looks of original Corvette generations in no time at all.
Corvette Wheels and Rims for Sale
Top Flight Automotive connects our customers to reproduction parts engineered to meet or exceed original specifications from Chevrolet. Supporting generations of restoration, style and performance, our experts have a strong understanding of aftermarket wheel and tire parts for keeping your vehicle on the road for years at a time. Wheel and tire parts from Top Flight Automotive include:
Year-specific wheels
Rim replacements
Center caps and hardware
Wheel/tire packages
Bolt-on wheel designs
Spare tires
Hubcaps
And much more
Corvette Wheels at Top Flight Automotive
Wheels have the power to define the look and feel of your vehicle. Even as far back as 1953, Chevrolet manufactured wheels for Corvette models that showcase a sleek style with the ability to travel at impressive speeds. No matter if you are in search of reproduction, style, replica or Grand Sport wheels, Top Flight Automotive aims to bring your Corvette restoration vision to life.
The Top Flight Automotive team caters to all members of the Corvette community. We give you the necessary information to match your vehicle to wheel parts on our online store. Seamlessly discover wheel parts and configurations with our outlines of model years, generations, specific names and beyond.
As Corvette fans, Top Flight Automotive knows that each of our customers wants a different behind-the-wheel experience. We offer the following materials for wheel designs to suit your expectations:
Corvette Steel Wheels
Steel wheels from Top Flight Automotive feature a heavy build and are an affordable route for restorations on a strict budget. These products are incredibly strong and designed for vintage models such as the C1 (1953-1962) and C2 (1963-1967) for long-term stability. If your classic Corvette shows signs of rust or you need an upgrade, one of our sales representatives will guide you to a set of steel wheels for your vehicle.
Corvette Aluminum Wheels
Aluminum wheels at Top Flight Automotive are lighter than steel parts. These products allow for better balance on the road and can even increase your vehicle\'s fuel efficiency. Customers can achieve shine with minimal yearly maintenance with aluminum wheel upgrades.
Corvette Rallye Wheels
Rallye wheels for Corvette models are some of the most popular setups for high-speed competition. They enable drivers to slide, absorb bumps in pavement and grip the race track without damaging their vehicle. Consumers noticed rally style wheels across production runs of the C2 and C3 generations from 1967 through 1982.
As some of the most legendary performance wheels, rallye configurations give your C2 or C3 Corvette the ability to travel sideways in style. Whether you are heading to the race track or want to restore your classic Corvette to factory condition, no one stocks C2 and C3 rallye rims like Top Flight Automotive.
With the help of one of our sales representatives, we can connect you to compatible rallye style wheels for your Corvette.
Our Selection of Corvette Rallye Rims
Top Flight Automotive stocks a variety of rallye style rims for your driving applications. Rallye rims are produced in stock factory sizes. If purchasing rallye rims individually, customers can choose from the following dimensions to suit restoration and replacement needs:
15″ x 6″
15″ x 7″
15″ x 8″
Top Flight Automotive reproduction rallye rims are engineered to meet or exceed the original Chevrolet specifications from 1967-1982. Our online store keeps the restoration process simple with available wheel sets for changing out all four rims simultaneously. A Corvette style rallye wheel set includes the following components for quick installation:
4 rallye wheels of choice
4 replacement hubcaps
4 replacement trim rings
Necessary lug nuts and hardware
Our selection of Corvette style rallye wheels are available in Silver and Chrome finishes for a pristine match to exterior features and your vehicle's paint job.
Corvette Rallye Wheel Hubcaps
One of the easiest upgrades for your classic C2 or C3 Corvette involves changing out worn hubcaps. Whether or not you plan on taking your Corvette to the race track, Top Flight Automotive rallye hubcap replacements keep your wheels, tires and suspension in great shape for long-term results. Customers can select exact reproduction, steel replacements or plastic aftermarket hubcaps for restoration efforts.
Corvette Rallye Wheel Replacement Parts
After years of racing, your C2 or C3 Corvette may show signs of wear and tear. If you do not need full wheel replacements, Top Flight Automotive offers rallye wheel maintenance parts for routine upkeep. Browse our online store for miscellaneous products, including:
Trim rings: The C2 and C3 Corvette are known for stainless steel shine. Replace trim rings on your current wheel setup for a sleek factory appearance.
Wheel paint: Top Flight Automotive stocks wheel paint for rally style wheels. Coat metal components to revitalize your C2 or C3 Corvette.
Hubcap centers: Change out your C2 or C3 hubcap centers for an all-new look to wheels and tires. Top Flight Automotive enables you to choose from a number of Chevrolet production logos for a custom approach to restoration.
Wheel and Tire Packages for Sale
Top Flight Automotive wants to keep wheel restoration projects as simple as possible. If you are performing wheel maintenance for the first time, our wheel and tire packages are ideal for Corvette fans looking to save time and money. When you order a wheel and tire package from our online store, professionals at Top Flight Automotive ship items fully mounted and balanced for quick installations.
Top Flight Automotive includes all necessary hardware for bolting on wheels and tires. Our packages allow you to select the perfect configurations for your vehicle\'s applications based on:
Tire brand
Wheel finish and color
Tire tread
Wheel materials and logos
Speed and performance
High-speed stability
And more
Our crews proudly supply reproduction tires from industry-leading manufacturers, including Michelin, Firestone, Goodrich, Goodyear and U.S. Royal.
Aftermarket Corvette Wheel Accessories
Some of the most satisfying restorations involve wheel accessories to give your Corvette an all-new look. This might include products such as wheel spinners that are sure to catch attention on the road. Luckily for our customers, Top Flight Automotive stocks aftermarket wheel accessories that allow you to customize your Corvette model.
Consider pairing a wheel and tire package set with some of our following accessories:
Chrome wheel lug nuts
Hubcap spinner assembly sets
Hubcap trim bar sets
Theft-deterrent valve stem caps
Corvette spare tires
Corvette hubcap spinners
Rallye wheel hubcaps
Trim rings
Aftermarket Corvette wheel accessories from Top Flight Automotive fit bolt-on and knock-off wheel installations for those restoring classic generation models. Unsure about your Corvette\'s make and year? Top Flight Automotive can help you identify your sports vehicle for compatible wheels, tires, rims and more.
Contact Top Flight Automotive for Aftermarket Corvette Wheels and Rims
Top Flight Automotive is part of the Extra Mile Brands Family of companies which has been serving the Corvette community for over 40 years. As the largest manufacturer and supplier of Corvette parts, wheels and accessories, our team wants to help you keep your vintage or modern vehicle on the road for future generations. Specializing in releases from the C1 to C7, our experts will walk you through restoration projects of any size.
For more information about our selection of Corvette wheels for sale, contact Top Flight Automotive today.
Can't find what you're looking for? Let us know and we can help! Contact Us