C4 Corvette Performance Parts
C4 CORVETTE PERFORMANCE PARTS
The fourth-generation Corvette (C4) saw production runs by Chevrolet from 1984 through 1996. Featuring a new chassis framework, sleek design finishes and futuristic look for its time, the C4 still stands as a fan favorite across the Corvette community today. These vehicles hit the consumer market with impressive engine configuration options such as the ZR-1 5.7-liter V8, which would gain racing success into the 1990s.
Why might consumers want a C4 model? The C4 generation is a great way to enter the Corvette world as models are available at an affordable price point today. Whether you are just now purchasing a C4 model or are looking to enhance your favorite sports car, Top Flight Automotive can help you achieve top speeds and incredible handling with our selection of C4 performance parts.
C4 PERFORMANCE UPGRADES WE CARRY
No two Corvette owners are exactly alike. If you're someone who refuses to settle for a stock configuration, the C4 generation is an excellent way to gain access to endless customization options. Placing an order for performance parts allows you to boost the capabilities of your vehicle while transforming your C4's exterior appearance.
The sky is the limit for C4 performance upgrades at Top Flight Automotive. Focus on any part of your Corvette with listings in the following categories:
C4 CORVETTE AIR INTAKE PERFORMANCE PARTS
Feeding your C4 engine a cooler source of air can add 22 horsepower with the Corvette Vortex Rammer Cold Air System. This device at Top Flight Automotive takes pressurized air from your C4\'s radiator cavity and sends it through the radiator shroud into a specially designed scoop. As air travels into the sealed box of the Rammer, your C4 Corvette receives temperature-controlled airflow for better high-speed performance.
Installing the Corvette Vortex Rammer Cold Air System requires a cut-out of the radiator shroud. Instructions and hardware are included with purchase.
C4 PERFORMANCE HOOD UPGRADES
Fourth-generation Corvettes are more than 30 years old. If you notice rust, scratches or imperfections on your original hood, consider swapping out your factory edition for a 1984-1996 replacement. We supply fiberglass performance hoods by American Custom Industries. These installations weigh just 28 pounds for flexibility in all driving applications.
Performance hoods on our online store are paint-to-match and follow the same dimensions as factory originals. The included hood scoops promote proper ventilation to your C4 engine.
C4 PERFORMANCE FRONT SPLITTERS
Corvette owners must understand that pressure exists all across the exterior of your C4 when traveling at top speeds. For effective balance and stability, having a sufficient amount of downforce keeps tires grounded for quick turning, acceleration and response. This principle is why we offer C4 performance front splitters for moving air over your vehicle.
Our front splitters attach just below the front-end bumper and extend parallel to the road to create downforce while guiding air to intakes, the radiator and the engine compartment. Break up high-pressure areas and improve your C4's aerodynamics with products from Auto Accessories of America. 
C4 CORVETTE FRONT AIR DAMS, SPOILERS AND REAR WINGS
The Top Flight Automotive selection of front air dams and spoilers guide air away from your C4 when traveling at highway speeds. Our front-end attachments reduce the aerodynamic drag of your C4 model for better traction control, improved handling and greater mileage.
Rear wings from our online store are an efficient way to improve style and performance across your C4 Corvette. Wings prevent back-end lift and push air downward at high speeds for traction. Choose between Aerotech, Collector, Design and Street Style functions for your 1984-1996 Corvette.
C4 CORVETTE BODY PERFORMANCE PACKAGES
Unsure which exterior performance parts are right for you? Top Flight Automotive makes it easy to redesign your C4 from the hood to the back bumper with body style upgrade kits. Treat your coupe or convertible Corvette to bundles from American Custom Industries that will strike up conversation at Chevrolet outings, sporting events and more.
C4 Corvette performance packages are designed to be installed as a whole. For one price, you receive everything necessary to dress up your vehicle for consistency across the exterior surfaces. Select performance body kits that include the following for a seamless restyle project:
Front and back bumpers
Rear wing attachments
Fender flares
Corvette rockers
Door treatments
Mirror caps
All mounting hardware
Our body style kits are lightweight, manufactured in the United States and undergo shipping via truck freight for safe arrival.
C4 CORVETTE PERFORMANCE DISC BRAKES
If you want to get the most out of your C4, you need a reliable braking system. Top Flight Automotive stocks a variety of front and rear disc brake products brought to you by Baer Brake Systems. Increase reaction times and disc brake strength with your choice of rotors measuring 12, 13 or 14 inches.
Change out individual parts as you see fit, or go with a brake kit with racing-inspired calipers in colors like black, red and chrome.
CONTACT TOP FLIGHT AUTOMOTIVE FOR C4 CORVETTE PERFORMANCE PARTS
Top Flight Automotive is the largest manufacturer of Corvette parts anywhere. We are part of the Extra Mile Brands Family of companies which has been serving the Corvette community for over 40 years. For more information about C4 Corvette performance parts, contact Top Flight Automotive today to speak to one of our experts or order the parts you need.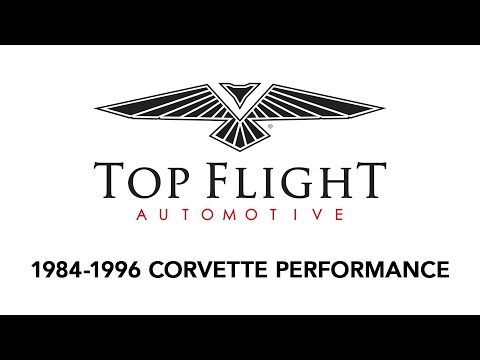 Can't find what you're looking for? Let us know and we can help! Contact Us