Corvette C6 Parts for Sale at Top Flight Automotive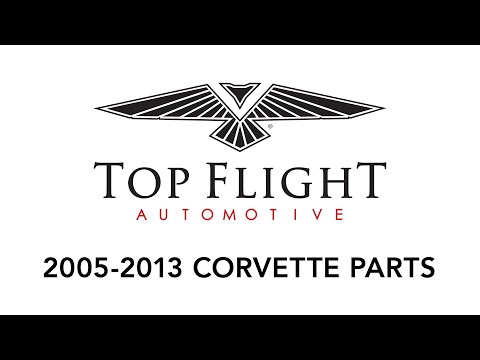 Corvette C6 Parts for Sale
It's fair to say that Corvette generations continue to improve with every release. The sixth-generation (C6) Corvette saw production from 2005 to 2013 and still stands as a favorite for sports car collectors and enthusiasts. Featuring new bodywork for its time, Chevrolet brought back exposed headlamps for the first time since 1962 and a larger passenger compartment for superior comfort at high speeds.
The C6 generation is often looked at as a redesigned C5 with significant upgrades under the hood. Whether you own a Z06, ZR1, Grand Sport or 427 Convertible, these vehicles are engineered for fast shifting, impressive horsepower and provide several options for consumers with LS2, LS7, LS3 and LS9 engine configurations.
As the largest manufacturer of Corvette parts, Top Flight Automotive can help you maintain your C6 model for years to come. Our collection of C6 parts for sale are engineered to meet or exceed original specifications for the ultimate driving experience.
Common Corvette C6 Replacement Parts
As you drive your C6 model, parts wear and tear over time. Fortunately, Top Flight Automotive can help you find compatible parts for your C6 Corvette to keep it up and running. Our selection of Corvette replacement parts includes but is not limited to:
Air conditioning components
Batteries
Bumpers and hardware
Chrome accents
Radiators
Decals and labels
Doors
Exhaust systems
Trims and moldings
Hoods
Mirrors
Power steering components
Transmissions
And much more!
Corvette C6 Air Conditioning and Cooling Parts for Sale
Top Flight Automotive is proud to stock air conditioning components for C6 Corvette owners. Regardless if you are dealing with a faulty air conditioning system or simply require new filters for your vehicle, clean airflow is important for the safety of passengers. We supply replacement screening, tubing and sensors on our online store for individuals looking to better their C6 air conditioning units.
Additionally, our experts can guide you through the selection process for cooling system parts. Your C6 Corvette might be in a position where it needs a replacement water pump, radiator, hose, compressor or fan for lower operating temperatures and an increase in horsepower. Top Flight Automotive stocks cooling system components for C6 vehicles to avoid overheating and optimize the use of coolants.
Corvette C6 Decals and Graphics
Experts at Top Flight Automotive understand that one of the best parts about owning a Corvette is getting to customize your vehicle\'s exterior finish. We supply decals and graphics for all C6 convertible and coupe styles at your convenience. Easily stand out from other C6 models on the road with stripe, flame and sport fade designs for your hood and doors.
We recommend getting your C6 decals and graphics professionally installed for long-lasting results.
Contact Top Flight Automotive for Corvette C6 Parts
Replacement and restoration parts at Top Flight Automotive keep C6 models on the road for years to come. Depending on your project, our C6 product collection can work to improve the performance and handling of your Corvette for an improvement to your vehicle\'s life and driving experience. As part of the Extra Mile Brands Family of companies, our team has been serving the Corvette community for over 40 years.
For more information about our Corvette C6 parts for sale, contact Top Flight Automotive today or order the parts you need to get started now.
Can't find what you're looking for? Let us know and we can help! Contact Us