Chevrolet Corvette C5 Accessories
C5 Corvette Accessories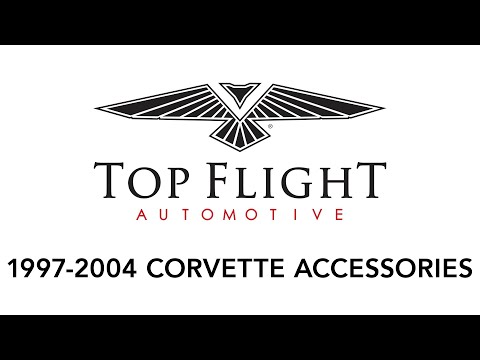 The fifth-generation of Corvette sports cars (C5) is a fan favorite. These models were in production by Chevrolet from 1997 to 2004 with head-up-display features, rear-mounted transaxle assemblies and LS1 V8 engines. Consumers received exactly what they wanted during this time in the 1990s as Chevrolet was actively seeking new ways to improve the construction, performance and safety features of this all-new line.
Approaching 2020, the C5 is still in high demand from those in the Corvette community as these vehicles feature an affordable price point with comparable handling and speeds of current generations. Able to go from 0 to 60 mph in about four seconds, high-performance models such as the Z06 grab the attention of any Corvette enthusiast. C5 vehicles remain fully customizable when working with Top Flight Automotive for C5 Corvette accessories.
Top Flight Automotive is the largest manufacturer of Corvette parts anywhere, by browsing our online store, you can find C5 accessories that help with storage, styling and driver convenience.
Shop C5 Corvette Accessories at Top Flight Automotive
Top Flight Automotive supports generations of restoration, design and performance for Corvette vehicles. Our experts speak fluent Corvette and can guide you to interior and exterior accessories for keeping your C5 model in pristine condition. We offer our customers the largest product portfolio for Corvette generations C1-C7 which include:
C5 Corvette Backup Camera Accessories
The C5 Corvette generation is the perfect line of vehicles to implement assistive technology. During 1997-2004, backup cameras and navigational features were not yet standard in Chevrolet production runs. However, Top Flight Automotive gives customers the opportunity to install camera systems and mounts for full visibility.
Our online store showcases display monitors ranging from 3.5 inches to 7 inches for linking external cameras to your C5 vehicle. Our assistive technology can include blind-spot detection, which is effective for parking lots, highway driving and shifting in reverse.
C5 Corvette Custom Storage Covers
Corvette owners understand the importance of protecting sport vehicles from harmful conditions. With the help of Top Flight Automotive, our experts can match you to a custom-fit C5 cover for parking and storage needs. Regardless if you park your C5 model in the garage, driveway or on the street, our multi-layer covers defend against snow, rain, ice, debris, tree sap and more.
Car covers at Top Flight Automotive are form-fitting to your specific make and model and are easy to slip on and remove. Our covers fit your Corvette like a glove and come with a storage bag for safekeeping.
Curb Sensors for C5 Corvette Models
You want to keep your C5 Corvette free from front-end scratches, and this is easier with curb sensors from Top Flight Automotive. Our sensor kits install along the front bumper of your Corvette and act as a warning system for nearby curbs and low-passing objects. Based on your preference, devices can trigger vibrations, sounds or LED lights to indicate you are a set distance from a structure.
If you recently purchased a C5 model and are still getting used to its body style, curb sensors from Top Flight Automotive are impressive solutions for avoiding front-end damage.
C5 Corvette Emblem Accessories
Top Flight Automotive wants to help C5 model owners customize exterior features. Our customers can purchase laser-cut stainless steel and chrome letter designs for front and rear bumpers. The Corvette lettering is polished for a clean mirror-look and serves as a custom accent for your vehicle.
Emblem accessories at Top Flight Automotive feature a peel and stick backing for quick installations. Simply decide where you want to place the stainless steel or chrome lettering, and apply to a flat surface for long-term styling.
C5 Corvette License Plates and Frames
One of the most straightforward style upgrades you can provide for your C5 Corvette is an aftermarket plate frame. Top Flight Automotive offers billet aluminum and triple-chrome plated design frames for an eye-catching look. All necessary mounting hardware is included with each purchase, and you can install the accessory in just minutes.
Choose from several Corvette logo inlays, colors and finishes for a unique fit to your C5 model.
Nose Masks for C5 Corvette Models
What are nose masks? Nose masks from Top Flight Automotive are model-specific covers for the front-end of your Corvette vehicle. Our masks are made of breathable vinyl that protects your C5 from hood, bumper and fender scratches while driving.
Nose masks at Top Flight Automotive guard your paint job and allow moisture to escape in wet conditions. Auto-adjusting tension straps keep masks fastened to your vehicle even when traveling at highway speeds. Depending on preference, customers can choose between four different embroidered logos or blank designs.
Nose masks at Top Flight Automotive are engineered to provide access to hood and headlight components.
C5 Corvette Splash Guard Accessories
The days of constantly cleaning the sides of your Corvette are over. Splash guard accessories prevent water, mud and debris from kicking up while driving your Corvette. Available for front and rear wheels, Top Flight Automotive sells guards in pairs with included hardware for seamless installations. Splash guards feature ABS materials for durability against road conditions, and C5 owners can paint these attachments for a perfect match to their paint jobs.
Contact Top Flight Automotive for C5 Corvette Accessories
Top Flight Automotive is part of the Extra Mile Brands Family of companies, which has been serving the Corvette community for over 40 years. Our experts have over 175 years of combined experience with Corvette models ranging from the C1 to C7 configurations. With the largest product inventory of Corvette parts and accessories, no one understands your Corvette better than Top Flight Automotive.
For more information about C5 accessories or to place an order, contact Top Flight Automotive today.
Can't find what you're looking for? Let us know and we can help! Contact Us