Ford Mustang Wheels & Tires
Browse by Generation
Aftermarket Mustang Wheels & Tires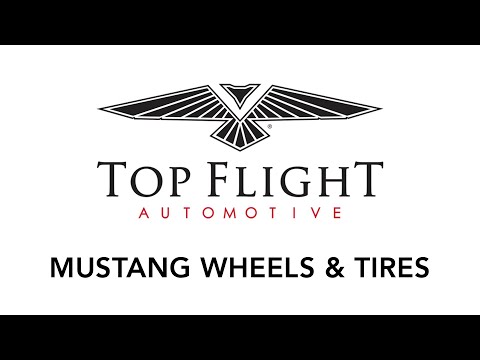 For over 50 years, the Ford Mustang has grabbed the attention of sports car enthusiasts for its arresting styling, impressive horsepower ranges and hair-raising top speeds. Since debuting in 1964, these revolutionary performance vehicles have defined what it means to have a true racing appearance with sleek exterior color options, shining chrome accents and a history of innovation between each models release. Regardless if you are drawn to Mustang models of the 1960s or use a sixth-generation vehicle as a daily driver, it is impossible to imagine a Ford Mustang without a set of stylish wheels.
When drivers spot a "pony" emblem, they immediately notice the vintage or modern racing trims along the outside of your favorite ride. Your wheel choice establishes the look of your Mustang, and sizes, shapes and arrangement settings contribute to the overall smoothness and control from the cabin. If your stock wheels have seen better days or you want to create a custom appearance for your 1964-2022 Mustang, Top Flight Automotive is your one-stop shop for aftermarket parts and wheel accessories.
Why Replace Mustang Wheels?
The wheels are some of the most important components of your Ford Mustang. They showcase the vehicles style and let you enjoy the horsepower under the hood. Now that select models are over 50 years old, it is necessary to inspect stock wheels and tires for proper performance and safety.
If you notice cosmetic damage along the outer part of your factory wheels, you may experience unwanted vibrations, flat tires and poor steering capabilities. Luckily, Top Flight Automotive supplies aftermarket reproductions of iconic wheel styles from first-generation Shelby models to re-creations of famous builds such as Bullitt and SVT Cobra designs. Swapping out the wheels and rims on your Mustang becomes easier when understanding the evolution of Ford's materials and sizing.
History of the Ford Mustang's Wheel Designs
During the 1960s and early 1970s, the Ford Motor Company wanted to create durable wheel assemblies for Shelby and Mustang II body styles. The first and second Mustang generations used steel wheel materials, which were an industry standard at the time. These configurations were heavy and difficult to bend, but affordable options for Ford to mass-produce.
First-generation Shelby Mustangs are famous for large and elongated exterior features, so steel wheel construction was effective in supporting the weight of the vehicle. To create a lowered appearance, these classic muscle cars showcased small wheel dimensions with stock setups selling with 14- and 15-inch diameters.
Generally, Ford listened to consumers and sports car fans when engineering the third-generation Mustang. With gas prices rising in the late 1970s, drivers wanted lightweight, compact vehicles with improvements behind fuel-efficiency and performance. The automotive company transitioned to aluminum and alloy materials beginning with the Foxbody Mustang and continues to use these today.
Over time, Ford production runs started to give consumers options for wheel dimensions. From the 1990s on, the standard for Mustang wheels is typically 17- to 18-inches for stability, traction control and an aggressive appearance. If you need assistance with selecting wheels for your Mustang, Top Flight Automotive sales representatives are available during normal business hours to steer you in the right direction!
Ford Mustang Aftermarket Wheels
As one of the largest suppliers of Mustang parts anywhere, Top Flight Automotive wants to help keep your classic or modern vehicle on the road for generations to come. All Ford Mustangs offer a thrilling behind-the-wheel experience, but you require a team of knowledgeable experts to guide you through large and small restoration projects. By browsing our online store, you can discover our collection of reproduction wheels engineered to meet or exceed the original specifications of the Ford factory.
Some of our most popular Ford Mustang wheel styles and accessories include:
1964-1973 Legendary Wheels
1965-1967 Styled Steel Chrome Mustang Wheels
1965-1973 Magnum 500 Wheels
1979-2004 Bullitt Wheels
1979-2004 Cobra R Wheels
1979-2004 FR500 Wheels
1979-2004 Saleen Wheels
2005-2016 Style Replica Wheels
Accent center caps
Wheel parts
Tire pressure sensors
And more
Legendary Mustang Wheels
Are you a proud owner of a first-generation Shelby Mustang? If your collector car needs new wheels, consider placing an order for Legendary aluminum alloy upgrades for your GT350 or GT500 model. In the past, it was difficult to find replacement wheels for vintage Mustangs out of production, but Legendary selections help you increase wheel sizes with five-spoke and 10-spoke styles.
Legendary wheels arrive with gloss black, clear coat or charcoal accents for an all-new look to your vintage Mustang. Choose between GT5, GT6, GT7 and Magstar II patterns with the 5×4.5-inch bolt pattern.
Styled Steel Chrome Mustang Wheels
Top Flight Automotive supplies aftermarket steel Mustang wheels for restoration projects on a strict budget. Ideal for 1965-1967 model years, Styled Steel chrome wheels are crafted in the United States and look just like originals for award shows, competitions and daily cruising. These wheels give you an identical feel to stock wheels of the 1960s but are available with mocha silver and charcoal silver finishes.
Our wheel sets for sale are the closest you'll get to authentic installations from the Classic era. Only you'll know these are aftermarket upgrades and not the original equipment manufacturer (OEM) wheels installed decades ago. These purchase options look fantastic on Mustang GT models from back in the day.
Ford Mustang Bullitt Style Wheels
Bullitt style wheels at Top Flight Automotive are an exciting upgrade for third- and fourth-generation Mustangs. These fan-favorite designs give your Mustang a staggered appearance with 17- and 18-inch options on our online store. Inspired by the 1968 film Bullitt, you can place an order for anthracite machined lip, black machined lip and chrome finish wheels to fit your 1979-2004 Ford Mustang.
Bullitt wheels feature a lifetime structural warranty, and you can purchase them individually or as a complete set. Click on any of our aftermarket wheel listings for additional information about sizing, bolt patterns, offsets and more.
2015 Mustang Replica Wheels
Bring styles of the sixth-generation era to your 2005-2014 Mustang with Style Replica wheels in a bright chrome finish. Fans of Mustang vehicles can transfer 10-spoke patterns of recent releases to older models with reproduction rims based on 2015 designs. Replica Style wheels are great for applying current racing trends to Ford muscle cars no longer in production.
Channel some American racing styles across your trusty Ford Mustang. Others may think you're driving an S550 model, even though you're rocking an S197 build for the retro presentation.
Mustang Magnum 500 Wheels
First-generation Mustangs are some of the most valuable collector cars of American history. With select vintage models being over 50 years old, there is a chance your Shelby Mustang's stock steel wheels have seen better days thanks to scratches and warping. Ford enthusiasts remember the iconic Magnum 500 series wheel of the 1960s, so Top Flight Automotive stocks exact replicas for your 1965-1973 Mustang on our online store.
Magnum 500 Ford Mustang wheel designs are widely popular in the sports car community as these rims compliment classic cars with chrome accents and a five-spoke layout. OEM wheels of the first-generation era can be expensive, so our experts supply cost-friendly products engineered to meet or exceed the stock specifications of the Ford factory. Magnum 500 wheels are perfect for restoration projects on a strict budget, and our lightweight designs improve acceleration and handling control.
We Have Ford Mustang Wheel and Tire Packages
Mustang wheels and rims should be accompanied by new tires. Our tire packages make it easy to get the best value for your restoration dollar. Our bundles of four wheels and tires from Auto Accessories of America are ready for mounting as soon as you open the shipping box.
Incorporate Ford Mustang Bullitt, FR500, Saleen and Cobra R styles on well-received vehicles from the Foxbody, SN95 and New Edge generations. We normally include all-season tires with your bundle to keep your 'Stang versatile for a range of driving applications. We sell tires from reliable brands like Toyo, so you can trust the treading and sidewalls to last for thousands of miles.
Shop Top Flight Automotive for Aftermarket Mustang Wheels
Top Flight Automotive is proud to be a part of the Extra Mile Brands family of companies serving the Mustang community for over 40 years. All of our professionals are knowledgeable regarding all six Mustang generations, and our inventory is always expanding with new interior, exterior and performance parts for your vehicle. Supporting years of restoration, style and performance, no one caters to Ford muscle cars of the past and present quite like Top Flight Automotive.
When driving a Ford Mustang, you are cherishing a piece of American history, and it is important to keep the vehicle in pristine condition for collector and resale value. By speaking to one of our sales representatives, we can guide you to compatible wheels, rims, tires and more that match your personality and driving applications. For more information about Mustang wheels or to place an order, contact Top Flight Automotive today.
Can't find what you're looking for? Let us know and we can help! Contact Us