Chevrolet Corvette C5 Interior Parts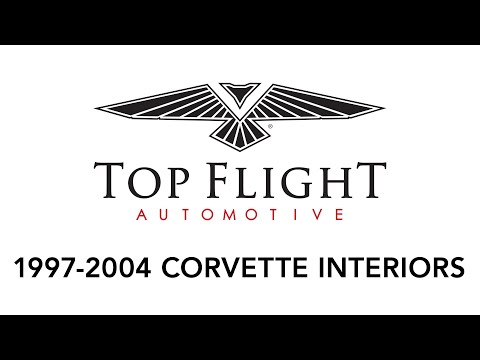 C5 Corvette Interior Replacement Parts
Those in the sports car community are always on the lookout for C5 Corvettes, as this generation offers LS1 V8 engines, over 300 horsepower and top speeds of roughly 160 mph. Seeing production years from 1997-2004, the C5 stands as one of the most affordable ways to get behind the wheel of a Corvette with aggressive styling and performance. If you are searching for interior restoration parts and accessories for your fast and furious C5, look no further than the Top Flight Automotive online store.
Here at Top Flight Automotive, we bring customers everything necessary for a factory-fresh interior appearance. As the largest manufacturer and supplier of Corvette parts, Top Flight Automotive caters to the C5 generation with products organized by make, model and year. Whether you use your Corvette as a daily driver or an occasional cruiser, we keep your interior in pristine condition for generations to come.
C5 Corvette Interior
The C5 Corvette is a speed machine, but drivers only enjoy these benefits through reliable interior features. If doors, seating, dashboard components or carpeting in your vehicle have seen better days, Top Flight Automotive enables you to replace parts for a comfortable driving experience. Upgrade the interior of your C5 with parts and accessories including
C5 Corvette Interior Replacement Parts: Carpeting
One of the first things passengers notice when sliding inside your Corvette is the condition of the carpeting. Over multiple years of driving, you may find that dirt and stains are impossible to remove from original carpets. Fortunately, Top Flight Automotive brings customers replacement carpeting upgrades from Auto Custom Carpets, Inc.
Easily change out the carpeting in your C5 with front, rear or full configurations for 1997-2004 vehicles. All of our C5 options consist of Mass Backed Truvette Carpet, as seen in the Chevrolet factory. Choose from the following colors to match your restoration vision:
Black
Gray
Oak
Shale
Torch Red
C5 Corvette Interior Shift Boots
If you own a manual C5, shifting is required to change gears and operate the vehicle. Through changing temperatures and frequent use, the leather around the shifter can tear or become brittle. However, Top Flight Automotive allows customers to match stock interiors with our aftermarket leather shift boots.
Shift boots on our online store are compatible with all 1997-2004 C5 models and install in minutes for quick restoration results. Our experts also include a retainer with each order for ease of installation.
C5 Corvette Interior Leather Armrest Accessories
Want to customize the door panels in your C5 Corvette? We also offer genuine leather armrests for additional comfort and door protection. Select from five original colors to match your stock interior, along with C5 embroidered logos to customize your interior.
Our leather armrest padding attaches with included double-sided tape. Embroidered items at Top Flight Automotive are non-returnable, so speak to one of our sales representatives about compatibility before placing an order.
Contact Top Flight Automotive for C5 Interior Parts
Top Flight Automotive is part of the Extra Mile Brands family of companies serving the Corvette community for over 40 years. All of our reproduction parts are engineered to meet or exceed original specifications of the Chevrolet factory, and a number of our products are eligible for same-day shipping after processing. For more information about C5 interior parts or to place an order, contact our team today.
Shop More C5 Categories:
Can't find what you're looking for? Let us know and we can help! Contact Us