Browse by Generation
FORD MUSTANG BRAKES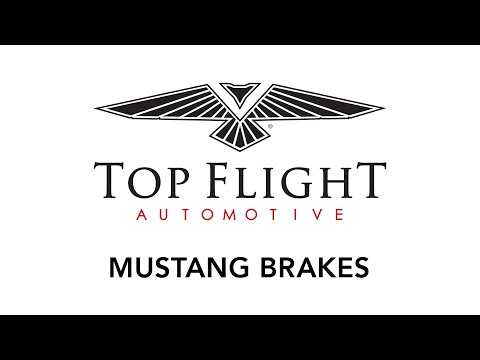 Everyone loves the sound of a Ford Mustang roaring down the freeway. Ever since these cars were produced back in the mid-1960s, many sports car enthusiasts make it a priority to have at least one in their collection. Mustangs combine sleek aesthetics with impressive offerings of over 700 horsepower in the modern era, so Top Flight Automotive carries replacement brake parts, kits and upgrades for all six vehicle generations.
The days of worrying about brake reliability, power and control are in the past with Mustang braking systems on our online store. We're Ford fanatics just like you, so we stock a variety of options for favorite models throughout American history, including the following:
Boss
Boss 302
Bullitt
Cobra
Foxbody
GT
GTS
Mustang II
S197
Original Shelby models
Mustang Performance Brakes
The Ford Mustang takes on a new shape and body style with every generation. If you're looking to get the most out of your classic or current release, upgrading your braking system is one of the best decisions you can make. Top Flight Automotive proudly introduces customers to industry-leading manufacturers like Baer Brake Systems for boosting brake response, feel and efficiency.
Browse through our inventory for Mustang brake kits bundling everything you need for racing and daily driving applications. Front and rear wheel installations from Baer Brake Systems are available with pre-assembled rotors and the correct number of hoses and fittings for a seamless installation. Choose from brake calipers in aggressive colors like red, black and silver for a bit of flair to peek through your rims.
Our collection of Mustang performance brakes provide drivers with the following benefits:
Wheel clearance
Minimal brake fade
Lightweight billet aluminum construction
Slotted rotor designs to dissipate hot air
Compatibility with all six Mustang generations
Ford Mustang Drum to Disc Brake Conversion Kits
The automotive industry is always evolving with standards for performance. If you own a first-generation Mustang, there's a chance your pony car is equipped with drum brakes. With the help of Top Flight Automotive, you can convert your 1964-1973 vehicle to a front and rear disc brake setup for improving consistency behind each pedal press.
Classic Mustang drum brakes operate via small shoes that push outward to stop wheels from turning. These factory setups have trouble activating when roads are wet. Luckily, Top Flight Automotive connects customers to conversion kits by Leed Brakes to ensure smooth results.
Enjoy bolt-on installations compatible with original Mustang drum brake spindles. All pieces mount without the need for permanent modifications.
Shop for Mustang Brakes at Top Flight Automotive
Top Flight Automotive wants to see your collector car on the road for future generations. We channel over 175 years of combined industry experience to stock our inventory with the highest quality Mustang brake system components for projects large and small. If you need assistance with any of our merchandise, Top Flight Automotive sales representatives are available during normal business hours to take your call.
Most of our listings ship out within the same day of purchase, so order your Mustang brakes from us today!
Can't find what you're looking for? Let us know and we can help! Contact Us