C3 Corvette Interior Parts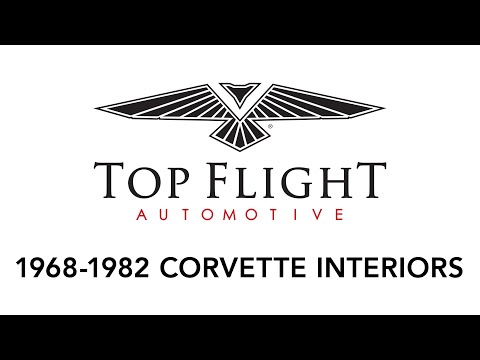 C3 Corvette Interior Parts
The C3 Corvette is a fan-favorite generation for its authentic racing appearance in- and outside of the cockpit. Spanning almost 15 years of production, Chevrolet offered consumers a special treat with a wide variety of color options for seating, dashboard setups, door liners and more. If you are lucky enough to own a classic C3 and notice interior parts have seen better days, Top Flight Automotive is here to save the day.
At Top Flight Automotive, our experts are passionate about Corvette restoration projects both large and small. As the most widespread manufacturer and supplier of Corvette parts anywhere, our online store brings you everything you need for a pristine C3 interior appearance. Regardless of whether you are heading to a judging competition or plan on hitting the race track, look no further than Top Flight Automotive for restoration parts and accessories.
1968-1982 Corvette Interiors From Trusted Brands
Top Flight Automotive offers a growing online collection of C3 Corvette interiors. We stay up to date with the latest parts and accessories in the field, and we only list components we would use ourselves.
Across the Top Flight Automotive catalog, you'll see 1968-1982 Corvette interiors made by established brands. Click through our selections to see a variety of interior components from names like these:
American Car Craft
Auto Accessories of America
Auto Custom Carpet
Classic Car Dashes
Corbeau Seats
Corvette America
Covercraft
Dakota Digital
Flaming River
Flatline Barriers
Intellitronix
OER
Quiet Ride Solutions
Scott Drake
Trim Parts
C3 Corvette Interior Restoration
The C3 Corvette holds unique value in the sports car world as these vehicles channel a race track look and feel from every angle. These Stingrays are distinguishable with an elongated body style and rally wheels, but interiors offer drivers superior comfort and control for the ultimate behind-the-wheel experience. If original interior parts in your C3 show signs of fading, sun damage or tearing, shop the Top Flight Automotive store for the following replacement parts:
Armrest patches
Armrests
Carpet sets
Convertible tops
Dash shields
Dash pads
Door felts
Floor mats
Hardtop headliners
Headrests
Interior dyes
Kick panels
Map pockets
Steering column covers
Ventilation
And so much more!
C3 Corvette Armrests and Console Parts
Wish you had a leather armrest in your 1968-1982 'Vette? Shop Top Flight Automotive's expanding inventory of center console components.
Rebuild the console area however you like. The C3 Corvette armrests we stock sit between the driver and passenger seats snugly. Our offerings made by Corvette America are engineered for specific model years. Each leather armrest shape coincides with the cabin changes of the third-generation era.
Find 1968-1971, 1972-1978 and 1979-1982 armrests that increase comfort without blocking your parking brake handle.
1968-1982 C3 Corvette Doors and Parts Online
Reimagine your original equipment manufacturer (OEM) C3 doors from the ground up. Our inventory features a variety of niche components for restoring interior surfaces of beloved Corvettes like the 1972, 1976 and 1979 models.
Choose Top Flight Automotive for historically accurate door panels and trim such as felts, sills, weatherstrip, handles and locks. When your third-generation Corvette doors need attention, our site is the place to turn for 1968-1982 doors and components that better insulate and protect your cabin.
C3 Corvette Floor Mats
Shield OEM carpets and enhance the look of your cabin with 1968-1982 Corvette floor mats from our interiors collection.
Shop a wide variety of C3 mats that will make your vehicle appear more original and prevent stains caused by heavy foot traffic. We stock components from Auto Accessories of America, Corvette America, American Car Craft, Auto Custom Carpet and Lloyd Design Corporation. Spruce up your ride with plain (no logos or script) and C3-specific logo mats.
Top Flight Automotive gives you more than one type of 1968-1982 Corvette floor mat material to choose from. Discover the best floor mats for your vehicle with carpet and vinyl options that are easy to clean.
C3 Corvette Interior Parts: Steering Column Covers
You use your steering wheel each time you head out on the open road. For long-term restoration results, complete the look of your C3's lower dashboard with a steering column cover from Top Flight Automotive. We design our products to install just like the originals for a seamless bolt-on attachment.
Why replace the steering column cover? Over time, you might find your factory cover is cracked, leaving steering mechanisms exposed. Instead of leaving this area open, protect the steering column with colors in original Chevrolet styles including:
Black
Bluegreen
Buckskin
Dark Saddle
Firethorn
Green
Light Saddle
Red
Saffron
White
And others!
Shop our online store by your C3 year for a perfect fit. Steering column covers are organized by production years 1968-1977 and 1978-1982 for your ordering convenience.
C3 Corvette Interior Hardtop Headliners
Driving a C3 Corvette, it is crucial to upkeep interior features inside the cockpit for owner satisfaction. Something as simple as correcting a warped or missing hardtop headliner will improve your C3's enclosed interior space, eliminating unwanted road noise and rattle. With the help of Top Flight Automotive, replace your hardtop headliner with one of our 1968-1975 installation pieces.
We design our interior hardtop headliners for an exact fit. Sets include three sections for left-side windows, right-side windows and center mounting. Our online store features hardtop headliner replacements in all original C3 colors for matching dashboards, steering wheels, seating and beyond.
C3 Corvette Custom Interior Map Pockets
Enhance the storage space of your C3 cockpit with the addition of map pockets. These interior parts attach to the glovebox area of your lower dash and offer extra slots for documents, technology and more. Choose from factory-inspired colors for a perfect match to your entire C3 interior.
Corvette Interior Package C3
The C3 Corvette offers signature styling inside and out. Seeing production runs from 1968-1982, drivers can expect comfortable seats, colorful dashboard components and a one-of-a-kind appearance from the cockpit. If you own a classic C3 and interior parts are not what they used to be, consider a Top Flight Automotive interior package for your vintage model.
Interior Packages at Top Flight Automotive are the best way to get everything you need for a factory-fresh setup. Catering to carpets, doors, dashes and seating, our packages help you to stick to project timelines and get the job done correctly on your first attempt. For your shopping convenience, browse the Top Flight Automotive online store for C3 interior packages organized by make, model and year.
Corvette C3 Interior Installation Kits
As the largest manufacturer and supplier of Corvette parts anywhere, Top Flight Automotive wants to save you time and money with C3 interior kits. Instead of hunting for individual components, easily discover package bundles with products engineered for a perfect fitment within the C3 cabin. For restoration projects large and small, Top Flight Automotive brings customers the following interior kits for the C3 generation:
Carpet insulation kits
Convertible top kits
Door panel mounting kits
Heat barrier kits
Interior screw kits
Park brake kits
Seat belt bolt kits
Seat cover installation kits
C3 Corvette Convertible Top Kit
If you enjoy driving your C3 Corvette as a convertible, when was the last time you checked the condition of your convertible top? A convertible top is your first line of defense against inclement weather and moisture, and any deterioration in this area can lead to water seeping into the cabin. Luckily, Top Flight Automotive offers convertible top kits for 1968-1975 models.
Kits are available in black, white or tan colors and provide you with everything necessary for protective mounting.
Corvette Carpet Insulation Kit C3
The C3 is famous for its rumbling engine tones and the ability to reach over 350 horsepower. With that kind of capability, drivers require a means to dampen sounds and reduce heat traveling across the exhaust system. For superior driving comfort, Top Flight Automotive stocks our online store with 1968-1982 carpet insulation kits.
When it's time to change out/upgrade original carpeting, lay down our padding with heat-reflective felt. Materials are suitable for the coupe and convertible C3 models and can combine with one of our heat barrier kits for optimum road noise cancellation. Our experts carefully mark carpet interior kits and heat barrier foil for proper installation placement.
C3 Corvette Interior Seating Wire Kits
If you plan on replacing your stock seat covers, be sure to add one of our C3 seat wire kits to your order. Top Flight Automotive 1963-1978 seat wire packages contain all the corrugated seat wires necessary for fastening seat covers to foam. Our designs hold down seams and prevent materials from tearing.
Choose Top Flight Automotive for C3 Interior Parts
Top Flight Automotive is part of the Extra Mile Brands family of companies serving the Corvette community for over 45 years. All of our experts are knowledgeable about all things Corvette and are happy to help you discover compatible interior parts for your C3. For more information about C3 interior parts or to place an order, contact Top Flight Automotive today.
Can't find what you're looking for? Let us know and we can help! Contact Us