Third Generation Fox Body Mustang Parts
Fox Body Mustang Parts and Accessories at Top Flight Automotive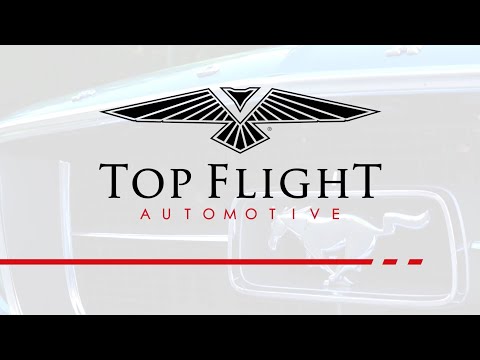 Our Fox Body Mustang Parts
Sports car and racing enthusiasts around the world understand that the Ford Mustang represents innovation, power and superior comfort. As some of the most recognizable performance vehicles of American history, each of the six generations offers drivers a unique behind-the-wheel experience with style and handling in mind. Although the Mustang made its debut in 1964, designers at Ford listened to consumers throughout the 1970s to create the largely successful Fox Body build.
No matter if you own a coupe, convertible or hatchback Mustang from 1979-1993, your vehicle follows the Fox Body design. These vehicles feature a unibody chassis and differ from early generation years as Ford entered the market of compact cars. Third-generation Fox Body Mustangs are fan-favorites in the muscle car community, and Top Flight Automotive wants to be your one-stop shop for interior, exterior and performance parts.
Experts at Top Flight Automotive stock our online store with everything you need to keep your favorite ride on the road for generations to come. All of our aftermarket parts are organized by make, model and year and seamlessly bring your restoration or upgrade vision to life. Now that Fox Body Mustangs are entering the realm of "classic" releases, it's the perfect time to enhance your vintage model for award shows, judging competitions and even the race track.
Shop Popular Fox Body Parts by Category
Fox Body Significance
When looking back at first- and second-generation Mustangs, notice how these valuable collector cars appear large and heavy. In response to the U.S. oil crisis of the 1970s, consumers were after lightweight vehicles with better fuel economy to keep up with changing gas prices. Therefore, Fox Body Mustangs are a reflection of a shift in the automotive and racing industry when drivers wanted to purchase smaller cars with improvements in comfort and aerodynamic capabilities.
With nearly 15 years of production, the third-generation Mustang dominated American vehicle sales and experienced a variety of upgrades and changes by its final run in 1993. Notable releases of the Fox Body era include the Cobra package, SVO and GT350 models equipped with V6 and V8 engines for smooth power and efficiency.
At Top Flight Automotive, our team is passionate about both classic and new Mustangs, so our online store is constantly expanding with the latest additions for your sports car collection. Whether your iconic 1980s Mustang needs a bumper replacement or you want to replace cracked dashboard pieces inside the cabin, we supply everything necessary for a factory-fresh appearance. Click through our variety of 1979-1993 Fox Body parts in popular categories including:
A/C and heating
Ashtrays and lighters
Armrests and pads
Batteries
Body moldings
Brake kits
Bumper parts
Carpets
Consoles
Cooling systems
Door panels and components
Emblems
Engine compartment
Hood components
Lighting
Seatbelts
Seat Covers
Weatherstripping
And more
Fox Body Mustang Accessories
We have everything you need to keep your Fox car looking good and running well. We offer a large selection of Fox Body car covers to protect your ride from the elements. Speaking of protection, we also have high-quality replacement floor mats and trunk protection for both early and late model mustangs.
Protection is only part of what we offer in the accessories lineup. We all know that the details matter and can set your Mustang apart from others on the road, which is why Top Flight Automotive offers a full catalog interior and exterior emblems and decals to replace your old worn out originals.  We also have large selection of replacement accessories such as shifter knobs, steering wheels, grilles, hoods, and engine dress up kits to take it to the next level of customization and personal style. Shop our full Fox Body Accessories catalog and start personalizing your ride today. 
Ford Fox Body Mustang A/C and Heater Parts
One of the best characteristics of the Foxy Body design is the fact that Ford created a spacious interior cabin for up to four passengers. After spending hours under the hood, you want to have an inviting cockpit area for long trips and cruises with friends and family. To keep the fun going year-round, Top Flight Automotive brings you Mustang A/C and heater parts for all third-generation models.
No one wants to break a sweat or freeze while driving, so we stock our online store with replacement pieces for controls, ventilation and connections running behind your Mustang's dashboard. In the event stock temperature and fan knobs have cracked or gone missing, our team brings you A/C and heater parts that install in seconds for an original look and feel in your Fox Body muscle car. Dash control knobs and switches are some of the most affordable ways to restore your classic vehicle, and our reproduction parts give you authority over temperature settings to eliminate foggy windows, snow and ice on the windshield.
Fox Body Armrest Pad Replacement Parts
Door panel armrests are essential for a comfortable drive in your Fox Body Mustang. After years of use, these stock features may have seen better days thanks to oils from the skin, changing temperatures, sun exposure and moisture. If you have a 1987-1993 Fox Body Mustang, discover armrest pads and plugs in all of your favorite Ford original colors at Top Flight Automotive.
The days of ignoring dirty or warping armrests are over as parts mount to driver and passenger-side doors in just minutes. Place an order for any of our following factory-inspired hues for a stock or custom match to seating, door panels and more:
Scarlet red
Dark gray
Light gray
Smoke gray
Titanium gray
Black
Blue
Fox Body Mustang Center Console Restoration
For many drivers, a Fox Body Mustang serves as a home away from home. Most drivers enjoy cruising around in their third-generation vehicle after fine-tuning components from the inside out. It's important to have room for personal belongings and storage, so Top Flight Automotive allows you to swap out your center console lid for an all-new installation.
The center console is something you use more than you realize. The next time you climb into the cabin area of your Fox Body Mustang, check to see if this section has cracks or splits along the surface. We carry replacement center console lids and assemblies from Scott Drake for an authentic look inside your vehicle.
Our center console products are affordable and stand as an excellent way to increase ownership satisfaction. All replacements are engineered to match factory dimensions and textures.
Third-Generation Steering Accessories
Without a functional steering wheel assembly, you wouldn't be going anywhere. Fortunately, Top Flight Automotive helps customers restore Fox Body Mustangs with horn and steering column accessories. If your factory steering wheel is falling apart due to age, we've got everything necessary to help you make adjustments.
Ever been in a situation where your Mustang's horn randomly goes off? We can eliminate "sticky" steering wheel buttons with aftermarket contact pads that install on the inside of the wheel. Alert other drivers on the road as you see fit with interior parts that make all the difference.
Our inventory is also full of steering column shrouds specifically for the Fox Body series. Erase fading surfaces and deterioration with listings that enable you to tilt the steering wheel according to preference.
Fox Body Mustang Dashboard Parts for Sale
Fans of Mustang vehicles can keep the third-generation series alive thanks to our wide range of replacement Fox Body dash pads. There is virtually no need to order used parts from unknown sellers, as we have reproductions for all Fox Body model years. Choose between popular colors like black, blue, gray and red to give your vehicle a factory-fresh or custom appearance.
 Our dash pads line up with original vent openings for a quick mounting process.
Replacement Seat Foam and Covers for Fox Body Mustangs
Do your stock seats have punctures and tears after years on the open road? We happily supply seat foam and seat covers from industry-leading manufacturers like TMI Products. Stay comfortable behind the wheel with updated seat foam designs in Low Back, High Back and Sport configurations.
New seat foam should always be accompanied by a set of replacement seat covers. Our sales representatives will guide you to a compatible match to suit your budget and expectations.
Fox Body Mustang Bumper Parts
Were you recently involved in a minor collision resulting in front or back-end damage? Luckily, Top Flight Automotive is home to several Fox Body exterior parts, including aftermarket bumper covers vfor 1985-1993 production years. Easily correct dents and scratches with GT and LX style attachments that install just like factory originals!
Front bumper covers feature pre-cut molds that surround headlights, vents and trim. Lightweight materials showcase Mustang scripts, based on model year, and add flexibility to your Fox Body vehicle to suit your driving applications. These products ship with a paint-to-match finish and improve the collector and resale value of mid-generation Mustangs.
Fox Body Ford Mustang Engine Components
Engine maintenance and upkeep is the key to prolonging the life of classic muscle cars. For Ford enthusiasts performing their own oil changes, Top Flight Automotive stocks engine components such as replacement oil pans, pressure sending units and dipsticks for an accurate reading. Your Fox Body Mustang requires oil lubrication for acceleration, torque and efficiency, so our online selection caters to aggressive V8 builds of the third-generation era.
Eliminate cracks and leaking oil system components at the source with our aftermarket replacement parts engineered to meet or exceed the original specifications of the Ford factory.
Performance Air Intake Products
Your Mustang is calling for a cool source of air to take horsepower and efficiency to the next level. Equip your 1986-1988 release with one of our BBK Performance Fox body air intake adapter kits, or incorporate any of our aftermarket intake systems for your Mustang 5.0 engine build.
You'll get chrome tubing, brackets and hardware to match BBK Performance cold air kits upon installation.
Third-Generation Mustang Brake Kits
Healthy brakes are essential for your safety as well as that of others on the road. This is why Top Flight Automotive carries third-generation brake parts so that you can complete upgrade projects yourself. We have Fox Body sets from Baer Brake Systems and individual components from Hawk Performance to restore setups based on vehicle condition.
If it's time to change out your front and rear brake setups, we have kits at competitive prices. Click through our listings to discover bundles with brake calipers, rotors and mounting hardware for your convenience. You can also shop by your Mustang's wheel size to find options that drop into place without the need for exterior modification.
Shop Top Flight Automotive for Fox Body Mustang Parts
Top Flight Automotive is proud to be part of the Extra Mile Brands family of companies serving the Mustang community for over 40 years. Our professionals have experience with all six generations of Mustang vehicles and are glad to help with Fox Body projects large and small. As one of the largest suppliers of Mustang parts anywhere, we encourage customers to check back frequently for new parts and accessories that keep your vintage muscle car up to date in the 21st century.
If you have questions about Mustang parts, all of our sales representatives are available during normal business hours to assist with inquiries and the ordering process. For more information about our selection of Fox Body parts or to place an order, contact Top Flight Automotive today.
Can't find what you're looking for? Let us know and we can help! Contact Us