CHEVROLET CORVETTE DOORS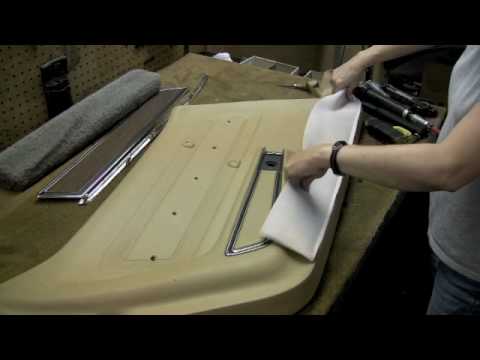 The Chevy Corvette is arguably one of the most attractive sports cars of all time. Hitting dealerships back in 1954, first-generation Corvettes are known for their unique styling, and engineers at Chevrolet continue to make each generation different from the last. Whether you are looking for horsepower, aerodynamic builds or interior comfort, the Corvette brand has been a go-to name in the world of performance vehicles for over six decades.
At Top Flight Automotive, we help drivers get the most out of their collector cars. We are proud to have the largest product portfolio of Corvette parts anywhere, and this includes replacement door panels for your favorite ride. Upgrade interior surfaces in your C1, C2, C3, C4, C5, C6 or C7 Corvette with everything you need for a stock or custom look available under one roof.
WHY REPLACE CORVETTE DOOR PANELS?
Even vehicles stored in a garage experience wear and tear. Each time you climb inside the cabin of your Corvette, you expose door panels to moisture, sunlight and oils from your skin. Doing this repeatedly causes stains, tears and fading across factory vinyl. That's why Top Flight Automotive carries replacement door panels modeled after your original installations.
You have the power to erase damage from inclement weather, pets, spills and more with products that mount in just hours. Our selections from Corvette America exceed factory specifications and many choices, depending on year, are also available in genuine leather.
ABOUT CORVETTE AMERICA DOOR PANELS
Top Flight Automotive introduces drivers to two main options for door panel replacements: standard and deluxe packages. We cater to your budget and expectations for restoration projects with the choice of getting just door panel surfaces (standard) or configurations with replacement hardware fastened for you (deluxe). All of our listings are organized by Corvette model and year for a drop-in fit within the cabin.
From waffle patterns of the C1 to teak panel inserts of C4 Corvettes, our door panels are historically accurate for ownership satisfaction and collector value. Browse driver and passenger side door panel replacements available individually or in sets.
CORVETTE STANDARD DOOR PANELS
Corvette America's standard door panels are excellent for those that want to eliminate dents, scuffs and damage on original doors. Standard products feature supports mounted on original quality backing. Just transfer over your stock trims, hardware, armrests and upper vents to take first place at the next competition. You'll find Corvette standard door panels in all generation colors to bring your restoration or custom vision to life.
CORVETTE DELUXE DOOR PANELS
Corvette America's deluxe door panels ship out ready for installation. You receive all necessary mounting equipment as well as pieces like reflectors, bezels, metal supports, armrests, carpet strips and felts according to your Corvette generation. Treat your C1-C7 Corvette to door panel upgrades that are lightweight and durable. Deluxe door panels are as close to "stock" as you can get without settling for used OEM parts.
PLACE AN ORDER FOR CORVETTE DOOR PARTS AND ACCESSORIES
Top Flight Automotive is made up of Chevrolet enthusiasts just like you. Our online store is always growing with new additions, so check back to see what we have in stock for your daily driver or showroom vehicle. We're proud to be part of the Extra Mile Brands family of companies, assisting the Corvette world for over 40 years.
Have questions about our offerings? Contact us online to get in touch with a representative today!
Can't find what you're looking for? Let us know and we can help! Contact Us