Sixth Generation Ford Mustang Performance
S550 Ford Mustang Performance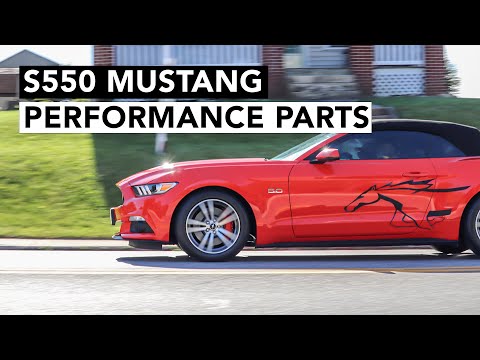 There's a lot to love about your S550 (sixth-generation) Ford Mustang. With 50 years of innovation behind the brand, the Mustang's current form (2015-present) is one for the record books. You might have upwards of 700 horsepower already, but Top Flight Automotive's collection of Mustang performance parts and accessories can give you an even more thrilling experience.
Customize your muscle car with our growing catalog of S550 performance technology. We offer parts from the world's top manufacturers so you can get dependable parts from a single source.
Choose Performance Upgrades for Your Model
There's more than one S550 Mustang on the market. Top Flight Automotive sells performance upgrades for some of the most efficient muscle cars in existence — Boss 302, Bullitt, EcoBoost, GT, GT350, GT500 and V6 Mustangs. We stock the parts you need to improve comfort, engine outputs, interior and exterior style, and fuel efficiency. Shop our site for:
S550 Ford Mustang Brakes and Pads
Wish your S550 Mustang brakes were more responsive? Top Flight Automotive sells solutions to keep your disc brake system working to your standards. Shop our catalog for low-dust ceramic brake pads designed by Powerstop.
Some of the S550 pads we sell are engineered with carbon fiber and metallic compounds for durability. Enhance the way your brake pedal feels in the cabin.
S550 Mustang Exhaust Systems for Sale
Help your S550 Mustang push out exhaust fumes as efficiently as possible. Our catalog makes it simple to change the way your exhaust system looks and guides emissions out of the tailpipes. Whether you like the look and sound of axle-back, cat-back or side-exit exhausts, we offer the components and kits you need to complete your customization job.
Change the connections running from the engine bay and underneath your muscle car. Top Flight Automotive also provides you with options for H-, X- and Y-pipes to help you get creative with your S550 Mustang. Select exhaust system kits from Hooker and Borla come with aftermarket mufflers and tips for a different exhaust sound that will stand out on the road or track. Many listings integrate into your vehicle without cutting into it.
Forced Induction Technology for Sixth-Gen Mustangs
Reduce airflow restrictions under the hood of your S550 Mustang. Thanks to Top Flight Automotive, you can explore options for intercooler pipe kits and superchargers for a potential increase in horsepower. Shop forced induction upgrades for the EcoBoost and GT 'Stangs under one wing. We offer aftermarket technology by Mishimoto and Roush Performance to improve exhaust flow and keep your S550 engine running cool.
Remember Top Flight Automotive for S550 Performance Parts and Kits
Top Flight Automotive keeps performance upgrades in stock to make your next project a breeze. We cater to all S550 models, and we ship in-stock items shortly after your purchase confirmation. Browse sixth-generation Mustang performance parts and kits online and order today to get started!
Can't find what you're looking for? Let us know and we can help! Contact Us