Mustang Exterior Parts at Top Flight Automotive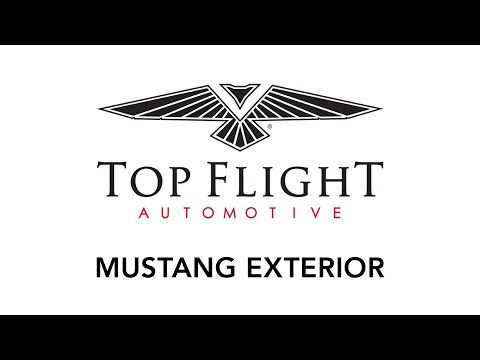 Auto enthusiasts have been captivated by the Mustang ever since Ford started producing this classic American sports car in 1964. The Mustang's launch marked the introduction of the "pony car, " a term applied to stylish, affordable compact coupes or convertibles equipped with powerful engines. The Mustang's rousing success soon inspired numerous pony car competitors, such as the Chevrolet Camaro, Dodge Challenger, Pontiac Trans Am and Plymouth Barracuda. 
Now in its sixth generation, the Mustang continues to be a big hit with car lovers across the U.S. Ford sold more than 61,000 models in 2020, making it the nation's top-selling sports car for the sixth consecutive year. And there is no shortage of interest in Mustangs from years gone by — they draw huge crowds at car shows and are a favorite among car collectors everywhere. 
Top Flight Automotive: Your Headquarters for Ford Mustang Exterior Parts
Whether you own a Classic Mustang from the early years, a more recent S550 model or anything in between, you'll likely need an assortment of parts to keep it in peak condition. Top Flight Automotive is your best source for Mustang exterior parts for vehicles of any generation or model year. We carry a vast selection of high-quality aftermarket manufacturers like AlphaRex, California Pony Cars, Detroit Speed, Morimoto, Scott Drake and many others. Our prices are affordable, and you'll receive reliable service from experienced Mustang professionals. 
Why Restore a Mustang's Exterior?
If you're like most Mustang owners, you take a lot of pride in how your vehicle looks. The exterior is the first thing people notice about your car, and even a small scratch or dent can leave a less-than-favorable impression. If you take your vehicle to auto shows or other events filled with spectators and fellow Mustang owners, you want it to be at its best. 
The financial aspect is another reason you might want to replace old or damaged Mustang parts. A vintage Mustang in pristine condition can command a substantial price if you choose to sell it. A parts upgrade can make your car more attractive to prospective buyers and provide a lucrative return on your investment. 
Mustang Exterior Parts by Generation
At Top Flight Automotive, we strive to meet every customer's unique Mustang parts needs. Here are just a few examples of our product availability by generation.
Classic (1965-1973)
Finding parts for vehicles from the initial Mustang era can be challenging due to their age. We offer more than 1,200 aftermarket products spanning the entire generation. You can purchase headlight and foglight conversion kits for every model year that enable you to upgrade to more efficient LED lighting. Other options include fiberglass Shelby louvered hoods, nose panels, quarter panels, rear window kits and convertible tops for specific model years. 
Mustang 2 (1974-1978)
If you're looking for Mustang exterior accessories that will improve the appearance of your second-generation vehicle, consider an eye-catching Cobra fender emblem. You'll also find weatherstrip installation kits, GT stripe kits, helpful guides for engine rebuilding projects and much more.
Foxbody (1979-1993)
We offer a selection of more than 340 parts for Mustangs built on a Fox platform. Our inventory includes body conversion kits you can install on a stock model and unpainted fiberglass hoods to give your vehicle a custom look. You can also purchase exterior lighting kits, vinyl convertible tops in an assortment of attractive colors, taillight lenses, fender extensions and hood bumpers, among many other offerings. 
SN95/New Edge (1994-2004) 
Are you a proud owner of a Fox-4 Mustang? Top Flight Automotive can offer popular Mustang exterior mods like unpainted fiberglass hoods, tinted-glass convertible windows, fender side scoops and grilles. Our inventory also includes a host of Mustang exterior accessories, such as U-brackets, stripe kits and license light lens seals.
S197 (2005-2014)
If you want to make your fifth-generation Mustang stand out more, consider purchasing a body conversion kit from Top Flight Automotive. These complete sets include hoods, panels, spoilers and everything else you need to build out your ride. We also offer hood kits, LED headlight assemblies, bumper kits with billet grilles, side skirt kits, racing graphics and much more. 
S550 (2015-present)
While your newer Mustang might still be in excellent condition, you may want to make an upgrade or two to modify its appearance. Our listings of Mustang exterior parts for the current generation include adjustable swan-neck wings, carbon fiber hoods, wind splitters with rods, taillight sets, fender side scoops and side plates. 
About Top Flight Automotive
Why shop with Top Flight Automotive? We're part of the Extra Mile Brands family of companies that's been serving Mustang owners like you for more than 40 years. Besides our vast inventory of high-quality Ford Mustang exterior parts and other products, we can provide expert advice and guidance you won't find anywhere else. 
We'll Help You Save Money on Mustang Exterior Parts
At Top Flight Automotive, we believe that restoring or upgrading a Mustang shouldn't cost a fortune. We offer many of our parts for sale below MSRP, ensuring they won't take a big bite out of your budget. Our many repeat and high-volume customers take advantage of our tiered loyalty program that can deliver more substantial savings. You can also sign up to receive email promotions and special offers directly to your inbox. 
Get Fast Parts Delivery
If you're ready to start your Mustang exterior rebuild, you'll be happy to know that we can ship most in-stock products the same day you order them. We also serve the thriving international Mustang community with daily overseas shipments. And when you buy from us, you never have to meet any minimum order requirements. Whether you need one part for a quick upgrade or several for a complete restoration, we've got you covered.
Browse Our Selection and Order Today
Check out our extensive inventory of Ford Mustang exterior parts and find the right products for your model year. Place your order online 24/7 or by giving us a call at 833-486-7354. You can also contact us online to request additional product and pricing information.
Can't find what you're looking for? Let us know and we can help! Contact Us