Chevrolet Corvette Brakes
CHEVROLET CORVETTE BRAKES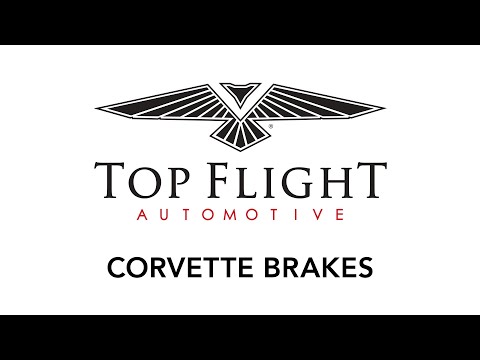 When you hear the name "Corvette," you likely think of horsepower, torque, performance and incredible speed. Whether you own a vintage or modern Corvette, you're in for the ultimate driving experience, as Chevrolet optimizes its muscle cars for impressive engine outputs and aerodynamic functionality. 
While getting behind the wheel of a C1-C7 is exciting, when was the last time you inspected the condition of your model's brakes?
A Corvette's brake system is your first line of defense against unexpected events and potential accidents. With select Chevrolet models able to achieve speeds of nearly 200 mph, you require functional brake components for your safety as well as others traveling around you. Fortunately, Top Flight Automotive is your one-stop shop for Corvette brakes, connections and kits, and we cater to all vehicle generations with installations organized by make, model and year.
Shop Brakes by Generation
When to Replace Corvette Brakes
How can you tell if you need new brakes? Luckily, sports cars provide plenty of signs indicating wear and tear along braking systems. The key to ensuring accurate brake response is to monitor these parts using your eyes and ears.
When sitting in the driver's seat, always pay close attention to squealing sounds, vibrations/grinding and signs your Corvette brakes harder on one specific side. Ignoring brakes and brake pads that are worn can lead to a larger repair or worse, but Top Flight Automotive stocks our online store with everything you need to keep your favorite ride on the road for years to come. 
Click through our selection of replacement brake components for a structurally-sound system:
Brake line replacements
Brake pedals
Brake Master cylinders
Ceramic pads
Parking brake parts
Front & Rear brake lines
Speed bleeders
Brake caliper kits
Brake caliper covers
Full brake systems and assemblies
Brake pads
Brake Hoses
Brake Rotors
Racing brakes
Brake boosters
Disc brake conversion kits
And more!
Classic Corvette Disc Brake Conversion Kits
For sports car enthusiasts with a C1 or C2 in their collection, Top Flight Automotive carries Corvette disc brake conversion kits to replace factory drum brake setups. Drum brakes used to be a Chevrolet standard during the 1950s and early 1960s. These brake systems use friction via shoes/pads pushing outward to stop a vehicle as the driver activates its brake pedal.
With advancements in the automotive industry, Corvette owners can now safely install disc brake systems for better performance and easy maintenance. By placing an order for a disc brake conversion kit, you receive all components and adapters necessary for swapping out drum brakes. 
Our 1963-1964 conversion kit features:
All mounting hardware
Brake booster (available in Power Kit bundle)
Valves
Pushrod
Drum master cylinder
Hoses
Caliper brackets
GM calipers and pads
Bearings
Seals and dust covers
Brake rotors
Replacement Corvette Brake Lines
One of the most important parts of your Corvette's braking system are the brake lines running fluid from the master cylinder to the calipers. As soon as you step on the brake pedal, brake fluid allows the calipers to compress rotors that stop your vehicle. In the event your C1-C7 Corvette's brake lines show signs of deterioration, upgrade your disc brake setup with stainless steel lines on our online store.
Stainless steel brake lines are more durable than their rubber counterparts. Our products give you a more direct flow of brake fluid to rotors and pads as there is no room for expansion along the stainless steel materials. This provides drivers with a firm brake pedal feel and quicker stopping times.
Shop Top Flight Automotive for Top Performance Brakes for Your Corvette
Top Flight Automotive is a part of the Extra Mile Brands family of companies serving the Corvette community for over 40 years. Our team is passionate about restoration projects of all sizes and will happily connect you to compatible brake components after learning more about your vehicle. Top Flight Automotive sales representatives are available during our normal business hours, and select products qualify for same-day shipping after processing.
For more information about Corvette brakes or to place an order, contact Top Flight Automotive today.
Can't find what you're looking for? Let us know and we can help! Contact Us