The New Home Of Corvette America - Corvette Parts and Accessories at Top Flight Automotive

Corvette Parts and Accessories at Top Flight Automotive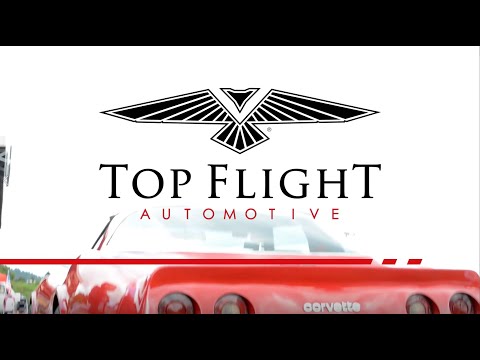 As Zora Arkus-Duntov once said "To establish a sports car, you have to race it". His example of drive, leadership, and innovation established the Corvette as one of the most iconic cars ever made. Top Flight Automotive embodies Zora's spirit and dedication to performance as home to the largest selection of Corvette restoration, style and performance parts on the market today. Serving the Corvette community for over 40 years with a staff that speaks fluent Corvette. We are passionate about Corvettes, and understand that each generation offers something special. We'll guide you through restoration or upgrade projects from start to finish. From our garage to yours…when it's time to mod or restore your Corvette…choose Top Flight Automotive!
Corvette Restoration, Style & Performance Parts for Every Corvette Generation
Here at Top Flight Automotive, we understand that each Corvette is unique and all models offer something special. That's why we carry the largest in-stock inventory of Corvette parts and accessories you'll find on the market. We're the largest manufacturer and supplier of Corvette interiors, exteriors, parts, wheels, accessories, brakes, wheels & tires, and performance parts. 
Top Flight Automotive is part of the Extra Mile Brands Family of companies, which has been serving the Corvette community for over 40 years. Our highly experienced sales team is passionate about upgrades, performance add-ons, maintenance, car care products and more.
A Chevrolet Corvette is a classic piece of American history. First hitting the consumer market back in 1953, these vehicles have captured the hearts of millions who are drawn to the sleek looks and high-speed performance. Whether you own a vintage or brand new model, it's crucial to maintain a Corvette for unparalleled speed, power and the ultimate driving experience.
We keep your Corvette up and running for years to come. Shop our extensive inventory for the parts suitable for all Corvette generations. We also have a downloadable Corvette parts catalog! 
Corvette Parts for Every Generation
Fans of sports cars adore the Corvette for its signature shape, power and two-seat style. Ever since the Corvette's debut in Flint, Michigan in the 1950s, consumers have been obsessed with models of the past, present and future.
Regardless of which Corvette model you own, Top Flight Automotive can identify the parts you need for restoration projects, upgrades and more. Our experts are happy to assist with all generations of Corvette vehicles and keep your favorite ride on the road for years at a time.
Top Flight Automotive caters to all Corvette generations, including:
The Original Corvette (C1)
The original Corvette models experienced a number of engine swaps before achieving a "sports car" status in 1955. These vehicles are extremely rare today. Some of the V8 stock engines achieved upwards of 360 horsepower by the end of production in 1962.
The Sting Ray (C2)
Corvette enthusiasts cherish the Sting Ray (C2) models of 1963. This generation introduces an independent rear suspension and a coupe body style. Chevrolet adds in brake improvements as well as a big-block engine for greater overall speed.
C3 Corvette Models
The C3 Corvette generation is widely popular in the sports car community. First produced in 1968, the C3 models stand as the longest running series from Corvette to date. The body style features removable roof panels, and the vehicles offer a variety of horsepower configurations to keep up with emissions regulations during the 1970s and 1980s.
C4 Corvette Models
The C4 Corvette generation features a body redesign for ground clearance and a lower center of gravity. An increase in horsepower occurs along the production run.
C5 Corvette Models
The C5 Corvette model features a rigid build for speed, pop-up headlights and digital technology. The C5 models placed the Corvette name back into world-class racing as variants entered the Le Mans and American Le Mans Series.
C6 Corvette Models
The C6 Corvette models are a modern release with perfections to the C5 design. This generation is capable of competing on the race track while providing superior comfort for highway driving. The C6 series can easily achieve speeds of up to 200 mph and features 400 horsepower.
C7 Corvette Models
The C7 is the most cutting-edge series from Corvette. Performance packages offer over 400 horsepower for the fastest acceleration yet.
One-Stop Online Store for Corvette Parts and Accessories
Whether you drive your Corvette daily or are looking to restore a vintage model, Top Flight Automotive is your one-stop shop for OEM Corvette parts and accessories. Aside from replacement parts, our online store is stocked with interior items, exterior pieces, performance kits and wheels for Corvette vehicles of the past and present.
Our team connects customers to model-specific parts for installation. Some of the most common replacement parts for Corvette vehicles in our catalog include:
Corvette Interior Parts
Top Flight Automotive will bring your Corvette to life, whether you're repairing wear and tear or simply want a new look. We supply a range of interior options made in the USA for all Corvette models. You can finally say goodbye to tears in seating and worn out door panels.
We understand that a matching interior is key to the look of your Corvette. We offer a color-code tool to help with ordering products such as:
Material colors and samples are available upon request to assist in the selection of interior products.
Corvette Performance Parts for Sale
Top Flight Automotive provides aftermarket Corvette performance parts for maximum horsepower, torque and efficiency. Our selection of air intake and cooling systems ensures that engines breathe and perform when the throttle body is fully open.
We supply Corvette exhausts, aero kits, front air dams, rear spoilers, diffusers, front splitters and exterior wings to reduce front-end lift and increase high-speed stability. Our aftermarket exterior performance parts are constructed with lightweight materials, including carbon fiber for downward force balance against drag.
Shop our online store by model year for compatibility and convenience. If you have questions about the installation process, our sales team is available during business hours for assistance.
Corvette Restoration Parts and Corvette Accessories
The Chevrolet Corvette is America's sports car. Ever since production in 1953, consumers quickly became obsessed with these vehicles for their innovative performance, comfort and handling capabilities. Regardless if you own a vintage or modern Corvette model, proper restoration can keep your investment up and running for generations.
Top Flight Automotive, the new home of Corvette America, is home to the largest selection of Corvette restoration parts on the market. Here at Top Flight Automotive, our experts are dedicated to assisting our customers with restoration projects large and small. No matter if you own a classic C1 model or enjoy the behind-the-wheel experience of a C7, our online store is your one-stop-shop for long-lasting restoration results. Browse our collection of restoration parts for C1, C2, C3, and more! 
Top Flight Automotive: The Premier Supplier of Corvette Parts, Accessories and Interiors
Top Flight Automotive is your one-stop shop for Corvette restorations, performance parts and accessories. We provide solutions to Corvette generations C1-C8 that meet or exceed original specifications. Our sales team has over 175 years of combined experience with Corvette vehicles. We offer guidance for restoration projects, help you discover solutions and walk you through every step of the process.
Have questions about upgrades, performance add-ons or car care? We speak fluent Corvette!
Shop Top Flight Automotive for Corvette Parts, Accessories & More
As the largest manufacturer of Corvette parts, our product listings constantly expand. Top Flight Automotive ships quickly, and most orders are fulfilled within the same day of purchase. Plus, all of our products are available with no minimum requirement for orders.
From aftermarket performance parts to Corvette gifts, we've got the production selection Corvette enthusiasts dream about. Browse our expansive selection and place your order today!
Can't find what you're looking for? Let us know and we can help! Contact Us