Fifth Generation Mustang Parts
S197 Ford Mustang Parts for Sale
The S197 Mustang series has a lot to offer. If you like the look of 1960s pony cars but want the cabin technology and safety features of 21st-century vehicles, this might be the 'Stang generation for you. S197 vehicles started a retro-futurism movement in the early 2000s. In other words, the Ford Motor Company started to pay tribute to Classic Mustang exteriors by making the Mustang wide with large headlights once again.
Both 1960s collectors and young racing fans appreciate S197 body styles. Once you purchase a fifth-generation 'Stang that is right for you, you can count on Top Flight Automotive for all the replacement parts you'll need for repairs and aftermarket upgrades. Buy our budget-friendly components for a showroom appearance and steady performance.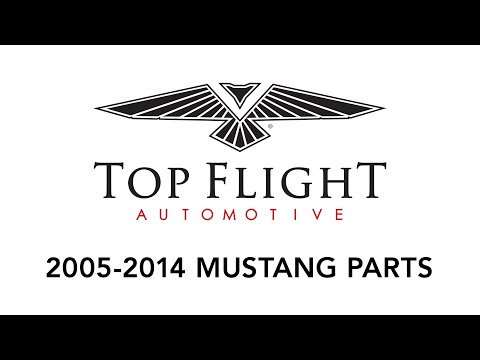 Hundreds of S197 Mustang Parts for Your Pony Car
You can find more than 800 aftermarket parts for the S197 Mustang build across our inventory.
It's our mission to make finding compatible parts for your ride easy. We recommend using the unique search tools we have available onscreen to pinpoint the exact pieces you're looking for. Our experts allow you to shop according to model year, submodel name, component category, brand, price and other criteria for convenience.
Find the following fifth-generation Mustang parts and similar items on the Top Flight Automotive store:
Battery connections
Catalytic converters
Convertible tops
Door parts
Exhaust systems
Filters
Headers
Hoods
Radiators
Weatherstripping
Providing You With S197 Ford Mustang Parts From Elite Companies
The production of S197 Mustangs ended back in 2014. This vehicle series experienced nearly a decade-long run on the market, but it's getting harder to find compatible parts for these vehicles today. Big-box retailers sell parts for a generic fit, but we believe your Mustang deserves only the best-quality components for a fresh appearance and phenomenal performance.
Top Flight Automotive offers aftermarket parts made solely for S197 pony cars. You can feel confident knowing you're looking at products engineered to meet or outperform installations fastened inside the assembly factory. Our store is home to solutions brought to you by the biggest names in the industry. Most of our products provide you with a direct fit for minimal troubleshooting.
Turn to Top Flight Automotive for S197 Mustang parts made by notable brands, such as:
APR Performance
American Car Craft
Auto Accessories of America
B&M
BMR Suspension
Baer Brake Systems
Borla
Cervini's Auto Designs
Flowmaster
Holley
MagnaFlow
Buy Our S197 Mustang Parts for All Generation Years
Your S197 Mustang release is powerful, stylish and fun to drive. Click through our fifth-generation Mustang parts collection to complete a wide range of repair tasks. We're your premier source for aftermarket parts that work with specific S197 production years.
2005 S197 Mustang Parts
Play your cards right, and you could end up with a 2005 Mustang with 300 horsepower. The 2005 model year started the series off on an impressive note with V6 and V8 engine packages that could handle both daily driving and drag racing.
Choose Top Flight Automotive for all kinds of 2005 S197 Mustang parts. Whether your suspension setup rusts or you'd like to dress up your engine compartment with metal covers, our experts can assist you.
2006 S197 Mustang Parts
The Ford Motor Company gave consumers several exterior options for 2006 Mustang builds. You could buy these vehicles with attractive racing stripes, back-end spoilers and a performance Pony Package that brought select GT equipment to the V6 model.
Our store features numerous suspension parts for your 2006 Mustang. Integrate an aftermarket sway bar or replace shocks and struts for a smooth driving experience.
2007 S197 Mustang Parts
Fans of S197 Mustangs remember 2007 because it was the year we saw the all-new GT500 offering 500 horsepower. If you have a high-performance 2007 Mustang, we'll keep your ride in mint condition with Borla exhaust systems, Pypes Performance exhaust tips and other items to ensure you have the fastest and best-looking 'Stang at the track.
2008 and 2009 S197 Mustang Parts
Top Flight Automotive sells S197 Ford Mustang parts for special collector cars made in 2008. From the updated GT500 to the famous Bullitt Mustang, you can dress up your vehicle with accent door sill plates and hundreds of other pieces that fit inside and outside the cabin.
There are few differences between 2008 and 2009 Mustangs because all special edition vehicles carried over to the 2009 production year. Nonetheless, Top Flight Automotive will help you find what you need for GT500KR, Shelby GT, California Special Mustangs and other exclusive builds.
2010, 2011 and 2012 S197 Ford Mustang Parts
By 2010, designers at Ford were ready to give S197 vehicles a refresh. Thanks to new headlights and tri-taillights, fans consider the 2010 model year to be the start of the second body style seen during the S197 generation.
Our professionals make it simple to locate parts for base models and supercharged Mustang variants from 2010, 2011 and 2012. Lower your Mustang's body with aftermarket suspension springs or maximize performance using one of our long-tube headers. We give you endless options for S197 customization projects.
2013 and 2014 S197 Mustang Parts
Both 2013 and 2014 S197 Mustangs are powerhouses. GT releases have upwards of 420 horsepower, and the Shelby GT500 pumps out a whopping 660 horsepower for track applications. Thanks to Top Flight Automotive, you can keep final S197 production runs in excellent shape for years of excitement behind the wheel.
Take care of routine maintenance with fewer headaches. We offer S197 radiator supports, battery mount brackets, hood lift kits and similar products you need to keep your engine compartment clean.
Place an Order for S197 Mustang Aftermarket Parts Today
If you want to fix up an S197 Mustang, Top Flight Automotive ensures you receive the lowest prices on products and unmatched customer support. We encourage you to check out our store weekly since we add new aftermarket parts for your vehicle on a routine basis. Our professionals are happy to provide advice for various repairs, and we will get you the components you seek faster than dealerships and local auto shops.
Top Flight Automotive ships Ford Mustang parts in the U.S. and overseas. Place your order with us today. Contacting our professionals online is the best way to learn more about our listings.
Can't find what you're looking for? Let us know and we can help! Contact Us