C7 Chevrolet Corvette Parts
C7 Corvette Parts and Accessories at Top Flight Automotive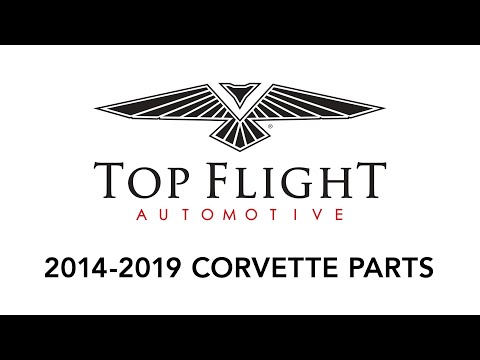 Top Flight Automotive is home to the largest selection of Corvette restoration, style and performance parts on the market today. Serving the Corvette community for over 40 years with a staff that speaks fluent Corvette. We are passionate about Corvettes, and understand that each generation offers something special. We'll guide you through restoration or upgrade projects from start to finish. When it's time to mod or restore your Corvette…choose Top Flight Automotive!
C7 Corvette Aftermarket Parts
The seventh-generation Corvette offers a unique behind-the-wheel experience with LT1 V8 engines and up to 460 horsepower. Launching into the consumer market as the fastest Corvette models from 2014 to 2019, drivers are in for a treat when they operate one of these sports vehicles. Whether you own a coupe or convertible model, expect incredible handling, performance and top speeds of over 180 mph.
Top Flight Automotive wants to help you keep your C7 Corvette in pristine condition for future generations. Although these models come equipped with some of the latest technology from Chevrolet, our experts allow you to customize your C7 to suit your lifestyle and driving applications. Aftermarket C7 Corvette parts from Top Flight Automotive include:
Cooling system parts
Exterior trims and moldings
Weatherstripping
And much more
C7 Corvette Aftermarket Scratch Protection
Top Flight Automotive proudly supplies door guards for 2014-2019 Corvettes. These C7 parts fit on your vehicle\'s door panels for styling and protection against scuffs as you enter and exit your C7. Carbon fiber inlays are available in the following colors with your choice of \"Corvette\" or \"Stingray\" lettering:
Solid black
Satin black
Yellow
White
Synergy green
Blue
Dark blue
Garnet red
Orange
And more
Door guards for C7 models peel and stick for easy installation.
C7 Corvette Aftermarket Interior Accessories
Easily upgrade the interior features of your Corvette with C7 Corvette aftermarket parts from Top Flight Automotive. Our online store supplies leather and vinyl center console lids for matching your vehicle\'s style and character. Complete lid replacements at Top Flight Automotive feature embroidered logos from your favorite Corvette releases:
Grand Sport (2017-2019 models)
Z06 (2015-2019 models)
Stingray (2014-2019 models)
C7 center console lids pair with Chevrolet factory interiors with color selections such as adrenaline red, kalahari, gray and jet black.
C7 Corvette Cooling System Parts
Top Flight Automotive helps your C7 engine run cooler with additional radiators and fans. Consider installing the Corvette Stingray Secondary Radiator for your manual transmission model. By placing this aftermarket cooling system part in a C7 Z51, radiator fluid and oil temperatures drop by at least 15 degrees Fahrenheit for high-speed efficiency.
Contact Top Flight Automotive for C7 Aftermarket Parts
Top Flight Automotive is part of the Extra Mile Brands Family of companies which has been serving the Corvette community for over 40 years. Our experts take the time to learn more about your Corvette model to connect you to compatible parts, wheels, accessories and more. With orders eligible for same-day shipping after processing, we keep your restoration projects on schedule.
For more information about our selection of C7 Corvette parts, contact Top Flight Automotive today.
Shop More C7 Categories:
Can't find what you're looking for? Let us know and we can help! Contact Us