C5 Corvette Exterior Accessories
C5 Corvette Exterior Accessories & Parts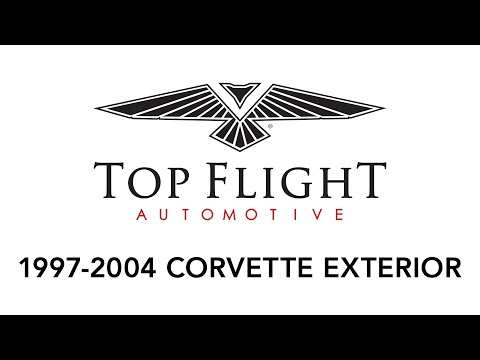 Owning a C5 Corvette is a thrill all of its own. These vehicles were in production by Chevrolet from 1997 through 2004 and exist in several variants from the popular Z06 models to 50th-anniversary editions. Those in the Corvette community adore the C5 for this generation\'s incredible horsepower ranges and the fact that later models can achieve speeds of over 170 mph.
If you recently purchased a C5 Corvette or are looking to enhance style and safety, Top Flight Automotive will help you find exterior accessories for your specific make, model and year. As the largest manufacturer of Corvette parts anywhere, our selection of exterior C5 accessories include:
Backup cameras
Car covers
Curb sensors
Emblems
Lettering kits
License plates, frames and covers
Nose masks
Side fender accents
Splash guards
Taillight louvers
C5 Corvette License Plate Exterior Accessories
Top Flight Automotive provides billet-aluminum and triple-chrome license plate frames to enhance the style of your C5. All of our frames include chrome mounting hardware for easy installations, and products will not tarnish, fade or rust. Choose between colors, sizes and different Corvette logo inlays for a perfect match to your C5\'s paint job.
C5 Corvette Exterior Nose Mask Accessories
What is a Corvette nose mask? Nose masks at Top Flight Automotive actively prevent exterior damage at the front-end of your C5 while driving. Made of breathable vinyl, our products allow moisture to escape, provide access to hoods and headlights and feature auto-adjusting tension straps to assure masks remain in place even at high speeds. We also have masks that are made of synthetic stretch mesh fabric and have duty elastic trim.
Nose masks at Top Flight Automotive offer styling and protective functions as your C5 maintains resale value.
Contact Top Flight Automotive for C5 Exterior Accessories
Experts at Top Flight Automotive speak fluent Corvette. As part of the Extra Mile Brands Family of companies, we are members of a team serving the Corvette community for over 40 years. With knowledge behind generations of restoration, style and performance, our sales representatives will walk you through compatible accessories for your C5 Corvette.
For more information about C5 exterior accessories for your vehicle, contact Topflight Automotive today or order the C5 exterior accessories you need now.
Shop More C5 Categories:
Can't find what you're looking for? Let us know and we can help! Contact Us