Third Generation Ford Mustang Wheels & Tires
Foxbody Mustang Wheels and Tires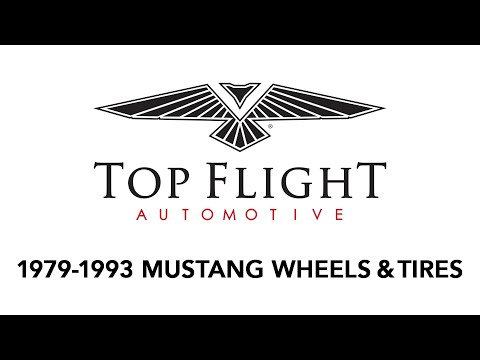 Add a unibody "Fox" platform to the Ford Mustang, and you get one of the most memorable vehicle generations in the brand's history, the Foxbody series. Foxbody Mustangs rolled on the scene with lightweight exterior parts, outstanding fuel ratings and box-shaped exteriors that gave these pony cars an entirely distinct look following the Mustang II era.
From 1979 to 1993, Ford produced third-generation Mustangs in high numbers due to their immense popularity. After the United States oil crisis in the 1970s, designers at Ford needed to maintain their fanbase. The Ford Motor Company's solution was to combine everything consumers loved about the Classic Mustang muscle car experience and pack those qualities inside a vehicle molded for the future.
A Foxbody Mustang is a worthwhile investment in the modern era because of the sheer amount of aftermarket upgrades you can perform. Whether you gravitate to notchbacks, fastbacks or convertibles, Top Flight Automotive has you covered with Foxbody wheel and tire kits. Achieve the aftermarket appearance of your dreams with products that work for your budget.
Separate Your Foxbody Mustang From the Rest
Select Foxbody Mustangs of the 1980s and 1990s can provide you with over 220 horsepower in stock form. If you keep your eyes open, you'll notice more drivers are relying on these releases today to get an incredible behind-the-wheel experience at a reasonable price point. 
The third-generation Mustang series is over 40 years old. Top Flight Automotive carries industry-leading products from Auto Accessories of America, Daniel Carpenter, Mr. Mustang and Scott Drake to help you with your restoration vision. Our online store contains Foxbody Mustang wheels, tires and accessories for all 1979-1993 production runs. From rims modeled after 1960s Mustangs to aluminum alloy assemblies ideal for the racetrack, your Foxbody variant can take on a whole new character thanks to Top Flight Automotive.
Benefits of Our Foxbody Wheels and Tires
Top Flight Automotive recognizes that no two restoration projects are the same. We have Foxbody wheels and tires for all driving applications to make sure your collector car is ready for commuting, racing and entering award shows.
Purchase Foxbody wheel and tire kits to receive everything you need for a seamless installation process, or you can order pieces individually to respond to wear and tear. You can turn to Top Flight Automotive Mustang wheels and tires to:
Complement your aftermarket paint job.
Create a standard or staggered appearance.
Get rid of rust, dents and scratches on original equipment manufacturer (OEM) wheels.
Prioritize your Foxbody Mustang's collector and resale value.
Increase tire sizes on your pony car.
Improve handling behind the wheel of your Mustang.
When to Upgrade Foxbody Mustang Wheels and Tires
Mustang rims and tires contribute to the level of control you feel from the steering wheel. Top Flight Automotive makes it possible for you to change out wheel and tire assemblies without body modifications. Pick up aftermarket bundles for your Foxbody model if you experience any of these signs that you're ready for an upgrade:
Your Foxbody tires leak air.
The tires on your Foxbody Mustang have multiple patches.
Your vehicle handles poorly in wet conditions.
OEM rim surfaces are warping.
The steering wheel feels like it's vibrating on all terrains.
Wheel and tire assemblies take damage from a collision.
We Have Foxbody Mustang Wheels for All Personalities
Your Foxbody Mustang's exterior reflects your style. The experts at Top Flight Automotive can introduce you to an extensive collection of 1979-1993 Mustang wheel and tire packages for a look that is as stock or custom as you see fit. Review your options by reading each product description to see what we include with your order. We recommend the following products for your GT, Cobra or Anniversary release.
1979-1993 Foxbody Mustang MM350 Wheel and Tire Kits
Top Flight Automotive supplies wheel setups that come mounted and balanced. What's more, we ship your order right to your door. Our online store is home to the latest technology for Mustangs of the past, which includes Gloss Black and Silver Metallic MM350 wheels from Mr. Mustang. Friends and family will wonder where you found such aggressive rims paired with Falken Azenis RT615K+ tires for warm weather.
Get maximum tread on the road and track without cutting, welding or bending your Foxbody Mustang's exterior. These Foxbody racing wheels follow a five-bolt lug pattern for a secure fit. MM350 wheel assemblies measure 18 inches by eight inches and are a lightweight addition to your vehicle.
1979-1993 Foxbody Mustang Bullitt Wheel Packages
Collectors are still obsessed with Steve McQueen's green Mustang GT fastback from the 1960s. Are you a fan of classic films? Do you enjoy watching one of the most iconic chase scenes of all time? Top Flight Automotive has Foxbody replica wheels inspired by the ones in the 1968 hit "Bullitt." Dress up your 1979-1993 Mustang model with Auto Accessories of America's five-spoke designs brought to you by Auto Accessories of America.
Grab everyone's attention on the road with Chrome, Gloss Black and Anthracite Machined Lip designs. Bullitt wheel packages are compatible with Foxbody, SN95 and New Edge production years. Top Flight Automotive ships out Bullitt wheels with Toyo Proxes 4 Plus and Toyo Extensa HP II all-season tires based on the package you choose. Order these stylish aftermarket wheels in the popular sizes below:
17 inches by eight inches
17 inches by nine inches
17 inches by 10.5 inches
18 inches by nine inches
18 inches by 10 inches
Choose from standard or staggered Bullitt Foxbody wheel and tire kits only at Top Flight Automotive.
1979-1993 Foxbody Mustang Cobra R Wheel and Tire Kits
We all remember the 1995 Mustang SVT Cobra R from the SN95 era. This performance vehicle showcased 300 horsepower, a 5.8-liter engine and five-spoke wheel patterns that resembled stars. Ford's Special Vehicle Team only made 250 of these models. Still, you can recreate the Cobra R aesthetic with the help of Top Flight Automotive.
Take your Foxbody Mustang to the SN95 era using one of our Cobra R replica wheel and tire kits. Auto Accessories of America options are available in 17-inch-by-eight-inch and 17-inch-by-nine-inch dimensions. Top Flight Automotive carries bundles with racing-inspired finishes to help you create the track-style look you've always wanted. Equip your Foxbody with Cobra R wheels with or without rivets.
Purchase Foxbody Mustang Wheels Through Top Flight Automotive
Top Flight Automotive helps you find the parts you need for unmatched restoration results. Our online store is always growing with new arrivals for the Foxbody Mustang generation. We're known for our fast service and deliveries. What's more, we're part of the Extra Mile Brands family of companies. This group has presented the Mustang community with parts and accessories for over 40 years.
Place your order now, and contact us with questions about our selections!
Can't find what you're looking for? Let us know and we can help! Contact Us