Mustang Exhaust Parts at Top Flight Automotive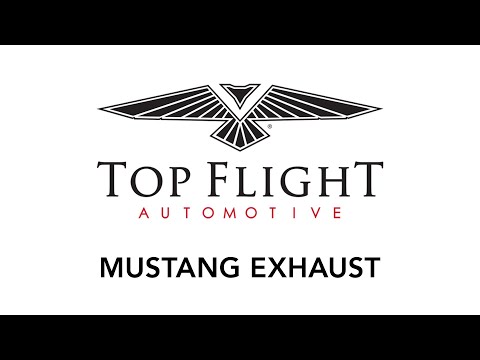 Drive any Ford Mustang, and you'll get the engine to roar. These vehicles are famous for hair-raising performance outputs, but a functional exhaust system is crucial to seeing these capabilities firsthand. Your Mustang's engine has to burn fuel to move, and an exhaust system guides fumes from fuel combustion out the back of your pony car. Take care of your precious Mustang and prioritize safety with replacement and upgrade exhaust systems from Top Flight Automotive.
Sports car enthusiasts who love the Mustang brand as much as you do run our website. Find Ford Mustang exhaust kits and components you need to keep your vehicle street legal. Top Flight Automotive has the most extensive selection of Mustang exhaust parts for every vehicle generation.
The Importance of Mustang Exhaust Systems
A vehicle's exhaust system controls emissions. Like other automobiles, Mustangs require you to inspect exhaust connections periodically for missing pieces and rust because your engine's health depends on the exhaust setup's condition.
Exhaust problems can lead to a sudden loss of performance and carbon emissions entering the cabin. Whether you drive a Classic Mustang or an S550 model, Top Flight Automotive has industry-leading exhaust products made by elite brands. Make sure your pony car has what it needs to run.
When Should I Update My Ford Mustang Exhaust System?
Ford Mustangs are well-designed vehicles, but driving puts all exhaust systems to the test. Original exhaust parts sit close to the road, where they see moisture, pebbles, debris and dirt.
Drivers may choose to alter Mustang exhaust systems for performance or cosmetic purposes. Top Flight Automotive sells products to help you accomplish your goals. Order a new Ford Mustang exhaust configuration if you notice the following:
Your exhaust connections vibrate when you drive.
The check engine light on the dash glows.
Your Mustang will not pass state emission tests.
Your current exhaust system calls for multiple repairs.
Several exhaust components are missing.
Your Mustang's exhaust setup is too loud.
Rust is visible on the exhaust connections or the muffler.
Fuel consumption rates without significant changes in how you drive.
Get Ford Mustang Exhaust Components for All Mustang Vehicles
Top Flight Automotive carries various Mustang exhaust components for sale. Our professionals do their best to stock world-class products for each Mustang series. There is no limit to what you can restore when you turn to our site for affordable parts. Get a Classic Mustang back on the road for parades, or fine-tune a recent release to match your preferences for sound and style.
Bestselling Mustang exhaust parts from Top Flight Automotive include:
Catalytic converters
Brackets and clamps
Headers
Manifolds
Mufflers
Exhaust pipes
Exhaust system kits
Tailpipe sets
Mustang Catalytic Converter Replacements
Catalytic converters reduce the amount of toxic gases vehicles release into the environment. These installations are necessary to meet your area's emission standards since the devices trigger neutralizing chemical reactions.
Depending on your Mustang's age, a catalytic converter from your original equipment manufacturer (OEM) may have rust spots. Top Flight Automotive has direct-fit catalytic converter replacements made by MagnaFlow. Fix up a Foxbody, SN95 or New Edge Mustang with products that attach out of the box. MagnaFlow designed most products for U.S. Environmental Protection Agency (EPA) compliance. 
We supply you with products that work for popular model years, such as 1987-2001 vehicles.
Mustang Exhaust Headers
Exhaust headers mount to engine cylinder heads. Exhaust headers' primary function is to widen the paths in which exhaust gases travel. We consider headers a Mustang performance attachment since the technology reduces backpressure that otherwise results in power loss. 
Drivers who want maximum horsepower install exhaust headers from Top Flight Automotive. Only on our site can you get stainless steel Mustang header upgrades from companies that dominate the market, such as Hooker and Pypes Performance Exhaust. Review our product descriptions to pinpoint exhaust headers for your model year. We have ceramic-coated and -painted products that withstand extreme temperatures.
Purchase a long tube header for your powerful Mustang engine. Our inventory contains options for engine builds like:
Boss 302
351W
5.0 Coyote
5.2 Voodoo
Ford Mustang Mufflers for Sale
Mufflers dissipate loud sounds coming from your Mustang's engine compartment. Some might think the louder, the better, but the ticket to exceptional racing performance is to have a muffler that streamlines the flow of emissions. Top Flight Automotive carries durable Mustang mufflers, most of which are produced in America.
Designs by Flowmaster are appropriate for Classic, Mustang II, Foxbody, SN95, New Edge and S197 generations. Replace your Mustang's muffler to increase torque and available horsepower. You can achieve a roaring exhaust tone without jeopardizing engine stability. Flowmaster mufflers weigh about 15 pounds and keep your Mustang GT, Bullitt or base model's exhaust system in magnificent shape. Plus, aluminized steel materials last for years.
Ford Mustang Performance Exhaust System Kits
Parts of your vehicle's factory exhaust system will deteriorate over time. The solution to restoring your Mustang beyond factory specifications is to purchase a performance exhaust bundle from our store. Top Flight Automotive offers more than 300 different exhaust system kits for the Ford Mustang, and we carry exhaust components from the brands you associate with racing.
Place an order for cat-back, header-back and side exhaust systems and other configurations for retired models and current Mustangs. Drivers choose Top Flight Automotive for a wide selection of exhaust kits. You'll see complete bundles that ship with exhaust pipes and mufflers from companies like:
Auto Accessories of America
BBK Performance
Borla
JBA Headers
Mishimoto
Update Your Mustang Exhaust System With Our Products
A Ford Mustang is an investment worth keeping around. Thanks to Top Flight Automotive, you have access to exhaust parts and performance upgrades for a sensational driving experience. Replace worn parts on your favorite vehicles with fewer hassles along the way. Top Flight Automotive can ship overseas, and we get you the Mustang components you desire much faster than competing retailers.
Order our Ford Mustang exhaust products. We ship most orders immediately after processing. Contact us for details about the items we have in stock!
Can't find what you're looking for? Let us know and we can help! Contact Us