Chevrolet Corvette Performance Parts
Corvette Performance at Top Flight Automotive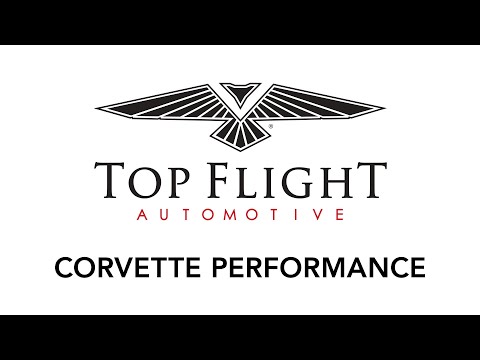 Chevy Corvette Performance Parts and Upgrades
Aftermarket performance parts can elevate your Corvette to a whole new level. Imagine enhancing the sports vehicle you love through exciting modifications for horsepower, handling and fuel economy. Top Flight Automotive is part of the Extra Mile Brands family of products, including the largest supplier and manufacturer of Corvette parts. Top Flight Automotive is your one-stop shop for Corvette upgrades designed for real-world applications.
Whether you own a vintage generation or appreciate the latest releases from Corvette, look no further than Top Flight Automotive for your performance parts. Our expert staff brings over 175 years of combined experience to serving the Corvette community. We speak fluent Corvette!
About Our Performance Parts
Corvette performance parts are designed to restore or replace the factory systems of your favorite ride. Our online store is stocked with the gear you need for Corvette projects both large and small. The sky\'s the limit with Top Flight Automotive, and our team is here to assist you with selecting the correct products for any generation.
Top Flight Automotive carries aftermarket parts for every Corvette generation that has left its mark on history:
Aero Kits for Corvette Performance
Our aero kits restore and improve the chassis of your vehicle. They provide the best control and handling experience for driving at all speeds. We offer the perfect balance of downforce and drag for all Corvette models.
Performance packages include larger end plates to the front splitter and a transparent wicker bill on the rear spoiler for track use. For a more aerodynamic cockpit, try one of our windscreen air deflectors.
Need help? Whether you are restoring a classic C1, or are in the market for the new mid-engine C8, our expert staff can guide you towards the right solutions that meet your specific needs.
Chevy Corvette Air Intakes
For continuous airflow to your Corvette engine, choose our performance air intake systems. An updated, efficient intake system is the key to the horsepower and torque you\'ve been waiting for. Gain additional horsepower for your vehicle by installing air intake performance systems such as:
2014-2016 Corvette Air Induction Systems
1997-2013 Corvette K&N Air Induction Systems
1997-2004 Corvette Hi-Performance Throttle Body Air Couplers
1985-1996 Corvette Breathless Vortex Cold Air Systems
Corvette Performance Cooling Systems
Cooling systems are one of the most effective ways to maintain your vintage Corvette vehicles. Over time, mechanical movement and high pressure gases create stress on older models. Keep your Corvette cool under the hood with the following aftermarket performance units in our online store:
Water Pumps
Replacement Gaskets
Throttle Body Heater Hoses
Outlet Water Pumps
Engine Oil Coolers
And More
Corvette Front Air Dams, Spoilers and Splitters
Some of the most satisfying performance upgrades are for your vehicle\'s body. Top Flight Automotive supplies a variety of front air dams for bumpers to alter how air travels across your Corvette at higher speeds.
Our air dam performance parts help reduce drag while traveling. In some cases, improvement air dams will increase the air supply to the radiator of your vehicle for better circulation under the hood.
Exterior performance parts make all the difference when traveling at high speeds. Our online store offers front and rear spoilers with designs ranging from Indy, American, Super, 3-Piece options and more. Our experts can recommend performance front wind splitters to reduce unwanted lift while achieving top speeds.
Front air dams, spoilers and splitters are the perfect way to boost the character of your Corvette, from style to speed and velocity.
Order Corvette Performance Parts for Sale From Top Flight Automotive
Top Flight Automotive carries the largest stock of aftermarket performance parts for Corvette vehicles. Our reproduction kits and pieces are engineered to meet or exceed original specifications. Most items ship out within the same day of order, and our experienced staff is ready to help you find the correct parts for your Corvette. Shop our expansive online store today!
Can't find what you're looking for? Let us know and we can help! Contact Us