C6 Chevrolet Corvette Wheels & Tires
Save With Our C6 Wheel & Tire Packages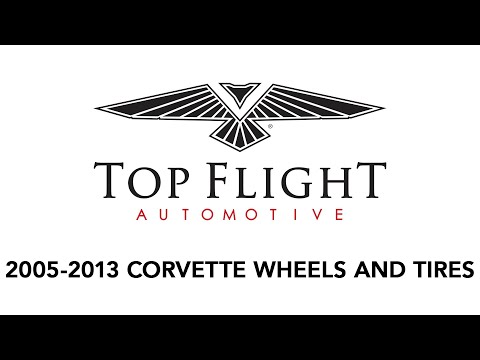 C6 Corvette Rims & Wheels
The C6 generation offers Corvette enthusiasts the ultimate driving experience. Seeing production runs from 2005 through 2013, consumers can appreciate the all-new design and engineering behind this line of Chevrolet vehicles. Featuring exposed headlights for the first time since the C1, navigation technology and impressive torque, the C6 Corvette easily stands strong in the modern era of sports vehicles.
The C6 gives Corvette owners a wide variety of customization options. The sixth generation of Corvette models hit the market with a 6.0L 400 horsepower small block V8 LS series engine that still provides a thrilling behind-the-wheel experience. Whether you are purchasing your first Corvette or are looking to enhance your favorite ride, select C6 models will offer you over 500 horsepower to suit your lifestyle and driving applications.
The Corvette community continues to rush to the C6 years after its release. Regardless if you own a base model, Z06, ZR1, Grand Sport or 50th/60th Anniversary Edition, Top Flight Automotive is your one-stop shop for Corvette rims, wheels, tires and accessories.
C6 Corvette Wheels for Sale
With the C6 generation no longer in production, Corvette owners need a solution for wheel, tire and rim replacements. Fortunately, Top Flight Automotive is the largest manufacturer and supplier of Corvette parts anywhere. We can help you get the most out of your C6 model by guiding you to the right product for proper fitment.
Reproduction wheels and rims at Top Flight Automotive offer drivers safe and reliable results. All of our reproduction parts are engineered to meet or exceed the original specifications of the Chevrolet factory, so you can experience optimum handling, speed and stability. Whether you are after sleek rim designs or overall performance, no one has a selection of products like Top Flight Automotive.
C6 Corvette Replica Rims and Wheels
Top Flight Automotive caters to Corvette owners of every generation, including the C6. Our experts are knowledgeable on every model and trim level for a seamless restoration or modification project. Browse our online store for C6 wheel and rim replacements, available as individual parts and four-piece sets.
C6 5-Spoke Wheels
Achieve \"stock\" production styling of the Chevrolet factory with Top Flight Automotive 5-spoke wheel replacements. These replica wheels are designed to match original production runs of the C6 generation with rim finishes in black and chrome. The 5-spoke configuration is the perfect choice for drivers who want to make an identical match to base model parts.
C6 Grand Sport Wheels
Top Flight Automotive stocks reproductions of the latest 5-spoke wheel design from the sixth generation Corvette. These wheels channel the looks of the 2010-era C6 Grand Sport. Add custom finishes to your vehicle with the following options:
Gloss Black
Gloss Black With Machined Face
Brilliant Chrome
Black Chrome
C6 Corvette Cup Wheels
C6 Cup Wheels at Top Flight Automotive are constructed as replicas of the optional Z06 and Grand Sport Wheels of this generation. Look like you\'re headed to the track with a noticeable difference in performance and handling. Our selection of C6 Corvette Cup Wheels are equipped with a chrome finish for shine and a polished appearance.
C6 Z06 Wheels
The Z06 was designed to be one of the fastest sports cars from the C6 generation. With production runs by Chevrolet from 2005 to 2013, Z06 models hit the consumer market with LS7 small block V8 engines and variants starting at 505 horsepower. Featuring aluminum frames and a lightweight construction for optimum aerodynamics, C6 Z06 Corvettes offer drivers a thrilling experience against modern releases of the C7 and C8.
To get the most out of your C6 Z06, turn to Top Flight Automotive. As the largest manufacturer and supplier of Corvette parts anywhere, our experts connect customers to reproduction Z06 wheels for impressive handling and performance. Make Corvette upgrades and installations simple by shopping our selection of style wheels and rims.
C6 Z06 5-Spoke Wheels
Top Flight Automotive enables you to match the looks of Chevrolet production with C6 Z06 5-Spoke Wheel Sets. Available as exact replicas of the C6 Z06 series wheels, reproduction parts are engineered to meet or exceed original specifications with a variety of new finishes for customization. Choose from the following styles for a "stock" replacement:
Gloss Black
Chrome
Machined Face Black Pocket
Gloss Black With Red Stripe
C6 Z06 Spyder Wheels
Top Flight Automotive supplies chrome plated wheels based on the 2009 Z06 Spyder style rims. Customers have a choice of Chrome or Gloss Black finishes in the following dimensions:
17″ x 8.5″ with 56mm Offset
18″ x 8.5″ with 56mm Offset
18″ x 9.5″ with 40 or 57mm Offset
19″ x 10″ with 79mm Offset
19″ x 12″ with 59mm Offset
C6 Z06 Style Chrome Wheels
These wheels are Triple Chrome Plated for an eye-catching appeal across Z06 configurations. Installations bolt right onto your Corvette for easy maintenance and quick restoration. Order wheel replacements in three main sizes:
17″ x 9.5″ with 54mm Offset
18″ x 9.5″ with 40mm Offset
18″ x 10.5″ with 58mm Offset
19″ x 12″ with 59mm Offset
C6 Z06 Style Wheels
Top Flight Automotive gives you customization options with C6 Z06 models. Swap out worn wheels with a selection of style wheels designed to complement your vehicle's paint job and exterior features. Transform the look of your Corvette with finishes like Black Machined Face, Black, Chrome and Black With Red Line.
C6 ZR1 Wheels
The sixth generation Corvette ZR1 is an absolute speed demon. Serving as a supercharged variant of the C6, the ZR1 lets drivers achieve over 600 horsepower and go from 0 to 60 mph in under four seconds. Top Flight Automotive will assist you in reaching desirable performance capabilities with our C6 ZR1 style and replica wheels.
C6 ZR1 wheels at Top Flight Automotive are available in Gloss Black With Red Stripe, Satin Black and Chrome finishes, a number of offsets and wide body setups.
C7 Corvette Wheels for C6 Models
Top Flight Automotive keeps your options open for restoration projects. If it\'s time for a new set of wheels or rims, our online store allows you to bring your favorite Corvette generation styles to your C6 model.
Top Flight Automotive supplies compatible wheels from the C7 generation for your C6 Corvette. You can create an original look for your Corvette by using styles from the latest generation.
Some of our most popular C7 style wheels for C6 Corvettes include:
C7 Z51 Style Wheel Sets
C7 Z06 Wheels
Top Flight Automotive provides center caps for interchanging factory components, 20 lug nuts and four locking lug nuts for seamless bolt-on installation.
C6 Corvette OEM Wheel and Tire Packages
If you want to get your C6 Corvette on the road as fast as possible, consider a wheel and tire package from Top Flight Automotive. Our knowledgeable experts do the work for you by listing wheel styles and tire setups that pair with the C6 generation. With your choice of wheels, Top Flight Automotive lets you select from the following three tire types for 2005-2013 models:
Michelin Pilot Sport A/S 3+
Michelin Pilot Sport A/S 3+ ZP (Zero Pressure, Run Flat)
Firehawk Indy 500
Wheel and tire packages at Top Flight Automotive save you time and money. Simply choose your wheels and tires, and our professionals mount and balance your order prior to shipping. All you have to do is bolt on your selections upon arrival for a smooth installation process.
Contact Top Flight Automotive for C6 Corvette Rims
Top Flight Automotive is part of the Extra Mile Brands family of companies, which has been serving the Corvette community for over 40 years. As the largest manufacturer and supplier of Corvette parts, wheels and accessories, we connect our customers to C6 rims and beyond. Our sales representatives are available during normal business hours to assist you with restoration projects ranging from C1 models all the way through the C7 generation.
For more information about C6 wheels and rims, contact Top Flight Automotive or shop online to get started today.
Can't find what you're looking for? Let us know and we can help! Contact Us