C1 Chevrolet Corvette Brakes
C1 Corvette Brakes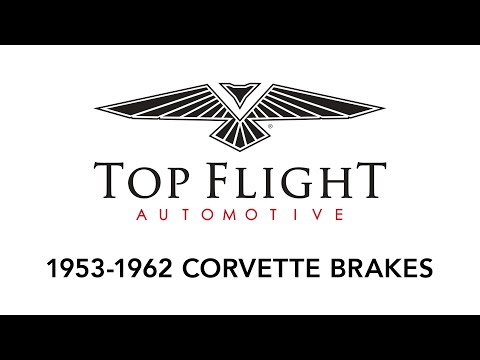 From the moment first-generation Corvettes left assembly lines in 1953, designers at Chevrolet knew they were onto something. Because it is one of the most successful muscle car brands in American history, the Corvette name represents innovation, style and unmatched performance. Chevy engineers push the Corvette into new territories with every release, but it's impossible to forget where everything began.
C1 Corvettes are many collectors'  "dream cars" for a reason. More than 65 years after their release, these models are worth a pretty penny. Keeping your vehicle up and running means you'll need to purchase replacement C1 Corvette brake parts throughout ownership. Top Flight Automotive carries various parts and kits to ensure your first-generation release stays in mint condition. Turn to our store for the complete C1 Corvette brake systems you need to maintain control.
Rebuild Your C1 Corvette Brake System With Top Flight Automotive
First-generation Corvettes were equipped with powerful small-block engines. Whether you drive around town or enter award shows, maintaining the C1 braking system is critical for safety. If the original brake parts on your vehicle are less functional than they used to be, Top Flight Automotive supplies you with replacement components and systems to help you come to a complete stop.
All of our C1 Corvette brake parts bring your stock braking system back to a like-new state. Use our affordable products by industry-leading manufacturers to stop on a dime when you need to. Shop our inventory with a specific category in mind to find the following components for your C1 Corvette release:
Brake boosters
Disc brakes
Drum brakes
Electrical connectors
Hardware
Parking brakes
Switches
The Need for C1 Corvette Brake System Parts
The first-generation Corvette brake system was designed in the early 1950s. Over time, pieces installed by original equipment manufacturers (OEMs) will deteriorate. Top Flight Automotive professionals want you to get the most out of your C1 model, so we carry merchandise you can install with minimal need for exterior alterations. 
Ensure your first-generation Corvette stays clear of other vehicles on the road, curbs and structures. Top Flight Automotive C1 Corvette brake parts help you to prevent exterior scratches and dents, as you can better regulate travel speeds. Prioritize the most important safety feature your vehicle has to offer by purchasing upgraded brake parts for all production years in the C1 lineup.
When Should I Upgrade My C1 Corvette Brakes?
Drivers should have brakes inspected by a mechanic twice each year, but vehicle owners can tell there is something off with Corvette brakes by noting system response times. Something as simple as overloading a classic car or ignoring routine maintenance can weaken connections to all four wheels.
If you notice the following, you're in the market for new C1 Corvette brake parts:
You have to press hard on the brake pedal.
Brake components slip frequently.
Your C1 brakes make loud squealing sounds.
The cabin vibrates when you apply the brakes.
You smell overheating components while driving.
Find a Wide Range of C1 Corvette Brake Parts
Top Flight Automotive stocks brake parts for all 1953-1962 Corvette builds. A large portion of our merchandise is in stock and ready to ship for convenience. If you have questions about compatibility or the installation process, reach out to our experts, who are available for assistance during our normal business hours. 
C1 Corvette Brake Drum Replacements
First-generation Corvettes were equipped with brake drum systems at the Chevrolet factory. These configurations feature large, bowl-shaped cylinders and internal shoes that rub against each other to slow your vehicle when you press the brake pedal.
If the metal drums on your ride are rusting out, Top Flight Automotive sells cast iron replacements for front and rear wheels. Purchase listings by AC Delco that are compatible with 1953-1962 Corvettes. Our brake drum upgrades are stronger than installations from the 1950s and 1960s. You'll improve ride quality with products that erase the need for outdated drums that warp or bend due to age.
C1 Corvette Brake Shoe Upgrades
Brake shoes expand outward each time you activate the brake pedal. These curved pieces of metal grind against drum surfaces and create enough friction to stop your Corvette. Original brake shoes can bend with use, so it's necessary to change out the components for functionality.
Top Flight Automotive has an excellent selection of replacement C1 Corvette brake shoes made by reputable brands like PowerStop. Select brake shoes in our inventory feature coatings with semi-metallic formulas for boosting brake power and preventing rust. Finally, you can treat your C1 Corvette to 100% steel brake shoes that are quieter than those that rolled out of the Chevy factory from 1953 to 1962.
C1 Corvette Disc Brake Conversion Kits
Some drivers choose to update their C1's braking system to a disc brake configuration. Top Flight Automotive makes your project seamless with first-generation Corvette disc brake conversion kits available online. Receive everything you need to change out factory brake drums to a system that uses calipers, rotors and pads to stop.
Disc brakes are the industry standard for vehicles today. Bring your C1 Corvette into the 21st century when you use one of our conversion kits from Corvette America. Our disc brake conversion kits work with all first-generation vehicles. Shop our bundles that include the following pieces for your C1 Corvette:
Dual diaphragm brake booster
Master cylinder
Silver zinc finish calipers
Brake pads
Vented rotors
Caliper mounting brackets
Nuts and washers
Dust caps
Rubber brake hoses
Note that your C1 release must have a minimum of 15-inch wheels for disc brake conversion kits to fit.
Place Your Order for C1 Corvette Brake Parts Online
Top Flight Automotive provides you with an exceptional shopping experience. Our professionals allow you to shop by the brands you love, and we even have a loyalty program in place so that you can accrue rewards and save big during your next project. Want to get a closer look at our inventory? Download one of our free catalogs to see thousands of Corvette parts for your first-generation vehicle.
Choose Top Flight Automotive for C1 Corvette brakes. Order online today, and contact us if you have questions about our products.
Can't find what you're looking for? Let us know and we can help! Contact Us